Today is the first no-meat Friday of the year for those observing Lent. Or as my husband calls it, Fish Friday. What he means, really, is Fish Fry Day. That's the only way he can survive a meatless day. I, on the other hand, would be perfectly content with lentil soup.
Unfortunately for him, I am in no mood to be indulging in anything deep-fried, let alone fried fish. Fortunately for him, however, I have just the right recipe to make his first no-meat Friday as painless as can be. I'll be making this Vietnamese Claypot Fish.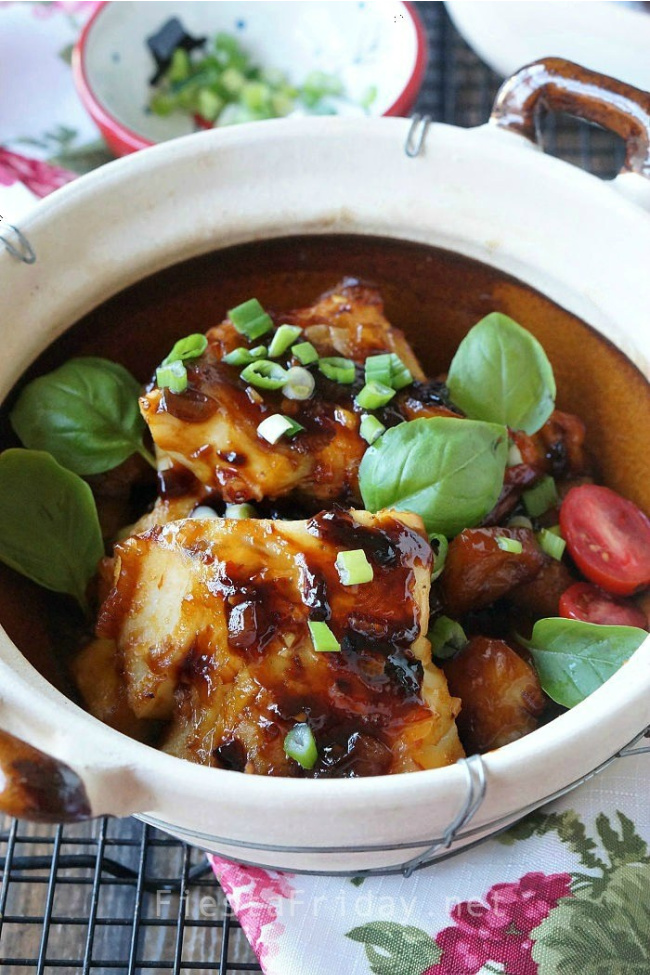 And I'll be sharing the recipe with you all very soon, so you, too, can look forward to your meatless Fridays. If you're observing Lent, that is. If not, well… you can still enjoy fish, can't you?!
Or maybe these:
Pulled Beef, Feta Cheese, and Wild Garlic Pie from Petra @ Food Eat Love
"I haven't had anything like this, but I would love to – it looks so amazing! I would love to stuff my mouth with this pie." — Jhuls
"Me, too, Jhuls. I'll be the happiest person if I could stuff my face with that fabulous pie!" — Angie
Stuffed Flank Steak with Wine Sauce from Mollie @ Frugal Hausfrau
"Omg, is that not a 5-star entrée?! I'm completely obsessed with this stuffed flank steak! And the wine sauce!" — Angie
Zucchini Flower Quiche from Eff @ Food Daydreaming
"I can't wait for summer to be here when I can harvest zucchini flowers from my backyard, so I can make this beautiful quiche." — Angie
Black Chocolate Bundt Cake from Meinhilde @ Kiku Corner
"I am craving a chocolate cake and this looks like something that could satisfy the crazy cravings. The cake looks perfectly delicious." — Jhuls
***
Now, let's party! Join Fiesta Friday #317 by adding your link. Don't forget to link your post to FiestaFriday.net and the cohost(s), so you can be featured.
Your cohost this week is Mollie @ Frugal Hausfrau
If you're new to Fiesta Friday, please read the guidelines.
You are invited to the Inlinkz link party!