"Halloween Naan, what IS that?!"
I can almost hear your puzzled thought. Well, puzzle no more. Let me end the mystery.
You know what naan bread is, right?! It's that fluffy and bubbly and occasionally charred Indian flatbread that's crispy and yet chewy at the same time – in short heavenly.
Well, I've given it eyes and a mouth to resemble a screaming face. Bada bing bada boom!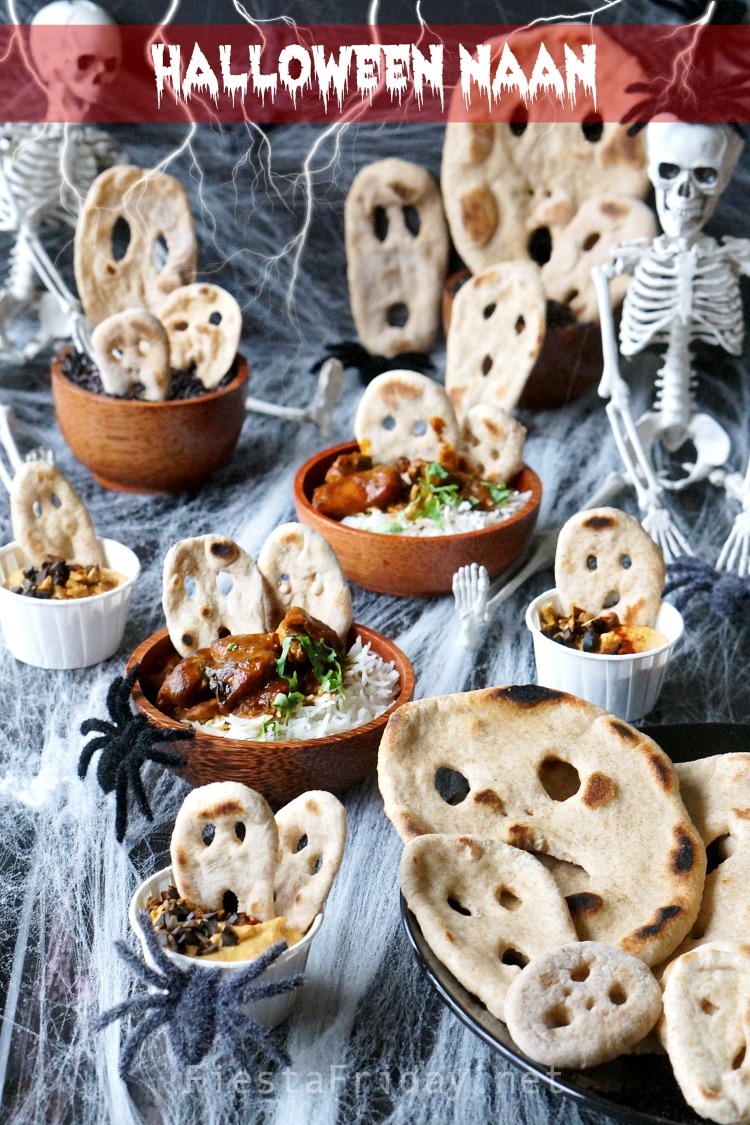 Am I the only person who thinks of The Scream by Edvard Munch whenever I see a naan? The very shape of naan, often described as teardrop, reminds me of the face from the iconic painting.
Let me show you why.
Here is the Munch masterpiece.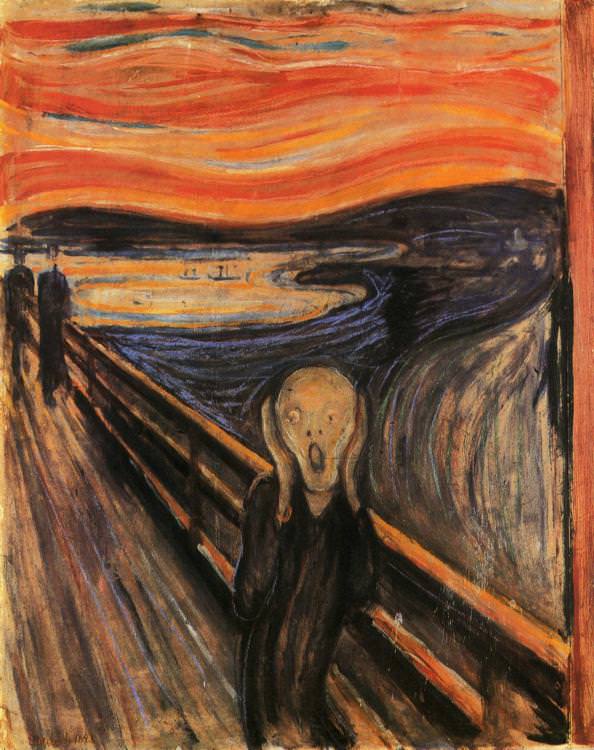 The Scream, courtesy of www.edvardmunch.org
Here is the naan.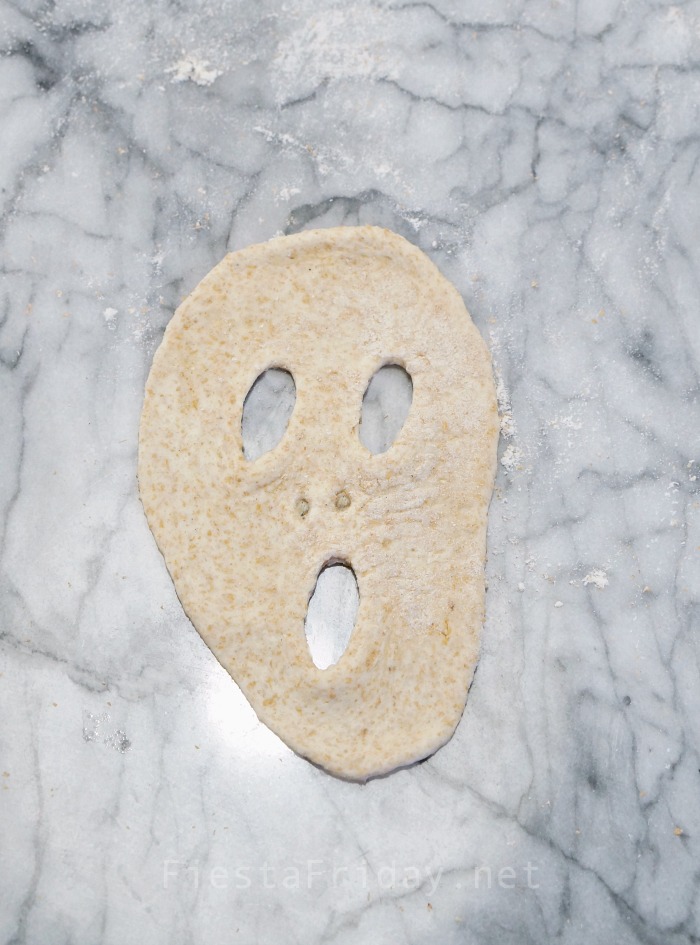 Right, right?!
I call it The Screaming Naan. It pretty much creeps me out right now just looking at it. It looks ominous, doesn't it?
Okay, let's not look at it anymore. Let's look at the cute mini naans, instead. I call them naan dippers.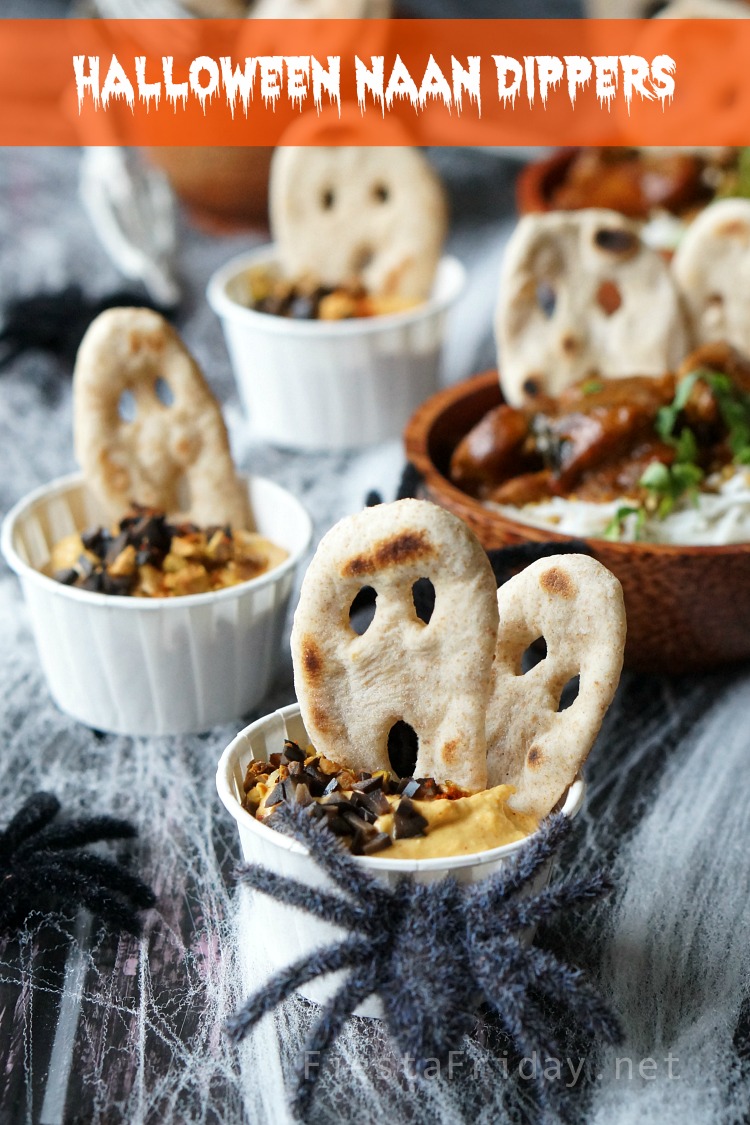 They started out innocently enough.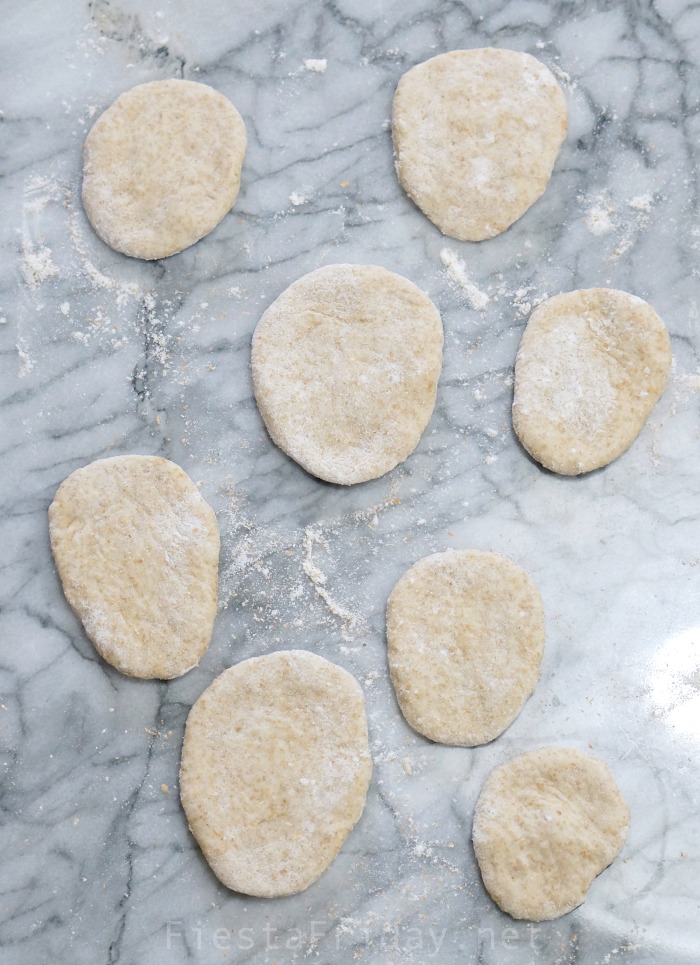 But I had a feeling those little naan dippers were just little faces silently screaming for their little eyes and mouths.
So, I obliged them.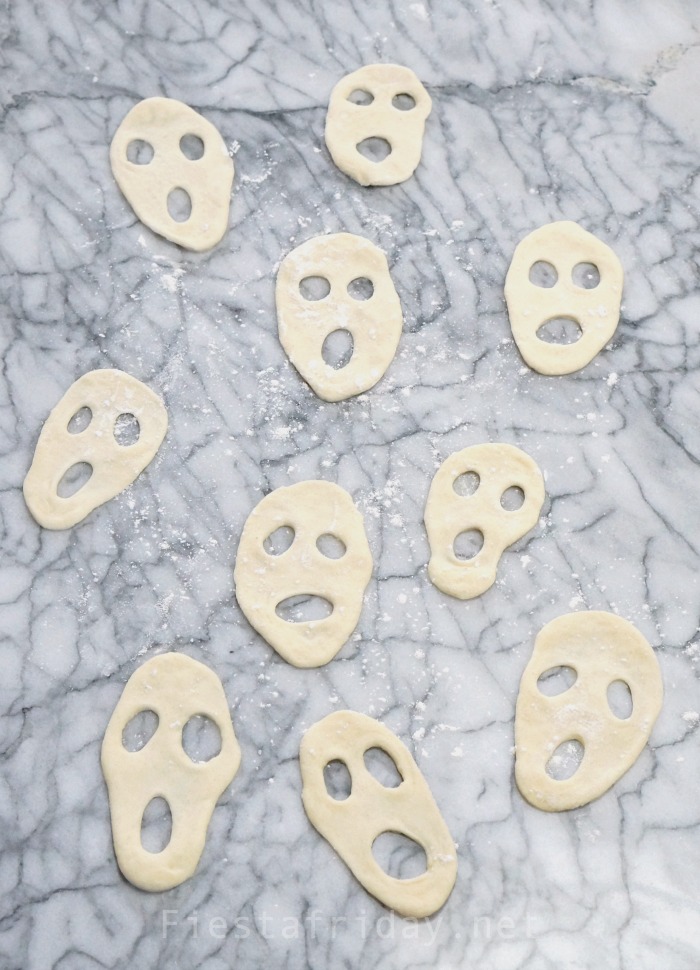 There, Halloween Naan Dippers are born. Sorry to creep you out once again, but it is after all Halloween week, so it's time for Halloween Naan to break loose. But, look, these trio down here are not looking so creepy somehow. They're downright comical. I call them The Three Amigos.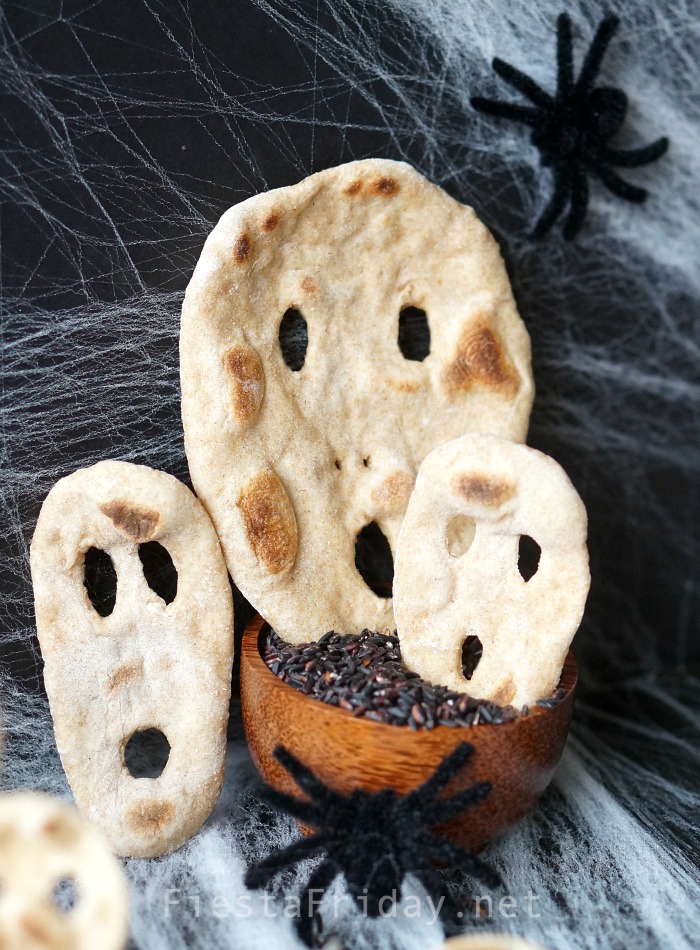 The Three Amigos
And what about The Family here? They're not too happy being accosted by the stalking skeleton.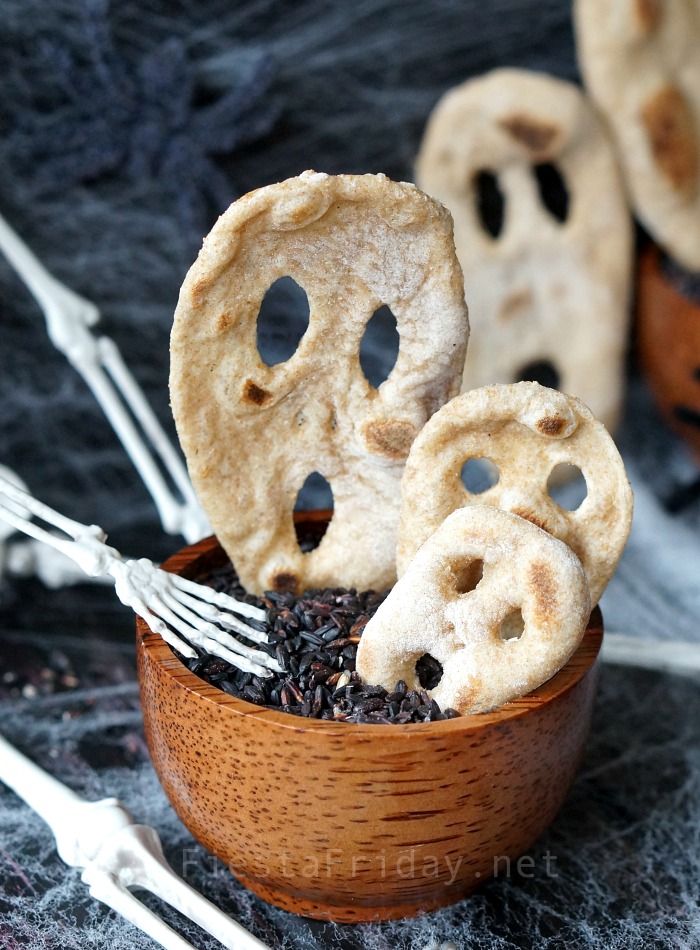 The Family
You can enjoy this "Screaming Face" Halloween Naan with some kind of dip, like this roasted pepper turmeric hummus.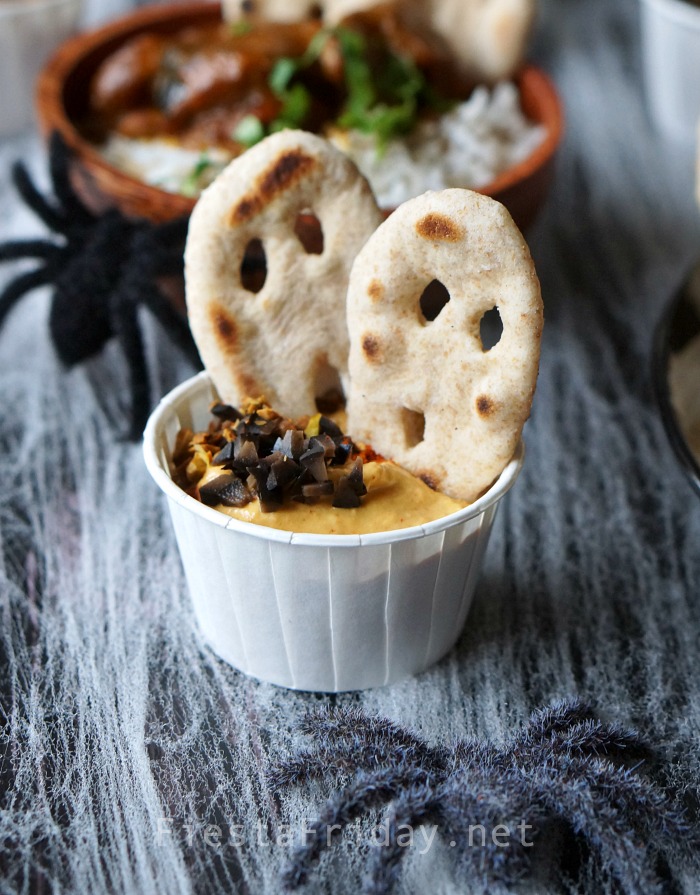 Or with your Indian curry.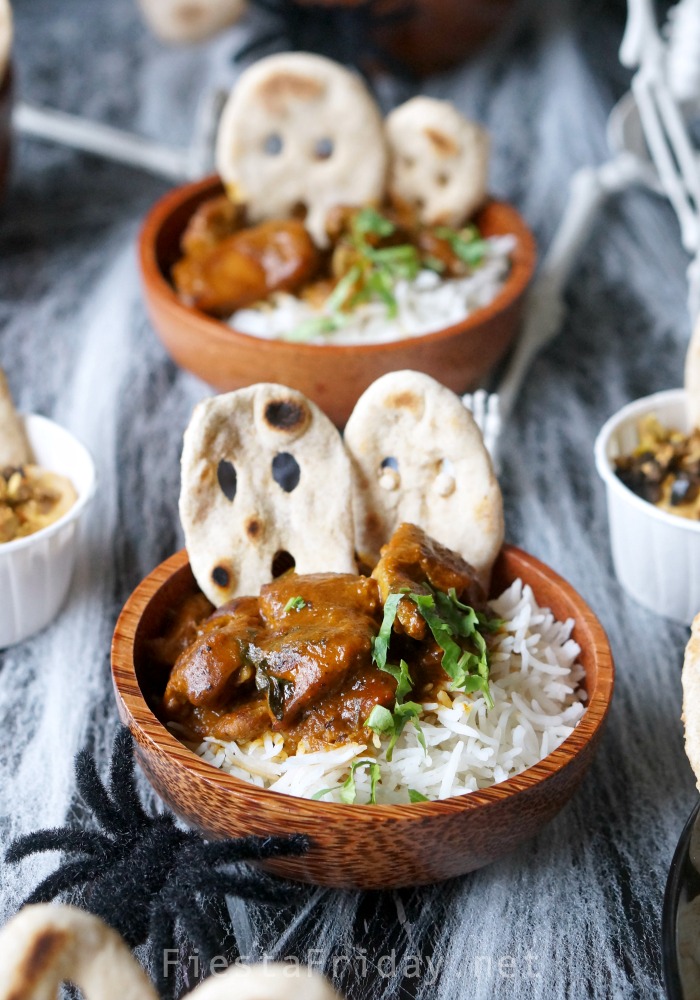 Either way, this Halloween Naan is just as good as any other naan. It's just a little bit more fun because it's made Halloween style. When you serve this Halloween Naan, you can tell your guests you're having Halloween like naan other!
Halloween Naan
The fluffy and bubbly, crisp and chewy Indian flatbread known as Naan is made even more enticing and fun to eat by giving it a Halloween twist. Your kids will love this idea!
Author:
Angie | FiestaFriday.net
Yield:
8 naan or 40 mini naan
Ingredients
¾ cup warm water
2 teaspoons sugar
1½ tsp active dry yeast
¼ cup plain yogurt
2 tablespoons melted butter, plus extra for brushing
2½ cups bread flour (or you can substitute half of it with whole wheat flour)
Pinch of salt
Instructions
Warm water by microwaving it for 30 seconds. Stir in sugar and yeast and let yeast bloom, about 5 minutes.
Once yeast blooms, whisk in the yogurt and melted butter.
Mix the flours and salt in a large mixing bowl, then make a well in the middle and pour the liquid mixture (water, yoghurt, and butter) in.
Using a wooden spoon, gradually stir flour into the water mixture until a dough is formed. The dough will be shaggy and sticky at this point.
Cover bowl with plastic wrap and let it rest for 15-20 minutes. After resting, you will find that the dough will be much more manageable and less sticky.
Turn dough out of the bowl onto a lightly floured surface and knead for about five minutes until smooth and elastic, then place in a lightly oiled bowl, turn to coat. Cover with plastic wrap and leave in a draft-free place until doubled in size, about 1 hour.
Once the dough doubles in size, punch it lightly to deflate, then pick it up and place on a lightly floured surface.
Divide dough into eight balls, work with one ball at a time. Cover the rest to keep from drying. Divide each ball into several smaller balls to make mini dippers.
Roll each ball into a roughly oval or teardrop shape.
Using a straw, cut out holes for eyes and mouths, then stretch the holes with your fingers to enlarge. (*See how-to photos below)
Heat a cast iron frying pan over high heat until it becomes very hot (about 5 minutes).
Pick up each naan dipper and stretch it lightly, to keep its shape, as you place it on the hot pan.
When it starts to bubble, turn it over.
These mini naan dippers cook very quickly, not more than 1 minute on each side. Larger naan may need longer cooking time. Generally, you're looking for several brown patches here and there.
Brush naan with melted butter, if desired. Serve warm.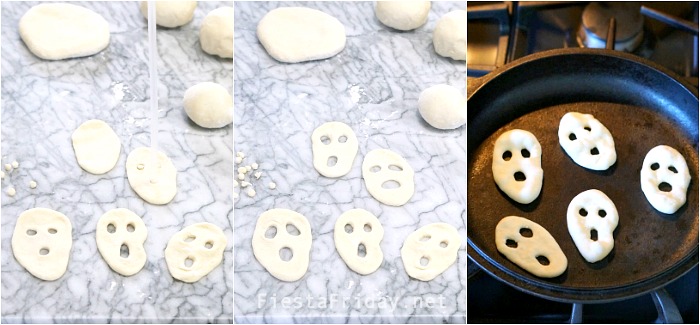 Save it to make later!