Halloween Naan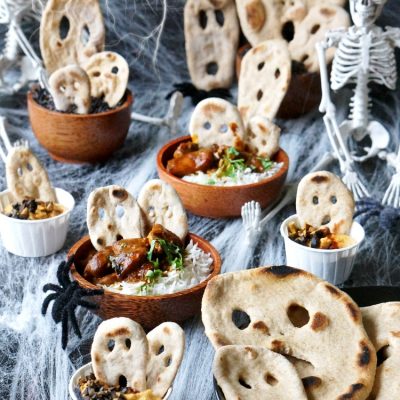 Author:
Angie | FiestaFriday.net
Yield:
8 naan or 40 mini naan
¾ cup warm water
2 teaspoons sugar
1½ tsp active dry yeast
¼ cup plain yogurt
2 tablespoons melted butter, plus extra for brushing
2½ cups bread flour (or you can substitute half of it with whole wheat flour)
Pinch of salt
Warm water by microwaving it for 30 seconds. Stir in sugar and yeast and let yeast bloom, about 5 minutes.
Once yeast blooms, whisk in the yogurt and melted butter.
Mix the flours and salt in a large mixing bowl, then make a well in the middle and pour the liquid mixture (water, yoghurt, and butter) in.
Using a wooden spoon, gradually stir flour into the water mixture until a dough is formed. The dough will be shaggy and sticky at this point.
Cover bowl with plastic wrap and let it rest for 15-20 minutes. After resting, you will find that the dough will be much more manageable and less sticky.
Turn dough out of the bowl onto a lightly floured surface and knead for about five minutes until smooth and elastic, then place in a lightly oiled bowl, turn to coat. Cover with plastic wrap and leave in a draft-free place until doubled in size, about 1 hour.
Once the dough doubles in size, punch it lightly to deflate, then pick it up and place on a lightly floured surface.
Divide dough into eight balls, work with one ball at a time. Cover the rest to keep from drying. Divide each ball into several smaller balls to make mini dippers.
Roll each ball into a roughly oval or teardrop shape.
Using a straw, cut out holes for eyes and mouths, then stretch the holes with your fingers to enlarge. (*See how-to photos below)
Heat a cast iron frying pan over high heat until it becomes very hot (about 5 minutes).
Pick up each naan dipper and stretch it lightly, to keep its shape, as you place it on the hot pan.
When it starts to bubble, turn it over.
These mini naan dippers cook very quickly, not more than 1 minute on each side. Larger naan may need longer cooking time. Generally, you're looking for several brown patches here and there.
Brush naan with melted butter, if desired. Serve warm.