OMG can it get any hotter than this?! Apparently it can! It'll get even hotter tomorrow, with temperatures reaching triple digits!
There goes my plan to bake a zucchini quiche. I'm not turning the oven on when it's that hot. Already the air conditioner is working nonstop. I don't want it to break. That'll be deadly for me! I can't stand the heat. That's why I get out of the kitchen, haha.
Besides, I can definitely live on smoothies for a while.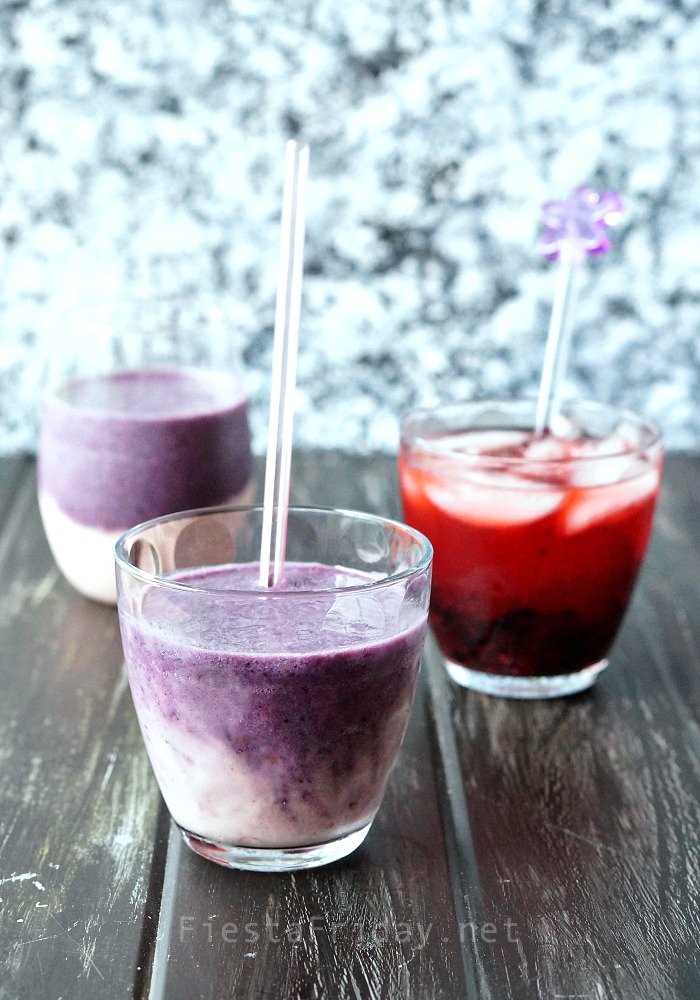 And a bowl of cherries. Definitely.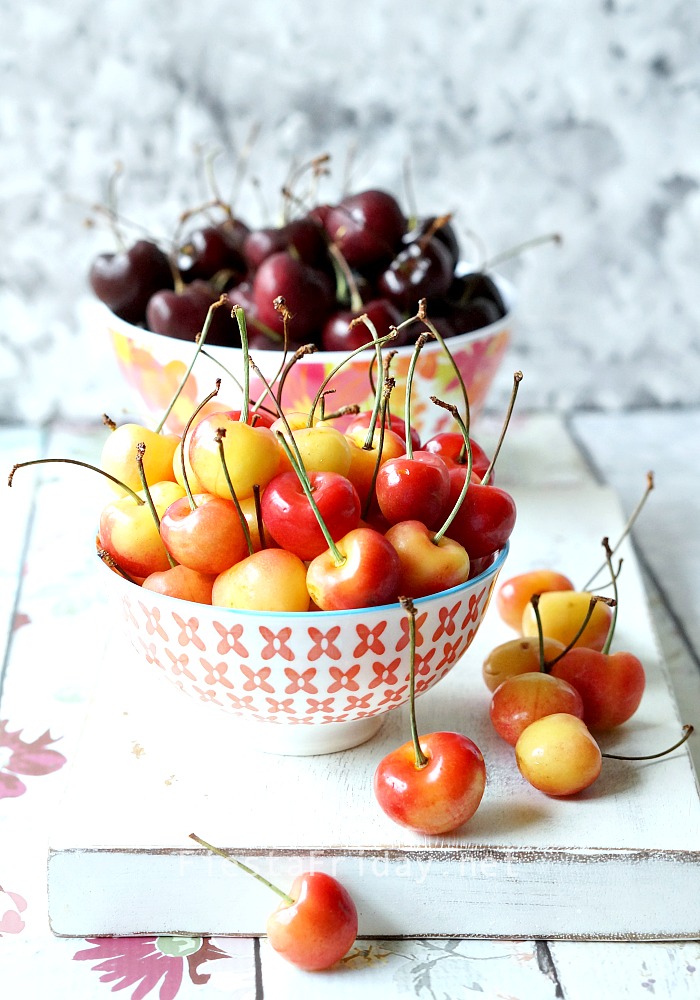 "Life is just a bowl of cherries." Who said that? And what does it mean? And why not Life is just a basket of melons. Or better yet, Life is just a plate of pineapple. Such profound thoughts in my head.
Fabulous Fiesta Friday Links from last week.
New York Chicken Spiedies from Mollie @ Frugal Hausfrau
"A tasty vinaigrette marinade, moist, perfectly grilled chicken, a bun and so much flavor! This recipe would work just as well as an every-day dish or for when you have guests and just let everyone tuck in!" — Petra
"Skewered delights with an enticing garlic lemon vinaigrette marinade." — Diann
Cod Parmesan with Zucchini Noodles from Jennifer @ Mommy Evolution
"I've been hankering for more seafood, and along with the fine-sliced zucchini, this would fill the bill." — Diann
Red Cabbage Juice 3 Ways from Monika @ Everyday Healthy Recipes
"This should help me cool down and stay hydrated in this heat. And it's healthy and refreshing. Perfect!" — Angie
Vada Pav Chutney Powder from Vanitha @ Curry & Vanilla
"An utterly delicious and aromatic-sounding spice mix. There isn't anything I don't like. It is nutty, it has seeds, delicious spices and some heat! I can't wait to try this!" — Petra
***
Now, let's party! Join Fiesta Friday #285 by adding your link. Don't forget to link your post to FiestaFriday.net, so we can feature you. We'll be voting for features this week. Please come back on Tuesday (voting will start at noon) to vote for your favorite links. You can vote for up to 5 links.
If you're new to Fiesta Friday, please read the guidelines.
If you're interested in becoming a co-host, please leave me a message.
[inlinkz_linkup id=821005 mode=1]