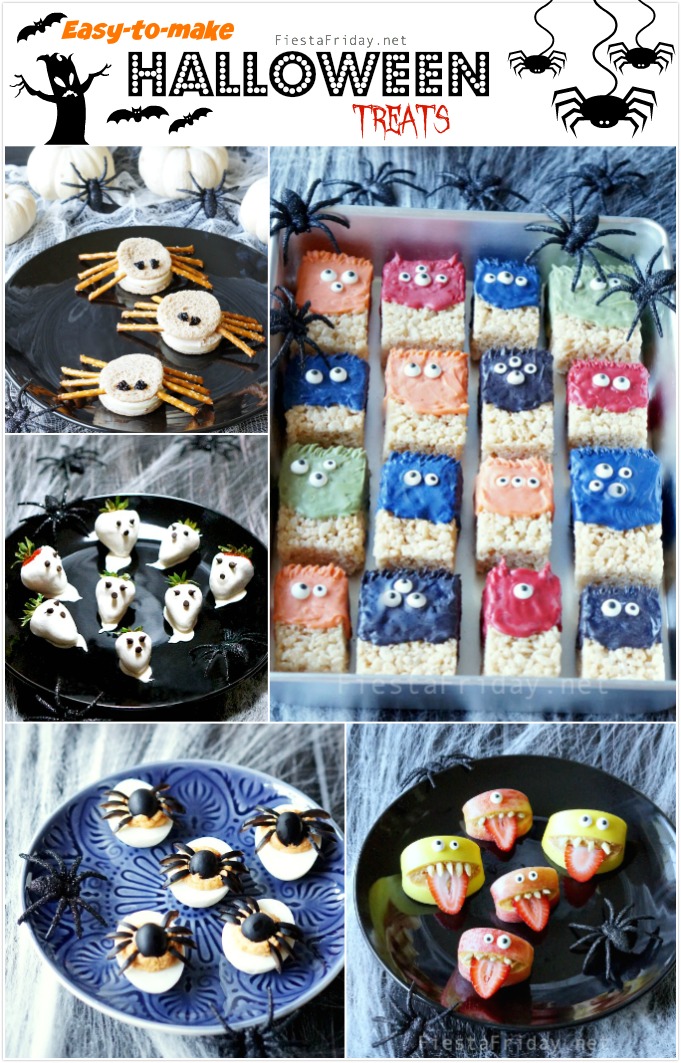 Halloween is less than a week away, you guys! Are you getting excited?!
If you're a food blogger, however, you'd probably say Halloween is so yesterday. The in thing now is Thanksgiving or even Christmas.
That's how food bloggers think. They're always ahead of the rest of us.
Oh, yes, I know I'm a food blogger, too. But I'm the procrastinating-food-blogger type. I'm the type B food blogger. I only move when I absolutely need to. Or want to…
Umm… you know, I own this drum… And I only march to its beat, and nothing else. Haha…that's a scary Halloween joke for you! Scary coz it's not funny ?
Seriously, though, it's not too late to start looking for ideas for Halloween snacks or treats. And I'm guessing if you've just started looking now, you're probably the type who wants to make something easy.
Well, you're in luck!
I've been trying out all kinds of Halloween treats for the past couple of weeks, and I'm here to tell you which are absolutely the easiest and fool-proof ones. The kinds that don't take all day to make, and with minimal cooking. If you can even consider microwaving marshmallow or boiling eggs cooking, that is.
But, but! Even though these Halloween treats are easy to make, I can honestly say the results are fabulous and fun! My daughter thinks so, and she's my Halloween client. All THIS I do so she can bring something adorable to share with her friends at their annual Halloween party.
And all of them are right here, in one single page. Don't you hate it when you go to one of those round-up posts and you have to click link after link after link to get to the recipes or how-tos? Me, too!
So, here are easy-to-make Halloween treats you can sink your fangs into. Yikes, another unfunny Halloween joke! ?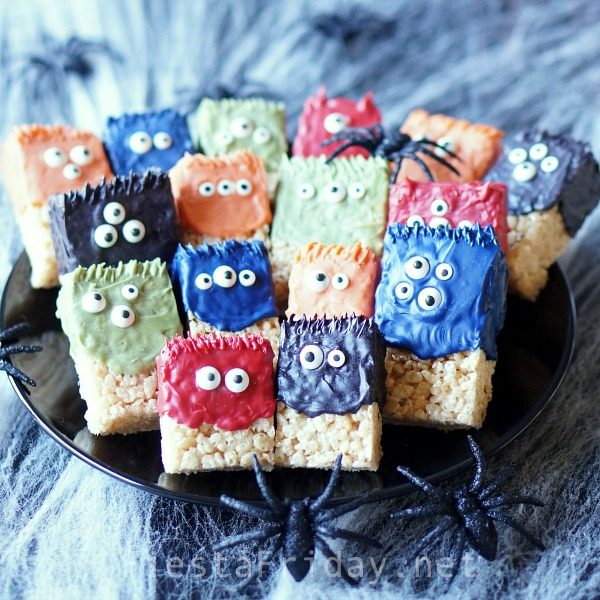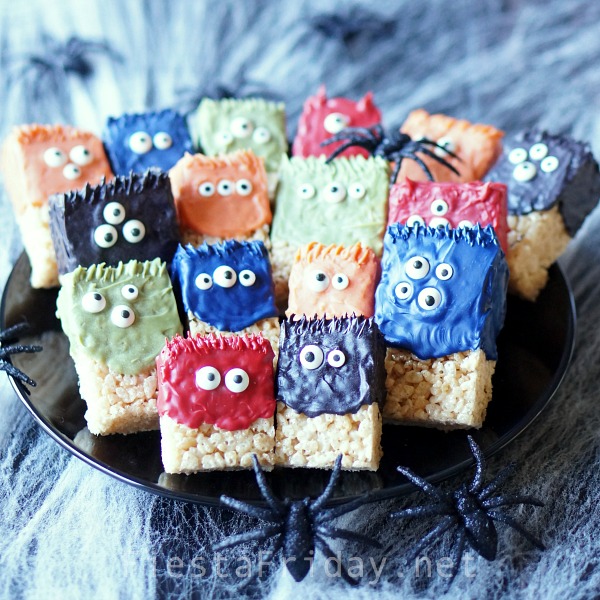 These Rice Krispie Treat Monsters are my favorite. Only because they're colorful, and can be made ahead of time. They take the most effort to make, however, unless you use store-bought Rice Krispie Treats.
I'm including a recipe (down below) for this one, so my daughter can refer to it in the future. These are her favorite as well, and she's planning to bring a tray of them to the party.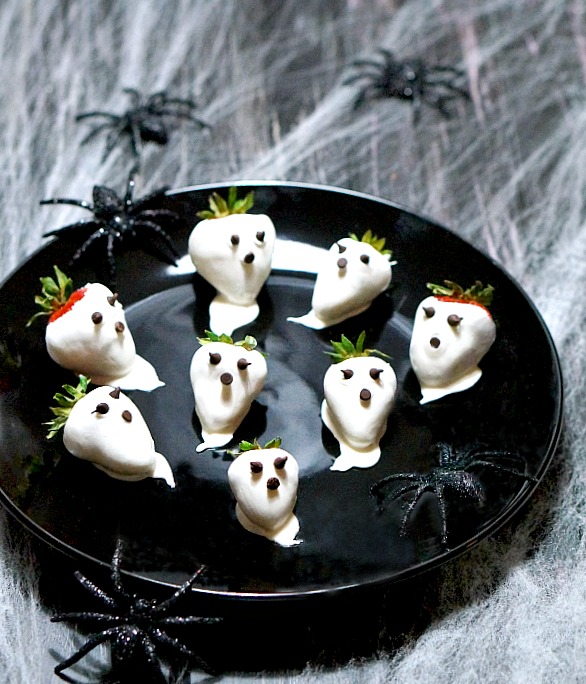 Halloween Strawberry Ghosts are as easy to make as dunking strawberries into melted chocolate. Because that's all you have to do! Seriously, you don't need a recipe for these, do you? It's so self-explanatory.
You can use either white chocolate (tastes better) or candy melt wafers (looks whiter and brighter), it's up to you. Hold strawberries by the hulls, and gently dip them into melted chocolate. To make the tails, drag strawberries slightly on the parchment paper before setting them down.
The only tricky part about this is when you put on the eyes and mouth, because the mini chocolate morsels are so small. You can use a pair of tweezers, if you have to. But the easiest way is to get your little ones involved. Little fingers are the best tool for this.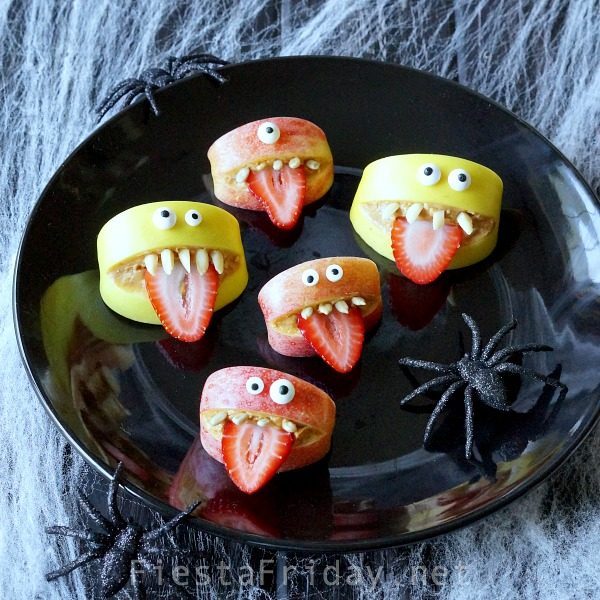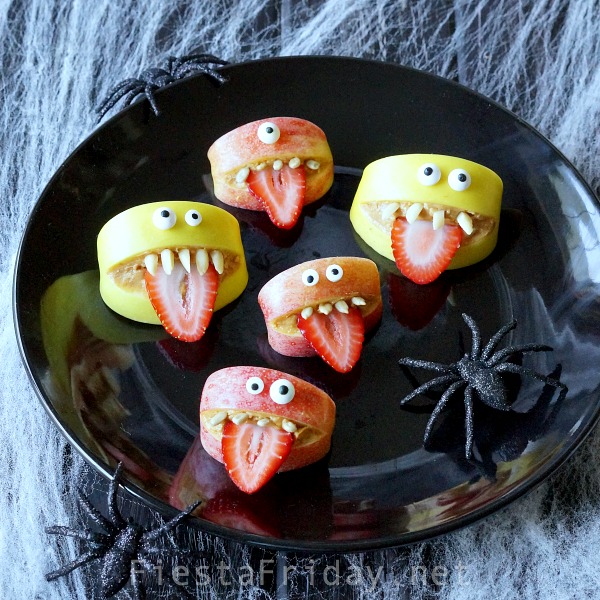 Silly Apple Bites are just so cute, aren't they?! This was originally my favorite choice to make for the party. Easy, healthy, and most importantly, tastes really good! Sweet and tart from the apples, salty from the peanut butter and sunflower seeds, they're the perfect snack. Unfortunately, some of my daughter's friends are allergic to nuts, so we ended up dropping the idea.
Again, the tricky part about this is sticking the sunflower seed teeth, since those seeds are so small. You can substitute them with almond slivers, which are bigger.
Does this even need an explanation, or recipe? Okay, maybe next time I'll share my favorite deviled eggs recipe with you, but for now I'll just tell you how I made the spiders.
Cut black olives into halves lengthwise.
Use 1 half as the body.
Use the remaining half as the legs, by cutting them into 8 thin wedges.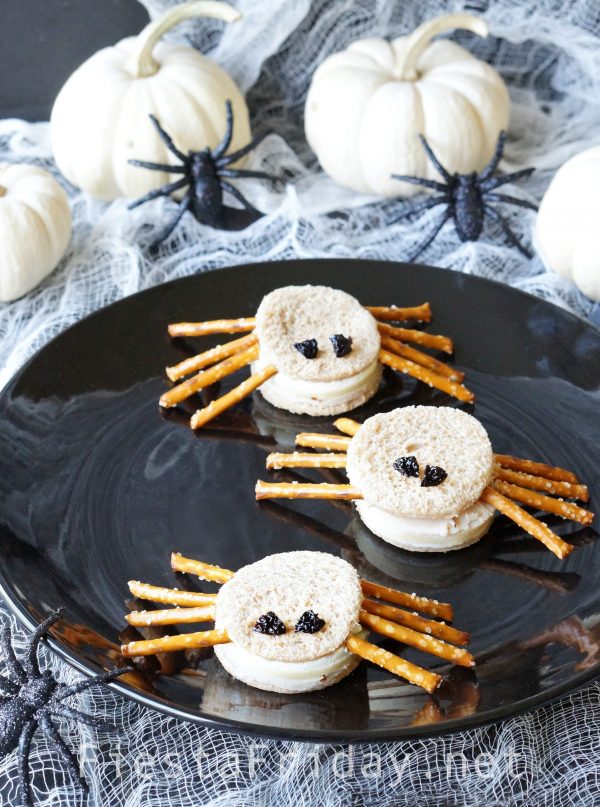 These are just sandwiches cut into small rounds. Then pretzel legs are inserted into the sides. Cut up dried fruits are used as the eyes. Easy peasy, lemon squeezy!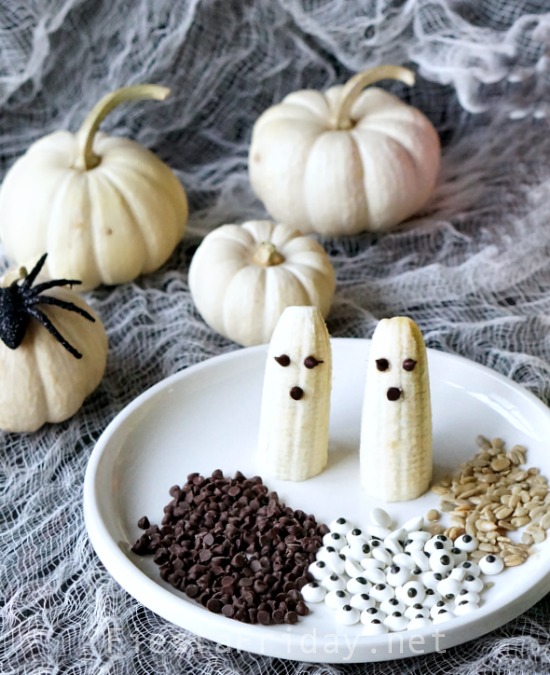 Of course you can always just make banana ghosts and call it a day. This one is the easiest. I'm pretty sure I don't need to tell you how to make this!
So, tell me, which of these will you try to make for Halloween? As I've mentioned earlier, I'll be making the Rice Krispie Treat Monsters.
Rice Krispie Treat Monsters
Adorable Rice Krispie Treat Monsters are a cinch to make, with minimal "cooking". Aren't they super fun?!
Author:
Angie | FiestaFriday.net
Ingredients
1 (10.5 oz.) package mini marshmallows
2 tablespoons butter
7 cups rice krispie cereal
Candy melts, in several different colors
Edible candy eyeballs
Instructions
In a large microwave-safe bowl, heat butter and marshmallows on HIGH for 2 minutes. Stir, then microwave again for an additional 30 seconds. Stir until smooth.
Add rice krispie cereal. Stir until well coated.
Spread into a 13 x 9 x 2-inch pan that has been lightly coated with cooking spray, and press evenly using a piece of parchment paper that's also been sprayed. Let it cool for at least 30 minutes before cutting.
Cut rice krispie treats into bars, of unequal sizes. Remember, monsters are just like people. Some are big, some small, and some are tall, some short, etc. They look better if they're not all uniform in size.
Microwave candy melts, about 1 cup each color, in a small bowl, at 30-sec increments, stirring after each time, until completely melted.
Dip each bar into the melted candy and let it set on parchment paper.
Decorate with edible eyeballs.
Just before candy hardens, use a toothpick to "draw" hair on the monsters' heads.
Allow melted candy to become firm before serving. You can prepare treats up to 2 days in advance.
The Rice Krispie Treat Monsters are for the daughter's party. I have something else in mind for my husband and me. Something like this is more like it.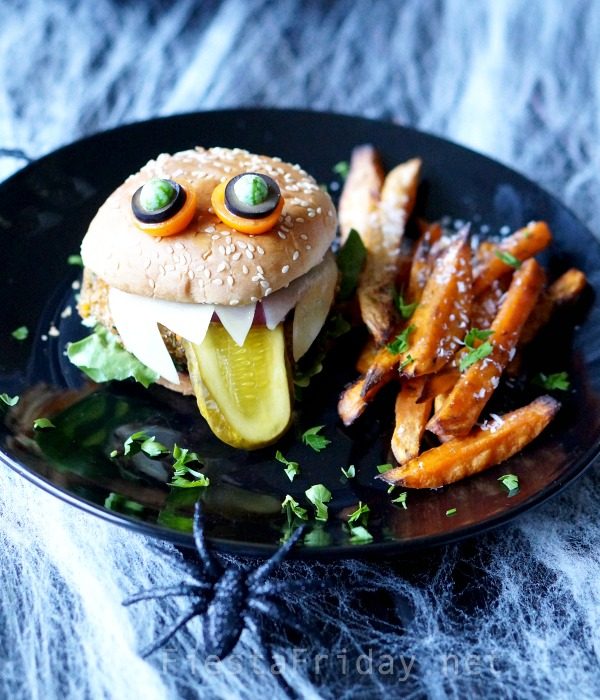 That'll be the next recipe post!
Idea for Rice Krispie Treat Monsters is from One Little Project
I first saw Silly Apple Bites on Fork and Beans