So, did you see the Halloween Treats that I made?
What do you think, huh, huh? Pretty cute, huh, huh?
Yeah, you know what?! That is so annoying!
If I say huh, huh one more time, would you please just smack me in my face?
Figuratively speaking, of course, since you obviously can't do it in a virtual world. If you insist on it, then you can punch your screen. In which case, you will only be hurting yourself, hehehe…
Yeah, it's close to Halloween, and I heard it's going to be a full moon on the day, so excuse my witchy manners.
Anyway, if you haven't checked out my Halloween Monsters, I would urge you to do it. You may find an idea to two that you can use.
But I'm not done! I have one more Halloween recipe for you. Oh, it's going to be soooo….scary!!
Now, Features!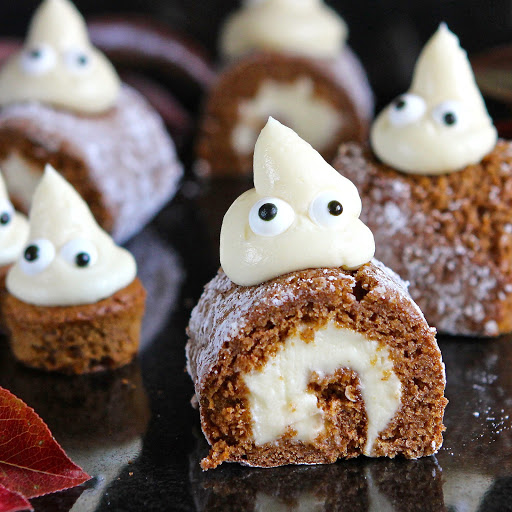 Halloween Pumpkin Mini Rolls from Gluten Free Alchemist
"Are these adorable or what, huh, huh?! Oops, I did it again! Just smack me, will ya?! Seriously, besides being so adorable, these ghosts also sound so scrumptious! A win-win in my book!" — Angie
"I loved the fact that these rolled pumpkin cakes looked so cute with the ghostly filling on top, and at the same time not missing out on all the flavors of fall and Halloween! I found the use of rice flour very interesting as it is not so commonly used!" — Vanitha
Thai Chicken & Fried Rice Lettuce Wraps from Happy & Harried
"When we take a short cut and use ready-made mixes with our food this is what it should look like. It sounds so fresh and zingy and lovely presented in the lettuce wraps. This is the kind of meal the whole family would tuck in to and just love!" — Petra
Ropa Vieja from The Bearded Hiker
"So I have to make this, like stat! That new Instant Pot in my kitchen needs to earn its keep, and this is a perfect recipe for it. Stewy, meaty thing that needs to cook until it falls apart. Doesn't it sound and look positively absolutely lip smacking?!" — Angie
Avgolemono (Greek Egg and Lemon Soup) from Zoale
"This sounds like the ultimate comfort food! The flavors, the method, it all sounds so good it would make me feel better straight away! Delicious!" — Petra
***
Now, let's party! Join Fiesta Friday #195 by adding your link. Don't forget to link your post to FiestaFriday.net and the co-hosts' blogs, so we can feature you. Your cohosts this week are Monika @ Everyday Healthy Recipes and Sandhya @ Indfused
If you're new to Fiesta Friday, please read the guidelines.
[inlinkz_linkup id=745638 mode=1]