Just in time for Halloween, these monster burgers are sooo….scary, they'll get you shaking in your boots!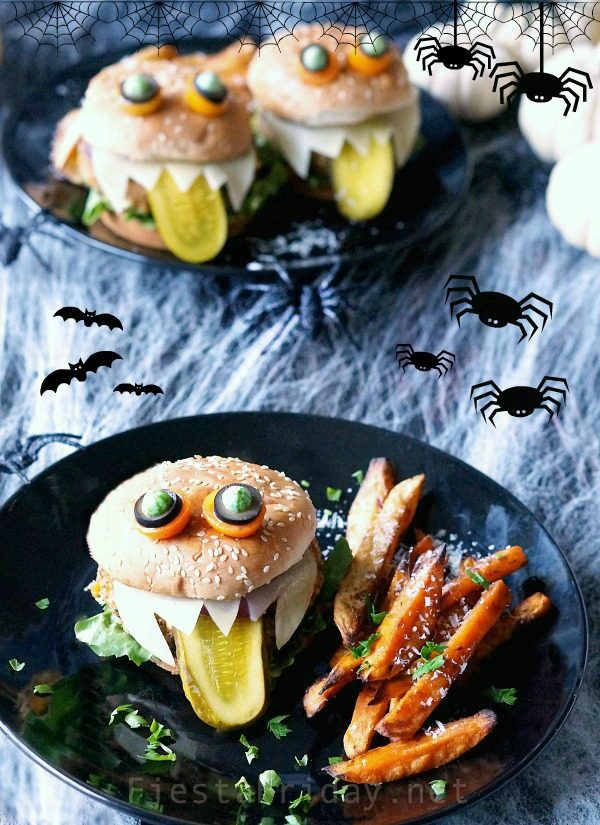 Look at them! Eyes blazing, fangs snarling, tongues lolling, aaand…they're 100% vegan! So scary!
C'mon now, is there anything scarier than a burger that's 100% vegan?! My carnivore husband didn't think so.
He couldn't wait to dive into these burgers…until I told him they're veggie burgers. He actually stopped himself from biting into it! It was too funny to see his suspicious face!
That man has a natural distrust of anything vegetables, which I find amusing. I may need to talk to my mother-in-law about it. What could have happened in his childhood, I wonder?!
I, on the other hand, was raised with a great deal of respect for fruits and vegetables. My mother insisted that they were part of every single meal we had. There were definitely lots and lots of fruits for snacking and desserts. Yes, fruits for desserts!
Anyway, in the end, my husband decided these veggie burgers weren't so scary after all. He confessed that they would be something he would want to eat again.
That's the only endorsement you need. These are exceptional vegan burgers.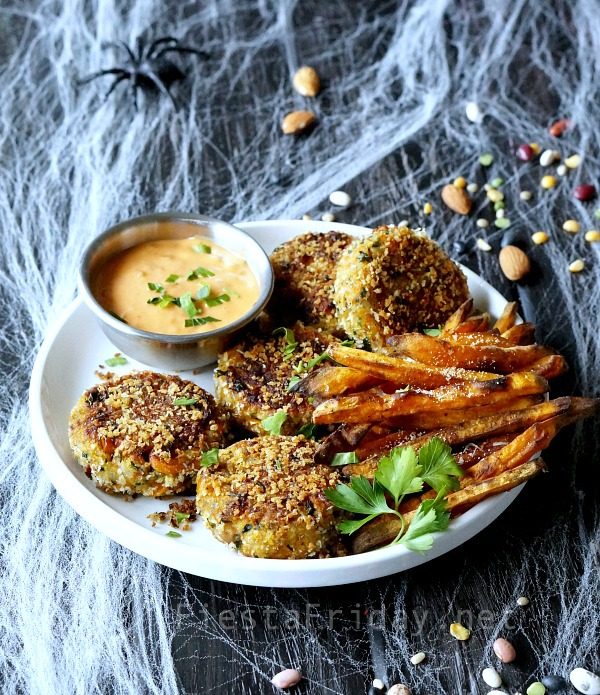 In my quest to make the best vegan burgers, I've gone the routes of mushrooms and eggplants as well as tofu and tempeh. You know, the usual suspects.
I've come to a conclusion that the best-tasting vegan burgers must involve the following ingredients:
Grains (rice, barley, wheat, etc.)
Beans (black, navy, pinto, chickpea, etc.)
Nuts (almond, cashew, walnut, etc.)
Vegetables of choice (preferably several kinds)
Spices and herbs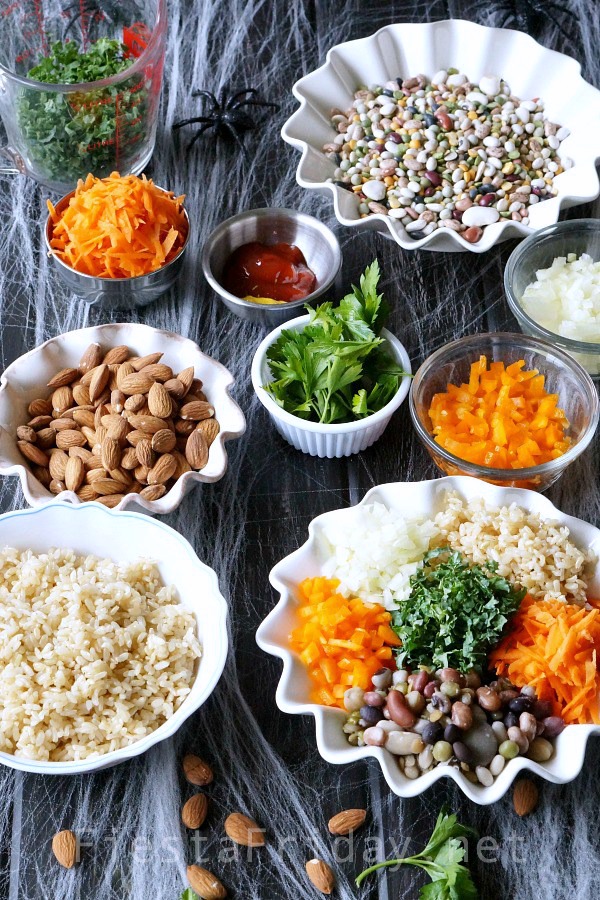 The making of the best vegan burger patties
You can vary any of those ingredients and you will probably still get tasty burgers. But how do you get exceptional-tasting meatless burgers? In my opinion, the key is texture.
And that's why you want to cook your own beans. Canned beans are a little too mushy. And while at it, pick yourself a variety of beans that keeps its shapes well after cooking, not one that will disintegrate into mush.
Or better yet, try a mixture of beans. Like the one that comes from a package of 16-bean soup mix.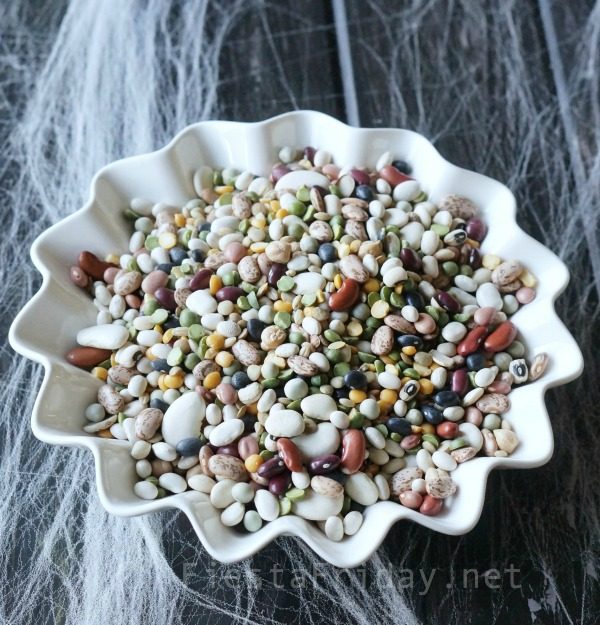 This way you'll get a variety of flavors and textures all in one. Plus, the look pretty. Like jewels.
Make sure you cook them until they're just cooked and you can still recognize all the individual varieties.
The next thing to consider is how to make the patties hold together, and not fall apart while they're being cooked. There are many good recipes out there on the internet that use eggs or cheese as the binding agents. They do work. And the cheese, especially, adds so much to the tastiness.
But I wanted to make 100% vegan burgers. So, no cheating allowed! This is what I did instead.
You see all the ingredients here, on the plate?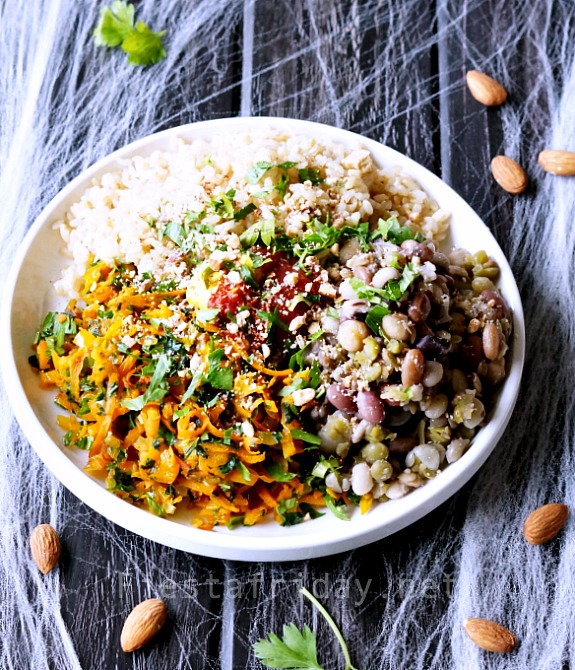 Looks good enough to eat as is, doesn't it?
Well, don't eat it if you want burger patties. What you want to do, instead, is mash it, but not all of it. Maybe about 3/4 of it. That's how you're going to keep the patties intact. Your ingredients will act as the binding agent!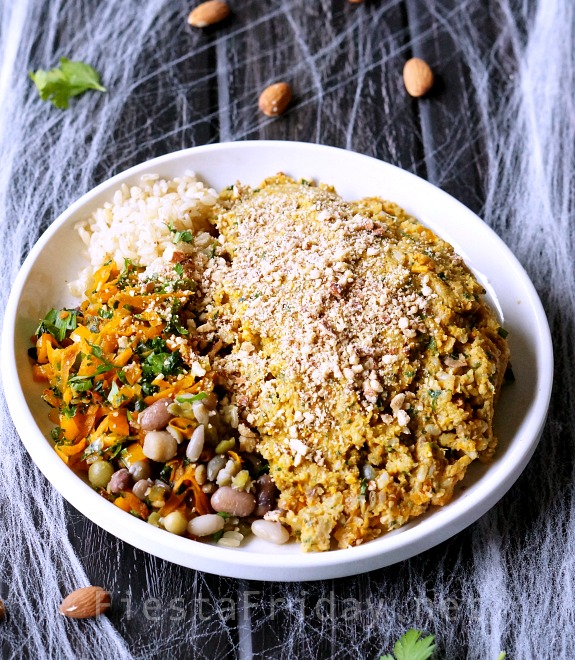 Doesn't look so good anymore now, but hey, we want burger patties that keep their shapes!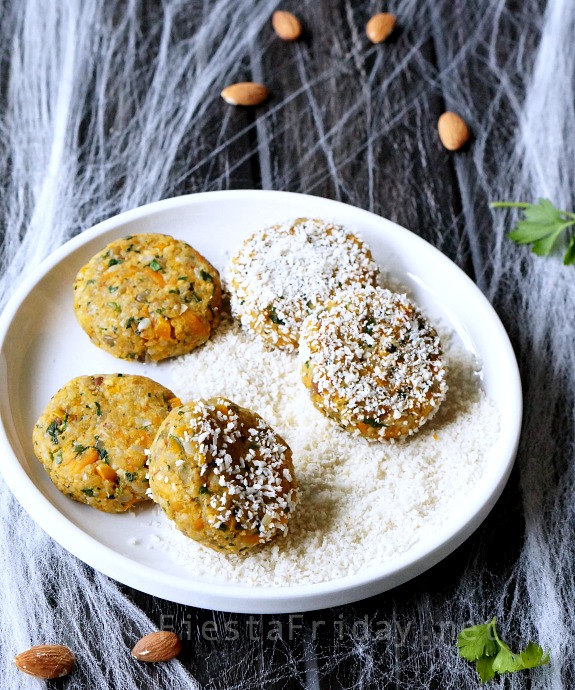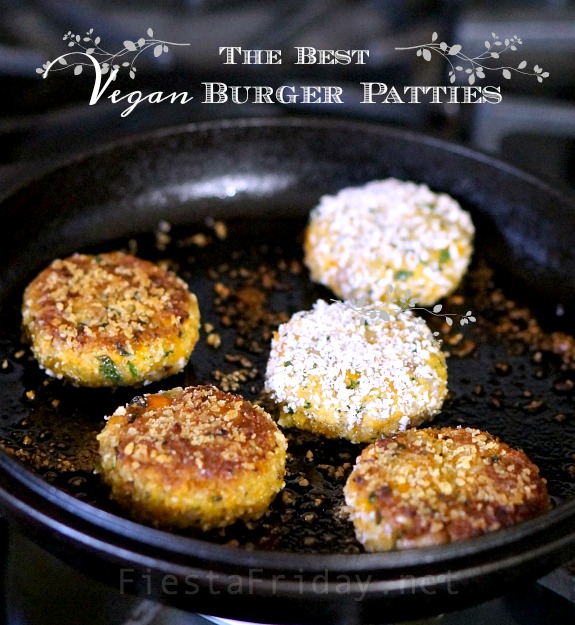 See?! They hold their shapes, they don't fall apart! Yay!
You can make the patties as big or as small as you like. Small ones make great appetizer! But big ones are perfect for your "scary" monster burger. If you're as suspicious of vegetables as my husband, you'll find it plenty scary!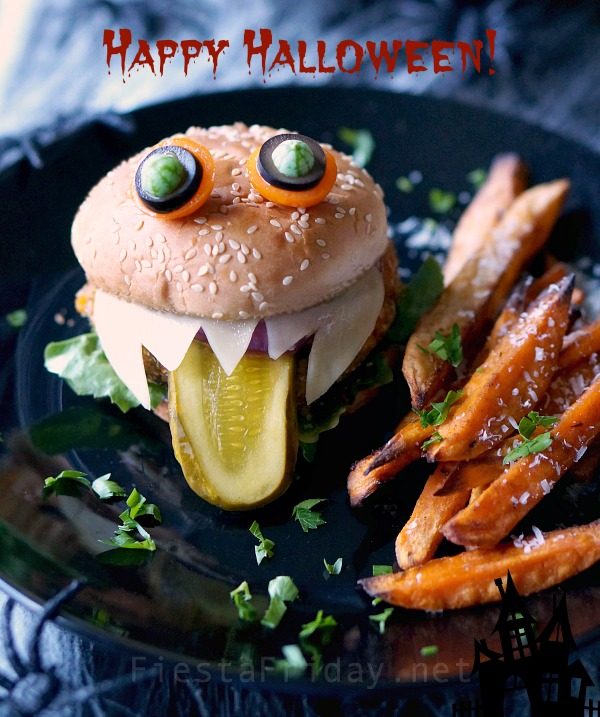 Vegan Burger Patties
The best veggie burger patties! 100% vegan!
Author:
Angie | FiestaFriday.net
Recipe type:
Entrée/Appetizer
Ingredients
1 cup cooked brown rice
1 cup cooked mixed beans
2-3 tablespoons of olive oil
1 cup (packed) chopped kale
1 cup shredded carrot
½ cup chopped onion
½ cup chopped sweet/bell pepper
2 teaspoons minced garlic
1 teaspoon kosher salt
1 teaspoon garlic powder
1 teaspoon smoked paprika
1 tablespoon tomato ketchup
2 teaspoons yellow mustard
½ teaspoon chili garlic sauce or sambal oelek (optional)
¼ cup crushed roasted almonds
1 cup panko bread crumbs
1 tablespoon minced parsley
Instructions
Saute onion and garlic in 1 tablespoon of oil, until translucent.
Add the rest of the vegetables (kale, carrot, bell pepper). Cook until vegetables are cooked and soft. Add salt, pepper, garlic powder, and paprika.
Using a food processor, mash part of the rice, beans, and cooked vegetables (not more than ¾ of the whole amount). Scrape into a big bowl.
Add the rest of the ingredients and half of the panko breadcrumbs into the bowl. Mix/knead it with your hands, until everything is well blended. You should get something that feels like a soft but stiff dough.
Form into patties. Dip them into the rest of the panko breadcrumbs. You may need to pat the crumbs firmly into the patties to help them adhere.
Fry patties in 1-2 tablespoons of oil, until brown in color. The panko will get nice and crispy.
Serve with your usual toppings in a burger sandwich. Or as appetizer with your favorite dipping sauce.
Notes
I recommend that you cook your own beans. Use several different varieties, or the 16-bean soup mix. Cook them until they're just cooked, and not too mushy, and drain them well. Canned beans can be used but your patties will turn out much softer.
Pin This!