Hola, chicas y chicos! Feliz Cinco de Mayo!
Are you ready to fiesta? I am!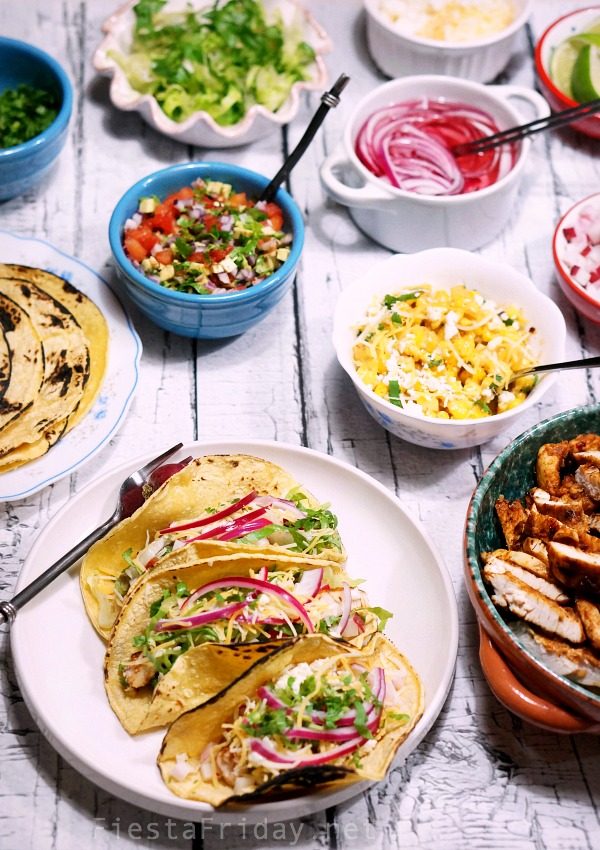 But something is missing. Where are the margaritas?
Can someone lend me their margarita machine? My husband forbade me to buy one. He said there's no room in the kitchen.
That's true. And it's also true that he hates margaritas.
But he'll take a Corona. And guess what? I hate beer.
It's amazing we've been together for this long despite our differences. Maybe it's true what they say… Opposites attract??
Anyway, I don't think we'll be squabbling over our drinks. Not today. Not on Cinco de Mayo.
Today we celebrate, right?! Are you with me?!
***
Features
Grilled Pineapple Pepper Curried Quinoa from Monika @ Everyday Healthy Recipes
"[This is] full of colour and goodness and flavour, everything I'd want in a dish (minus the chicken for me of course!). They look as good as they probably taste and would appeal to me visually as well as for their flavours." — Elaine
"This is seriously good! I am not a quinoa person, but seeing this makes me think of breaking up my relationship with white rice. I love pineapples and I just love all the flavors going on this bowl of goodness!" — Jhuls
Pineapple Cream Cheese Empanadas from Anjana @ Happy and Harried
"These Pineapple Cream Cheese Empanadas are irresistibly divine! Don't they look fabulous? I wish that I am living near Anjana's home so I could get these empanadas warm and fresh from her oven." — Jhuls
Saffron Infused Lamb Meatballs and Cabbage from Zeba @ Food For The Soul
"I am finding an excuse to open my cute bottle of saffron and Zeba's recipe is just in time. This sounds so flavorful that I might finish the whole thing all by myself." — Jhuls
Fruit Bouquet from Sadhna @ Herbs, Spices and Tradition
"How lovely is this fruit bouquet? It's such a pretty and healthy and thoughtful gift" — Elaine
***
Now, let's party! Join Fiesta Friday #169 by adding your link. Don't forget to link your post to FiestaFriday.net and the co-hosts' blogs, so we can feature you. Your cohosts this week are Monika @ Everyday Healthy Recipes and Sue @ Birgerbird
If you're new to Fiesta Friday, please read the guidelines.
[inlinkz_linkup id=713856 mode=1]