Hi, guys!
The week kinda got away from me. I had things going on that were beyond my control. Then all of a sudden, here we are…another Friday is upon us.
Fortunately, this is a special weekend for all mothers. And that includes me. Happy early Mother's Day to all moms! And you know what that means? It means I'm not expected to do anything, but rather things will be done for me.
Which is a refreshing change in this house! And I'm looking forward to it!
I wonder what's in store for me. The kids and their dad do sometimes concoct pretty nice surprises.
I just hope it'll include food and massage, my two most favorite things in the world! I'll let you know how it'll go.
P.S. No cohosts this week, folks, since I didn't even have the chance to set that up. Remember…the week got away from me… So I'll set up the voting thing, and you know what to do, right? And then if you want to cohost for the weeks ahead, just holler, okay? Would really appreciate it!
***
Now, features: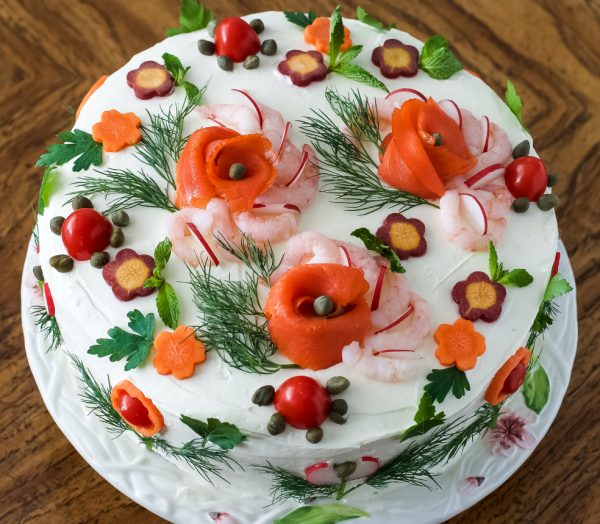 Swedish Sandwich Cake (Smörgåstårta) from Julianna @ Foodie on Board
"Have you seen anything like it?! Isn't it the most incredible thing you've ever seen EVER?! It is for me!" — Angie
Quinoa Walnut Salad with Wasabi Dressing from Zeba @ Food For The Soul
"There is nothing I don't like about this salad, it's a beautiful combination of flavours and textures, and the wasabi and truffle dressing is just perfect – it would make a great addition to a BBQ party menu!" — Monika
Homemade Mayonnaise from Jhuls @ The Not So Creative Cook
"Who would have thought making your own mayonnaise was so easy – it's healthier and fresher than any store-bought mayonnaise, and I am going to try Jhuls' brilliant recipe this weekend!"– Monika
Lemon Blueberry Cake from Sarah @ Sarah's Little Kitchen
"Lemon and blueberries go so well together. I love this cake. It looks beautiful and delicious!" — Sue
***
Now, let's party! Join Fiesta Friday #171 by adding your link. Don't forget to link your post to FiestaFriday.net, so we can feature you. We'll vote for features this week. So come back Tuesday afternoon to cast your vote! You may vote for up to 5 links. Who wants to cohost next week and beyond?
If you're new to Fiesta Friday, please read the guidelines.
[inlinkz_linkup id=715285 mode=1]