This beef stew is one of the things that came out of the cooking marathon.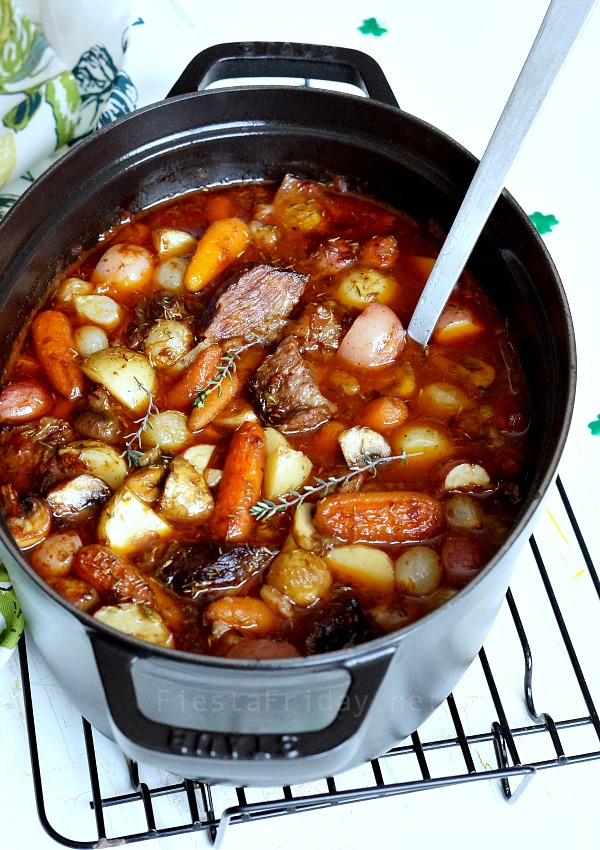 Good ol' all-American beef stew.
Actually, it's all new to me. I've never had a stew like this before. Have you? With an umami bomb. That's right, a bomb. The umami kind.
Not my word, okay? It's the author's. I myself wouldn't have called it a bomb. I would have called it the yummy yum yum umami yum yum.
So, anyway, this stew is different from any other beef stews I've cooked.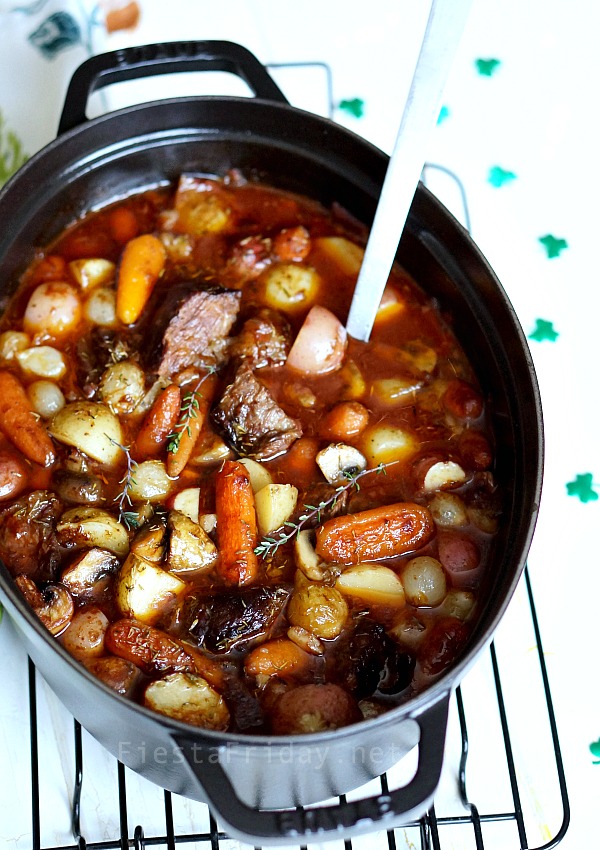 And I've cooked many a beef stew. I have yet to receive a single complaint from anyone whom I served it to. There's absolutely nothing wrong with my or your regular good ol' American beef stew recipe.
Except you can improve it.
With the aforementioned umami yum yum. What the heck is it? It's a mixture of anchovies, soy sauce, Worcestershire sauce, and tomato paste. Yes, you read right, anchovies. Relax, you won't taste or smell anchovies from your stew. You'll smell yumminess, that's all! Promise, chef's honor.
Let's dissect this Serious Eats recipe, shall we? 'Coz we're food and recipe nerds, that's why. Or at least I am. That's why I love sites such as Serious Eats.
This is going to be painfully detailed, but I feel that if I was going to declare a recipe the best in its category, I should at least explain why. Yes, this is the best beef stew I've ever tasted!
Besides adding the "umami bomb", what else does this recipe do differently than any other beef stew recipes?
Let's See:
Instead of cutting the meat into little cubes before browning it, the recipe tells you to brown the meat as big pieces of steaks, like this.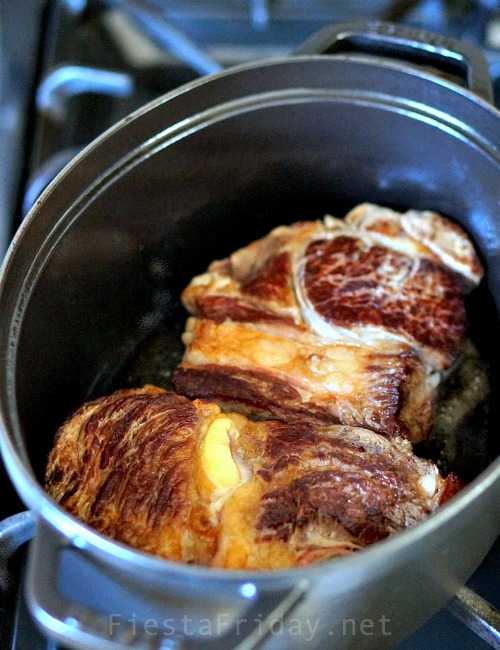 Then, only after resting the pieces for at least ten minutes, it tells you to cube them before further cooking. This is a big revelation to me. And I think browning the meat in big pieces does prevent overcooking that sometimes results in hard and dry meat. Besides, you get less oil-splattering this way, and it's easier to cut meat that's partially cooked. So, this step is a keeper, in my opinion.
Next, brown the veggies, and put them aside. This is also new to me, browning the veggies. I've always added my veggies to the pot later so they won't turn to mush when the stew is done. That I knew. But seriously, I didn't think about browning them first. It's a great idea. The extra step most likely adds extra flavor.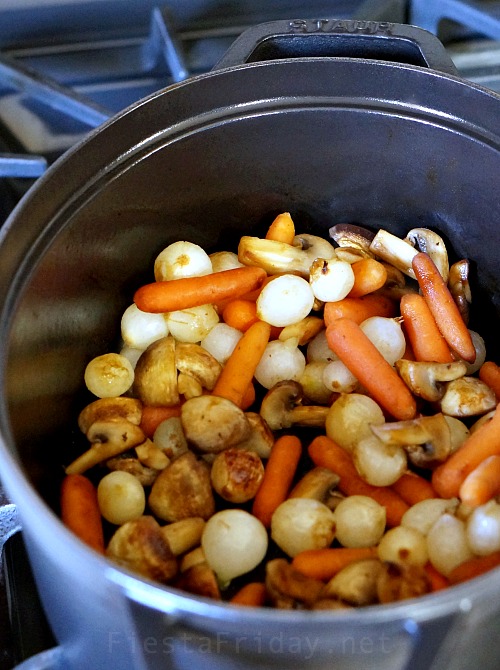 A few things I did differently than Serious Eats
I didn't mix "the umami bomb" in a blender. I've been using my blender lately to make fruit smoothies, so the thought of introducing anchovies in it doesn't sit well with me. Instead, after taking the veggies out, I added a little oil to the pot and "fried" the chopped anchovies until they dissolved.
Then I added the "flavoring" vegetables, i.e., big pieces of onion, carrot, and celery. These vegetables will be fished out later after they render their flavor, hence the big pieces, for ease of retrieval.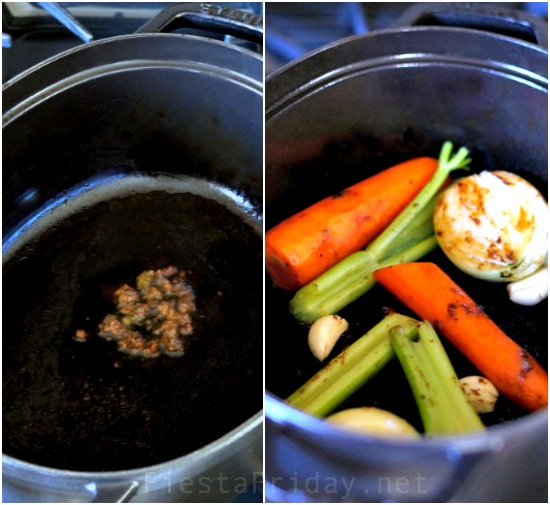 The beef was then put back into the pot, sprinkled with the flour, and stirred to mix.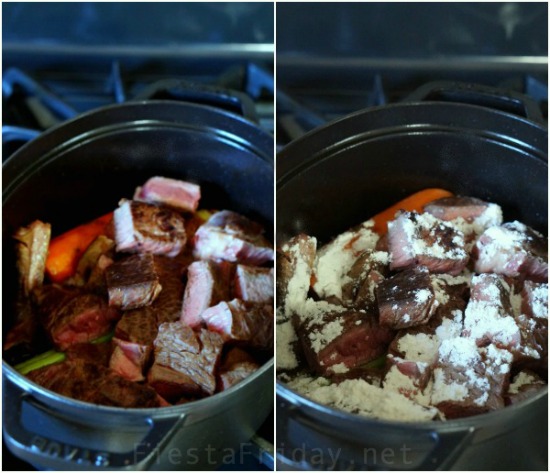 Wine was added next, then the stock. Oh, unflavored gelatin was whisked to the stock beforehand.
Here comes another big revelation: Chicken stock instead of beef! Well, what do you know, I think it actually gives the stew a "cleaner" taste. I can be biased, though. I dislike the harsh saltiness of canned beef stock.
The rest of the umami ingredients was introduced next. Tomato paste, soy sauce, and Worcestershire sauce.
A few other observations
The use of gelatin is interesting. What it does exactly, I'm not quite sure. On my stew, it didn't have the effect the recipe claimed it had on theirs. As you can tell from the photos below, on my first try of the recipe, the stew looks kind of thin. And lots of fat is floating on the surface. The gelatin didn't help emulsify it with the rest of the broth.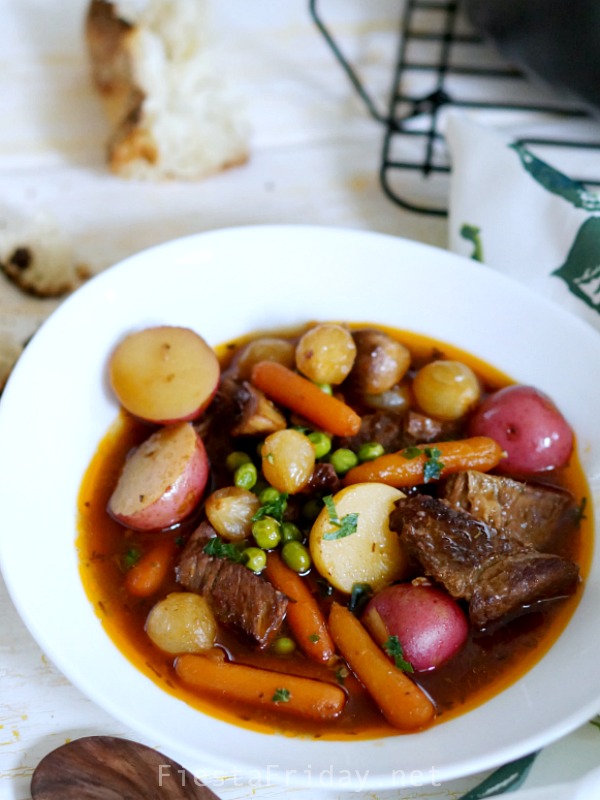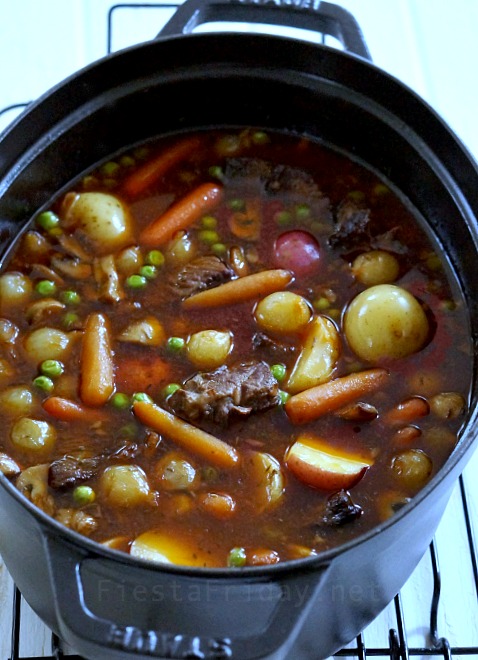 On my second try, however, I decided to skim off the fat and then add 30 minutes to the cooking time. And it worked. Look, the most perfect all-American beef stew, with just the right texture and thickness!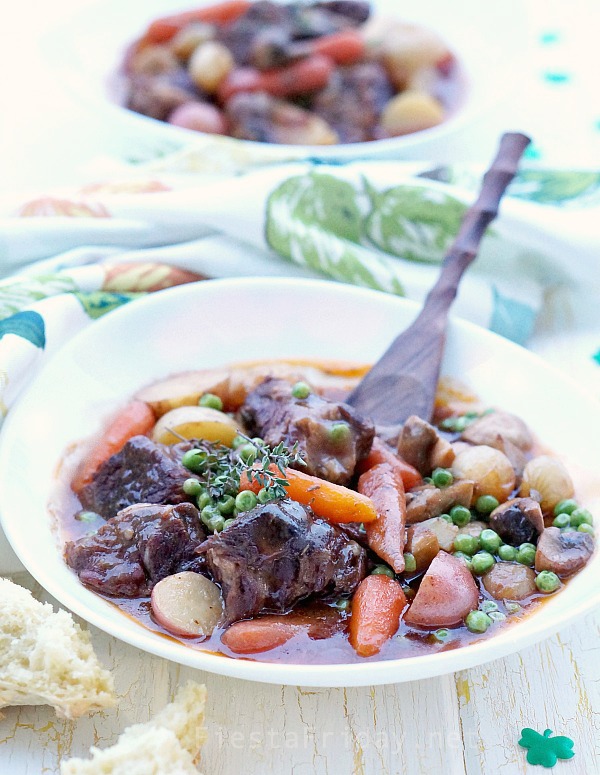 So, it could have been a combination of more evaporation as well the gelatin that helped create the smooth thick sauce. Who knows. It just goes to show that not all ovens are created equal. You may need to adjust your cooking time. And recipes are general guidelines. You tweak them to suit your needs.
Maybe next time I'll try it without the gelatin and see what'll happen.
I also needed a little bit more salt and pepper in the end, btw, but otherwise my verdict for this recipe? Three thumbs up, if I had a third thumb.
The flavor is Outstanding, yes, with capital O! Umami bomb is here to stay.
Serve this with soda bread or any bread, or buttered noodles, or even rice, and have yourself a very happy American St. Patrick's Day!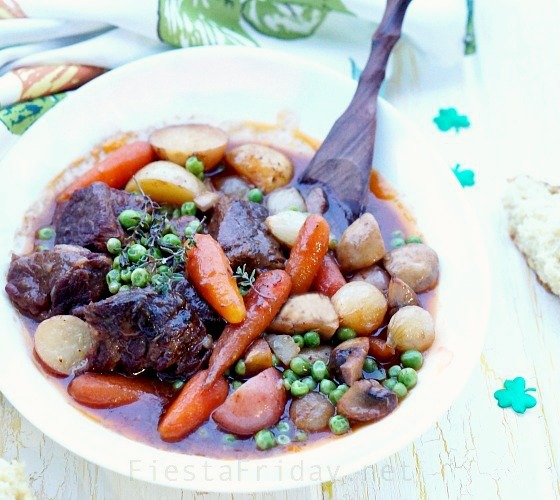 All-American Beef Stew
All-American beef stew with "umami bomb", adapted from a Serious Eats recipe. For an American St. Patrick's Day or any day.
Author:
Angie | FiestaFriday.net
Ingredients
2-3 lbs beef chuck steak or roast
1-2 teaspoons salt
1-2 teaspoons pepper
2-3 tablespoons olive oil
8 oz brown or white button mushrooms, cut into halves or quarters
2 cups baby carrots
1 cup frozen pearl onions, thawed
2-3 anchovy fillets, chopped
1 carrot, cut in half
1 onion, cut in half
1 celery stalk, cut in half
3 garlic cloves, smashed
2 tablespoons flour
1 cup red wine
4 packets powdered unflavored gelatin
4 cups low-sodium chicken stock
1 tablespoon Worcestershire sauce
1 tablespoon soy sauce
2 tablespoons tomato paste
2 teaspoons dry thyme
2 bay leaves
1 lb new potatoes, cut into halves or quarters
½ cup frozen peas, thawed (optional)
Instructions
Preheat oven to 300°F.
Season beef with 1 teaspoon each salt & pepper.
In a large Dutch oven, brown beef in 1 tablespoon of oil over medium-high heat, until browned all over. Transfer beef to a large plate, and let it rest for at least 10 minutes, then cut into 2-inch cubes.
If you use fatty cut like beef chuck (which is recommended), there should be fat rendered in your pot and there's no need to add more oil. If not, add 1 more tablespoon of oil and sauté mushrooms until browned, then add baby carrots and pearl onions. Continue cooking until vegetables are all well-browned. Transfer to a bowl, set aside
Add 1 tablespoon oil to the pot, add chopped anchovies and stir until dissolved. Add the big pieces of carrot, onion, and celery. Stir for a couple of minutes until vegetables are browned.
Add beef back into the pot. Sprinkle the flour, and stir to mix. Scrape the browned bits on the bottom of your pot to make sure they don't get overly browned or burned. Add the wine and continue stirring.
Sprinkle gelatin powder into chicken stock, wait for a minute, then whisk. Slowly pour the stock mixture into the pot and stir. Add Worcestershire sauce, soy sauce, tomato paste. Stir to mix.
Bring stew to a simmer on medium heat. Add dry herbs, salt & pepper (as needed), then transfer to oven. Cover with the lid partially open. (*See photo below). 300°F is the right temperature for a slow simmer in my oven. You may need to adjust your oven temperature. The idea is to never let it go into a rolling boil.
After 1½ hours, remove the stew from the oven and take out the big pieces of vegetables. Add the reserved vegetables (mushrooms, baby carrots, and pearl onions), as well as the potatoes.
Place back in the oven. Again, partially cover with the lid. Bake for another 1 hour, or until beef and vegetables are tender
At this point, you can opt to skim the fat floating on top, and put the stew back in the oven for additional cooking time or heat on the stovetop at a gentle simmer, until it reaches desired consistency. For me, it's 30 minutes back in the oven.
Add thawed peas and stir just before serving, if using. Serve with bread or over rice.