All-American Beef Stew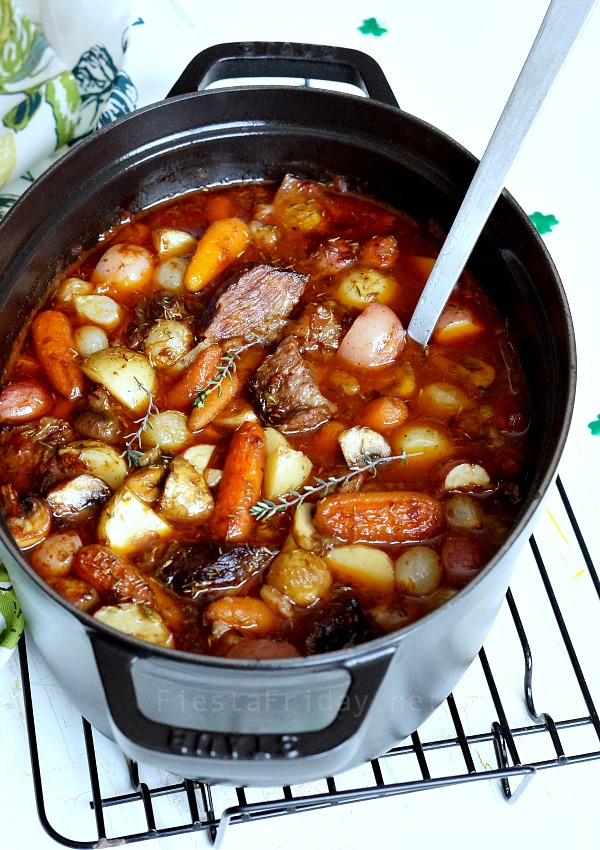 Author:
Angie | FiestaFriday.net
2-3 lbs beef chuck steak or roast
1-2 teaspoons salt
1-2 teaspoons pepper
2-3 tablespoons olive oil
8 oz brown or white button mushrooms, cut into halves or quarters
2 cups baby carrots
1 cup frozen pearl onions, thawed
2-3 anchovy fillets, chopped
1 carrot, cut in half
1 onion, cut in half
1 celery stalk, cut in half
3 garlic cloves, smashed
2 tablespoons flour
1 cup red wine
4 packets powdered unflavored gelatin
4 cups low-sodium chicken stock
1 tablespoon Worcestershire sauce
1 tablespoon soy sauce
2 tablespoons tomato paste
2 teaspoons dry thyme
2 bay leaves
1 lb new potatoes, cut into halves or quarters
½ cup frozen peas, thawed (optional)
Preheat oven to 300°F.
Season beef with 1 teaspoon each salt & pepper.
In a large Dutch oven, brown beef in 1 tablespoon of oil over medium-high heat, until browned all over. Transfer beef to a large plate, and let it rest for at least 10 minutes, then cut into 2-inch cubes.
If you use fatty cut like beef chuck (which is recommended), there should be fat rendered in your pot and there's no need to add more oil. If not, add 1 more tablespoon of oil and sauté mushrooms until browned, then add baby carrots and pearl onions. Continue cooking until vegetables are all well-browned. Transfer to a bowl, set aside
Add 1 tablespoon oil to the pot, add chopped anchovies and stir until dissolved. Add the big pieces of carrot, onion, and celery. Stir for a couple of minutes until vegetables are browned.
Add beef back into the pot. Sprinkle the flour, and stir to mix. Scrape the browned bits on the bottom of your pot to make sure they don't get overly browned or burned. Add the wine and continue stirring.
Sprinkle gelatin powder into chicken stock, wait for a minute, then whisk. Slowly pour the stock mixture into the pot and stir. Add Worcestershire sauce, soy sauce, tomato paste. Stir to mix.
Bring stew to a simmer on medium heat. Add dry herbs, salt & pepper (as needed), then transfer to oven. Cover with the lid partially open. (*See photo below). 300°F is the right temperature for a slow simmer in my oven. You may need to adjust your oven temperature. The idea is to never let it go into a rolling boil.
After 1½ hours, remove the stew from the oven and take out the big pieces of vegetables. Add the reserved vegetables (mushrooms, baby carrots, and pearl onions), as well as the potatoes.
Place back in the oven. Again, partially cover with the lid. Bake for another 1 hour, or until beef and vegetables are tender
At this point, you can opt to skim the fat floating on top, and put the stew back in the oven for additional cooking time or heat on the stovetop at a gentle simmer, until it reaches desired consistency. For me, it's 30 minutes back in the oven.
Add thawed peas and stir just before serving, if using. Serve with bread or over rice.