May I remind you that Christmas is just about two weeks away?! And what have you done?! ← ← Talking to myself, not to you.
Answer to myself → → I've been busy! I've been singing!
And so this is Christmas
And what have we done
Another year over
And a new one just begun
– by John Lennon
Can you believe that?! 2016 will evaporate, never to appear again, in a few weeks…how is that even possible?! ← ← Talking to you now. Please answer me.
Seriously. 2016 is the shortest year to date. Shorter than 2015, that I know for sure. I remember distinctly 2015 was two months longer. ← ← Can you confirm that?
Which doesn't make sense if you ask me, since 2016 is a leap year, so technically it should be longer. By a full day! Oh, the things I can do in 24 hours!!
Anyway, this is just a reminder to myself, and to you, if you're listening. A lot can be done in two weeks, right?! Please tell me I'm right.
Now, Features!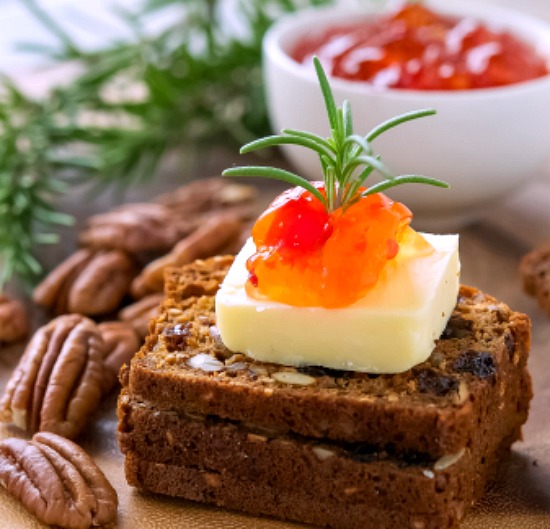 Rosemary Nut Crackers from Julianna @ Foodie on Board
"This is THE best! I should know since I can embarrassingly consume a horrendous amount of this in one sitting! You have no idea. And now I have the recipe, hehehe… Thanks, Juliana!" — Angie
Japanese Milk Bread Rolls from Mollie @ The Frugal Hausfrau
"I am a super-duper fan of dinner rolls! Everybody would agree with me when I say it was love at first sight because that's what I felt when I saw Mollie's dinner rolls. She nailed it! Her dinner rolls look so fluffy and soft. Absolutely perfect!" — Jhuls
"I'm obsessed with any kind of bread and these rolls look stunning, silky and fluffy. Perfect for breakfast!"– Linda
Mulled Apple Cider With Cranberries & Oranges from Anjana @ Happy & Harried
"Anjana's drinks (and other recipes, too) always amaze me! They are always beautifully presented and the flavors are always exquisite!" — Jhuls
"Time for mulled apple cider, everyone! Anjana made it extra special and extra festive with cranberries and oranges!" — Angie
The Best Chili Recipe from Julie @ Hostess At Heart
"This really is the best chili ever. This is a marvelous version. Perfect for cool days and relaxing in front of the fireplace!" — Linda
***
Now, let's party! Join Fiesta Friday #149 by adding your link. Don't forget to link your post to FiestaFriday.net and the co-hosts' blogs, so we can feature you. Your co-hosts this week are Judi @ cookingwithauntjuju and Sandhya @ Indfused
If you're new to Fiesta Friday, please read the guidelines.
[inlinkz_linkup id=683592 mode=1]