Guinness-flavored Onion Brown Gravy over Pork Chops that will make anyone fall in love with anything Guinness. Perfect for St. Patrick's Day!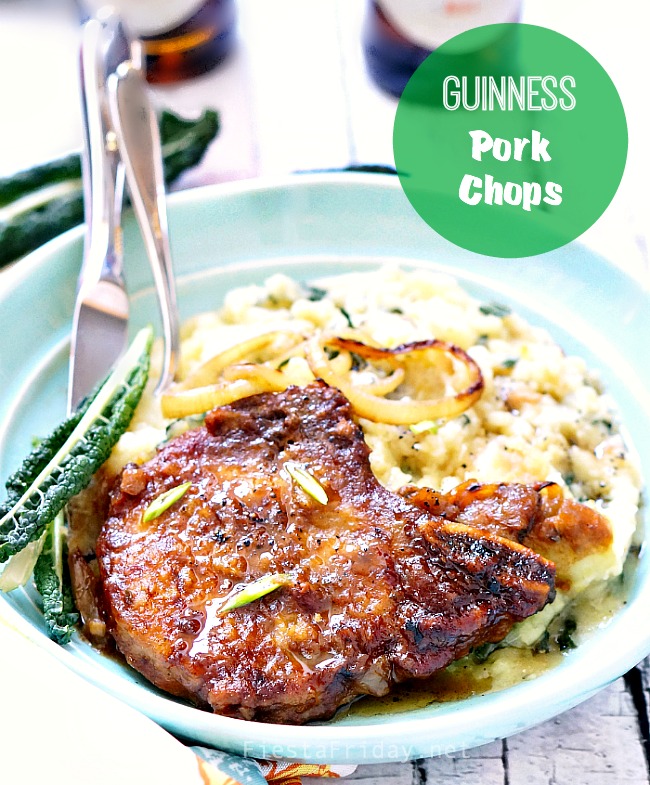 Just like any other good food blogger, I've been trying out recipes for St. Patrick's Day.
Because that's what good food bloggers do. They try out recipes for you before a major event or holiday happens. Then they'll present to you only the best and finest.
And if the recipes include Guinness as an ingredient, then they REALLY are a must-try for good food bloggers.
If you don't try them, then I don't know how you can call yourself a good food blogger.
Okay, relax, I'm just kidding.
You are obviously a very good food blogger if you have been trying out recipes with Baileys Irish Cream. ← Lame joke attempt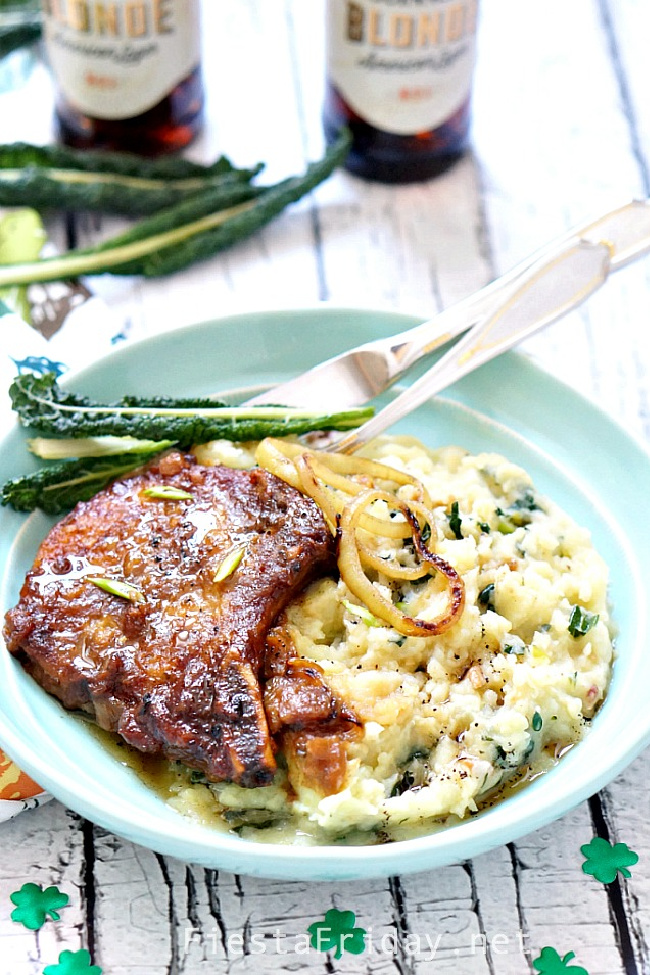 Anyway…
I was very much conflicted over the issue of Guinness. Guinness Draught was not my favorite liquid for cooking, I'm afraid.
I once tried a Guinness-something-something-stew. From something-something-dot-com. And you know what?! Not a fan, sorry to say! I couldn't get over the bitterness. To each her own, I guess.
But just when I was about to write off all recipes involving Guinness, I came across the Blonde American Lager.
This beer actually came into the market last year, but since I'm not a big beer drinker, I was unaware. (By the way, this isn't a post written on behalf of Guinness. Rather, it's a post written for St. Patrick's Day.)
And I know this particular Guinness is produced here in the good ol' USA, and not Ireland, but hey, it's the Guinness that I happen to like. Shocking, I know.
So, this Blonde Lager is not as strong-flavored as the dark, and best of all, not as bitter. I find it just right for Goldilocks, I mean for me.
And when you add it to your onion gravy, omgz, it's just sooo… right!! I am now a Guinness convert!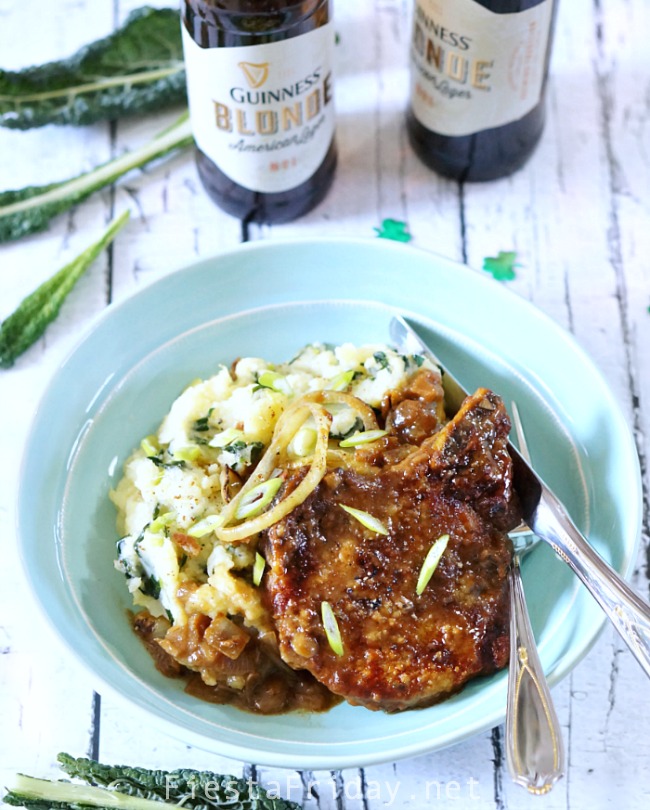 Guinness Pork Chops with Onion Brown Gravy
Guinness-flavored Onion Brown Gravy over Pork Chops that will make anyone fall in love with anything Guinness. Perfect for St. Patrick's Day!
Author:
Angie | FiestaFriday.net
Ingredients
4 pork chops
2 tablespoons olive oil
1 large onion, chopped or thinly sliced
2 garlic cloves, minced
¼ cup + 1 tablespoon all-purpose flour
1 cup low-sodium beef broth
1 tablespoon Worcestershire sauce
1 tablespoon balsamic vinegar
1 tablespoon brown sugar
2 teaspoons Dijon mustard
2 teaspoons fresh thyme leaves
¾ cup Blonde Lager (not counting the foam)
1 tablespoon butter (optional)
Salt & pepper
Instructions
Season pork chops with salt & pepper and dredge in flour, coating both sides.
In a large skillet, brown chops in 1 tablespoon of oil over medium-high heat, about 2-3 minutes on each side. Remove from skillet and set aside.
Add 1 more tablespoon of oil into the same skillet, and sauté the onion until soft and golden brown, about 5 minutes.
Add garlic and cook for just another minute.
Sprinkle 1 tablespoon flour and stir to mix.
Slowly add beef broth and whisk to blend. Add Worcestershire sauce, vinegar, brown sugar, mustard, and thyme. Stir briefly.
Place pork chops back into the skillet. Add the lager.
Turn up the heat so that sauce will come to a rolling boil, for 2 minutes.
Reduce to simmer, and continue to cook for another 4-5 minutes, until the chops are completely cooked, flipping them over a couple of times to get them completely coated with the sauce.
Add a tablespoon of butter to the sauce just before serving (optional).
Serve over mashed potatoes or Colcannon.
P.S. I was told recently that we shouldn't be saying St. Patty's Day, which all my friends and I (guilty as charged) have been saying all these years to refer to St. Patrick's Day. Patrick is a boy's name and you wouldn't be calling a boy Patty, unless his name is Patricia. In which case, his parents have played a joke on him by giving him a girl's name. 
It is perfectly okay, however, to say St. Paddy's Day. The Irish version for Patrick is Pádraig, where the diminutive Paddy comes from.
The best thing to do, though, in my opinion, is to just call it by its full name, St. Patrick's Day. It doesn't even save you a syllable to shorten it to St. Paddy's Day.
Oh, and one more thing, please don't make "Irish Car Bomb" anything. If you think "St. Patty's Day" get people upset, this one is downright offensive to all Irish.
So, that's my Public Service Announcement of the day.
Happy St. Patrick's Day!!
Pin This To Make Later!