Colcannon made richer and more flavorful with the addition of brown butter and bacon. Perfect for St. Patrick's Day.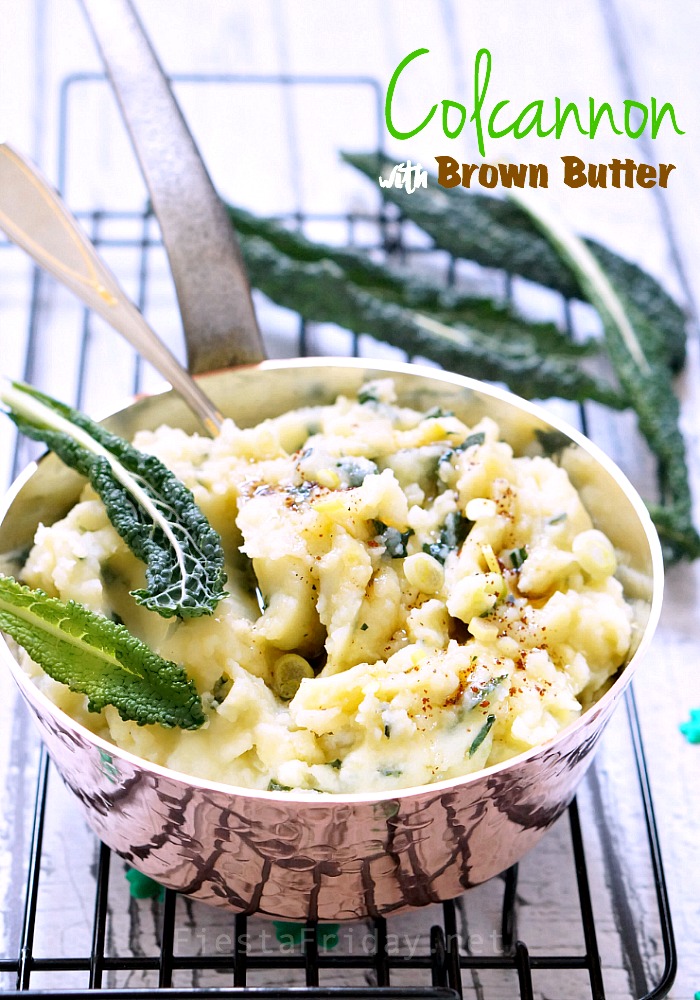 They say there are two kinds of people in the world. The Irish and those who want to be Irish.
I absolutely get that. I know why you would want to be Irish. After all, the Irish gave us color photography…
They gave us potato chips…
They gave us chocolate milk…
They gave us Guinness…
And most importantly, they gave us shenanigans…
Okay, okay, seriously, if not for any of the reasons above, this next one surely is the clincher…
They gave us Colcannon.
Colcannon.
Colcannon
Colcannon is Irish mashed potatoes with chopped cabbage or kale mixed in. Traditionally, it's made simply with boiled potatoes and either sautéed cabbage or kale. Butter and milk are also added, just like any other mashed potatoes variations.
It's considered a staple in Irish households and there are many regional variations. Some cooks add chives, leeks, or onions to their colcannon. Colcannon is so beloved in Ireland that there have been songs written about it.
I find the name to be very interesting. According to Wikipedia, Colcannon may come from the Irish words cál ceannann, which means white-headed cabbage.
Isn't that interesting?  I'm surprised I didn't try making Colcannon sooner since I'm usually drawn to things with interesting names.
Imagine if this was called mashed potatoes and cabbage. Would you be interested?
Okay, you may still be interested. But admit it, it sounds much better to be making Colcannon than making mashed potatoes and cabbage, doesn't it?
I swear it's all just in the name when it comes to food. That's why I move that Corned Beef should be renamed Yummy Salty and Peppery Beef. Since obviously, there's no corn involved whatsoever in Corned Beef. What do you think?!
So.
Colcannon is very easy to make. If you can make mashed potatoes, you can make Colcannon. It's basically just mashed potatoes with either cabbage or kale added to it.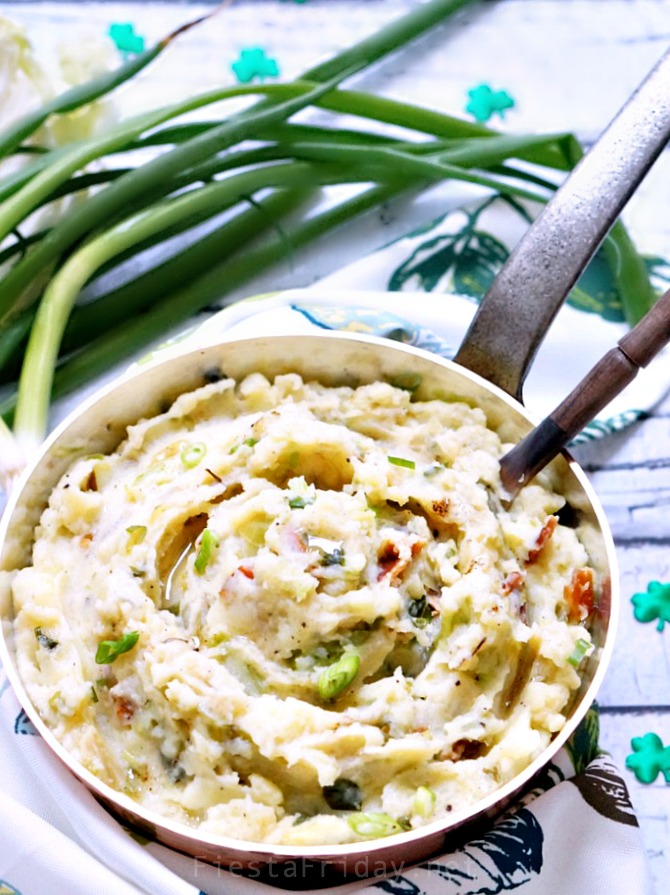 You can add leeks or spring onions or chives to it, too. And you can also add parsley to it. And you can add bacon to it as well. It's up to you. It's your Colcannon.
When I made it the first time I was impressed how well it turned out. My family loved it and asked for more.
So, the next time I made it, I improved it even further by adding brown butter.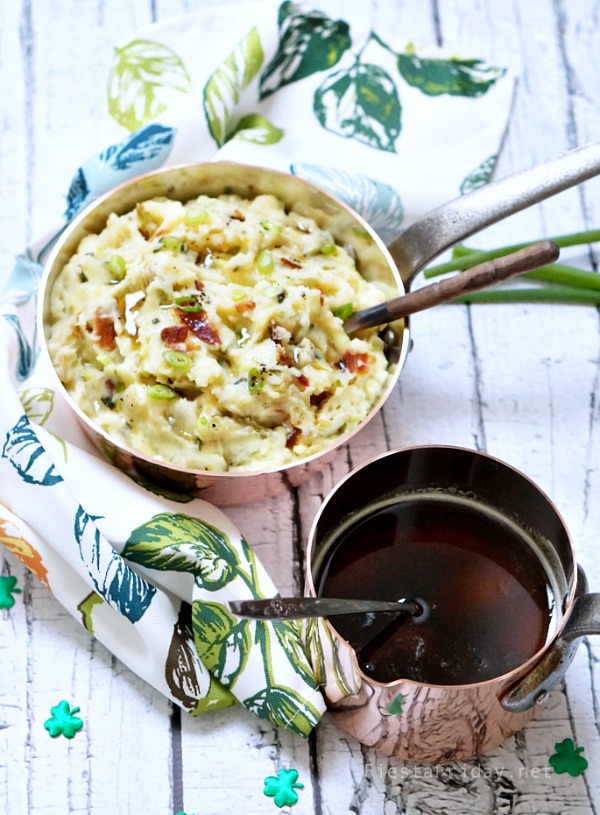 Oh my Lord! That's all I'm going to say.
Brown butter should be the answer to all my problems!
Browning butter makes it…um…how should I describe it? It makes it richer. It makes it more flavorful. Basically, browning makes butter even more buttery.
So I'd say if you're going to eat butter, anyway, you might as well eat brown butter.
And if you're going to eat mashed potatoes, anyway, you might as well eat Colcannon.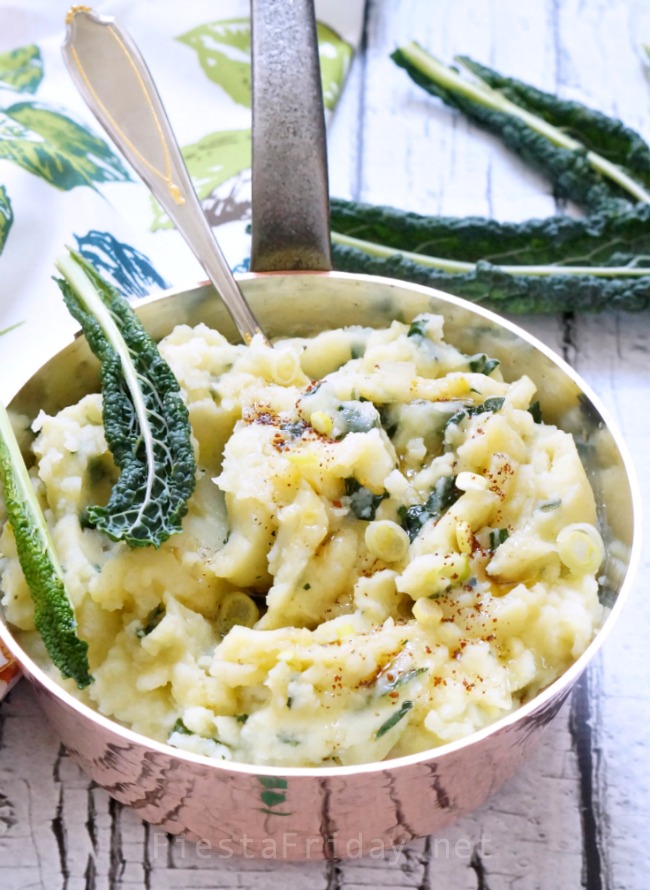 Colcannon with Brown Butter & Bacon
Colcannon made richer and more flavorful with the addition of brown butter and bacon. Perfect for St. Patrick's Day.
Author:
Angie | FiestaFriday.net
Ingredients
2 - 3 pounds of potatoes (Yukon Gold or Russet)
2 cups chopped cabbage or kale
1 cup milk, scalded (*see notes)
½ cup (1 stick) butter
4 strips cooked bacon, crumbled
4 green onions, chopped
Salt & Pepper
Instructions
Scrub or peel potatoes, cut into large chunks. Place in a big pot and add enough cold water to cover. (You can flavor the boiling water, if you like, with either chicken bouillon or salt. This is optional.)
Boil until potatoes are tender, about 20 minutes.
Drain potatoes and return to the pot. Mash either with a potato masher or potato ricer. Set aside and keep warm.
Start browning the butter. Cut butter into chunks, place in a small saucepan (preferably with light-colored bottom so you can see the browning stages).
Cook butter on medium heat. It will start to foam as it melts. Swirl the pan every now and then or use a spatula to stir.
Continue cooking until butter turns light brown. Remove from heat and set aside. It will continue to darken. Don't wait until it's dark brown to stop cooking; you may end up with burnt butter.
Use about 2 tablespoons of the butter to sauté the cabbage/kale and green onions until vegetables are soft.
Mix vegetables into mashed potatoes. Add scalded milk and more brown butter (reserving some for drizzling before serving). Stir to mix evenly. Add salt and pepper.
Before serving, add bacon and more brown butter.
Notes
*The amount of milk can be adjusted as per your preference. If you like a looser consistency, you can add more.
If you like this recipe, please give it a ⭐⭐⭐⭐⭐ rating in the comments section below. Thanks!
Pin This To make Later!