I have a problem.
I have absolutely nothing to wear.
Now if my husband was more sympathetic, he'd offer to take me shopping.
Instead, when I told him, this is what he said,
"Well, that's obviously not true. If you had nothing to wear, you'd be naked."
Oh, brother…
Why is he the way he is?!
Okay, truth be told, I do have enough clothes in my closet. It's just that we're having that kind of year again this year. Where you go from Winter straight to Summer. Do not pass Spring, do not collect $200.
It was 80 degrees yesterday! And I was completely caught off guard. No summer clothes cleaned and pressed, no summer sandals out of the dungeon aka basement, etc.
That was what I meant.
Anyway…
There should be no complaining… It's warm… The sun is out… So I'm happy…
Double happy that it's Friday… Triple happy that it's Fiesta Friday… Multiple happy that I get to fiesta with you!!
Time for features!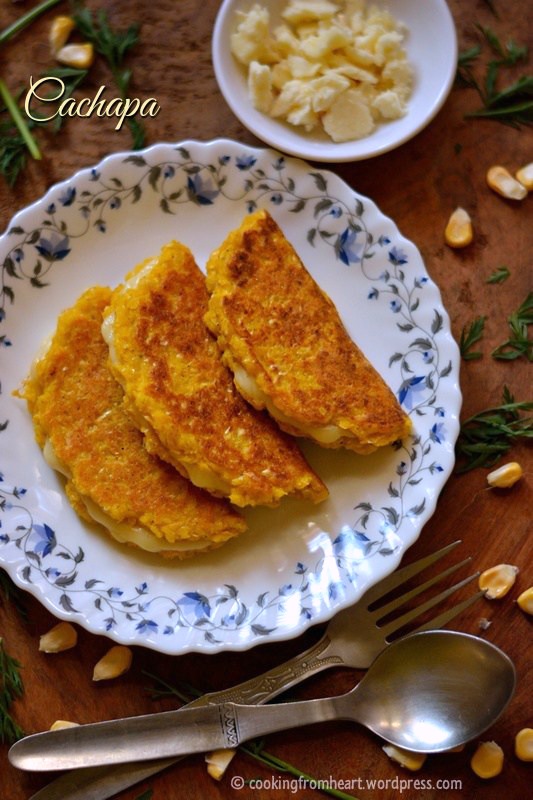 Cachapa | Corn Pancakes from CH @ Cooking From My Heart
"The simplicity of these Venezuelan corn cakes made them so appealing – especially for corn lovers like me. Then they were filled with cheese! They might be the perfect appetizer." — Josette
"I'm with Josette on this one. These pancakes sound absolutely mouth-watering. I will be making these as soon as corn season rolls around. If I can wait that long." — Angie
Cookie Beans from Izzy @ Monday Bakeoffs
"How cute are these cookies? Chocolate coffee flavored shortbread cookies in the shape of coffee beans. They are almost too cute to eat (almost)." — Lily
"And I'm with Lily on this one. Definitely really, really cute! LOVE them!!" — Angie
Cinnamon Raisin Swirl Bread from Quinn @ Dad Whats 4 Dinner
"Not only does the bread look beautiful and delicious, I think it's really sweet that Quinn made it with his daughter as a teaching and bonding moment." — Lily
Kaâk from Linda @ La Petite Paniere
"Not only did these beautiful sweet-bread rings look and sound delicious, I loved the background and story about them. What a wonderful ritual for families to bring their trays of bread to be finished at the bakery. I want to be part of it!" — Josette
***
Now, let's party! Join Fiesta Friday #110 by adding your link. Don't forget to link your post to FiestaFriday.net and the co-hosts' blogs. Your co-hosts this week are Jhuls @ The Not So Creative Cook and Apsara @ Eating Well Diary.
If you're new to Fiesta Friday, please read the guidelines
[inlinkz_linkup id=615412 mode=1]