This Coconut Cilantro Chicken is a super-easy Thai-style curry and will immediately satisfy all your cravings for Thai food! There's no need to go to the restaurant!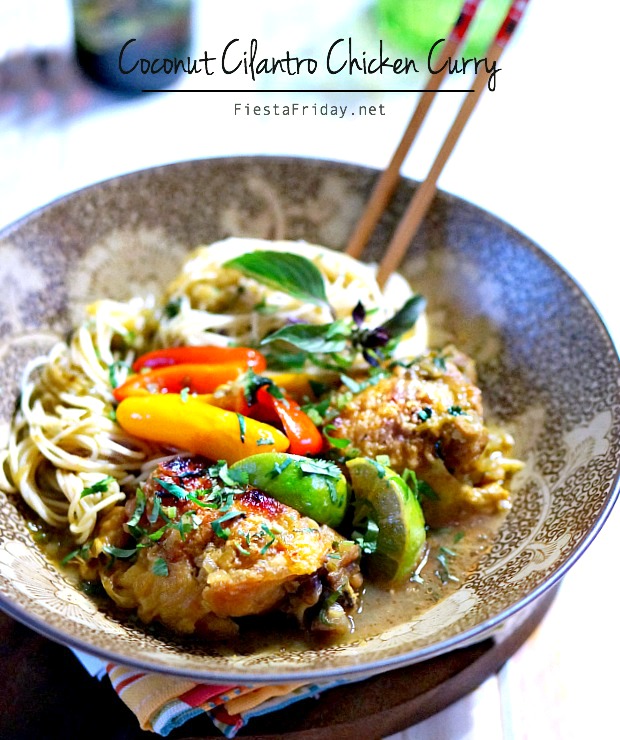 Is it me, or is this week just so…dragging? It should have been Friday yesterday!
After the jam-packed event-filled start of February, the rest of the month seems so anti climactic.
I feel like I need an intervention. Like some kind of a challenge. I don't know.
It could just be me. I do get the case of boredom every now and then. Like I should be doing something other than what I'm currently doing.
Balance is what I'm looking for. Like I should be having 1/4 work and 5/4 play.
What?! Yeah, that's about right. I know how to count, trust me.
Or maybe I need a vacation. I need to be somewhere on the beach. Listening to and eating some salsa. Sipping margarita.
Or maybe I just need to see a comedy show. That would work, too. Laughter is the best medicine. It's cliché but it's true.
Or maybe I just need this bowl of noodly goodness aka Coconut Cilantro Chicken.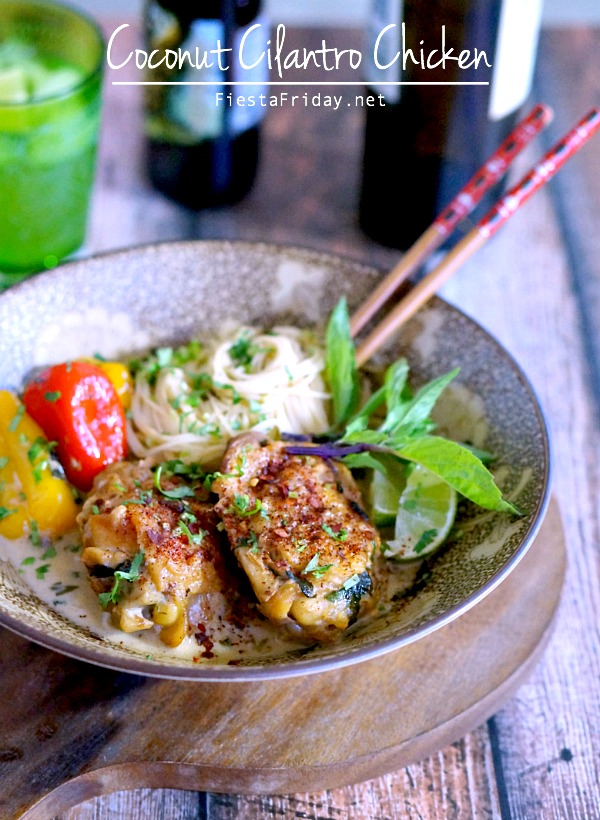 I need something vibrant and vivid. Something bright and bold. Something tantalizing and tempting and Thai.
We can easily drive to a Thai restaurant, I suppose, but right now it's dreadful out there. Wind and deluge.
That's why we're dining at home, instead.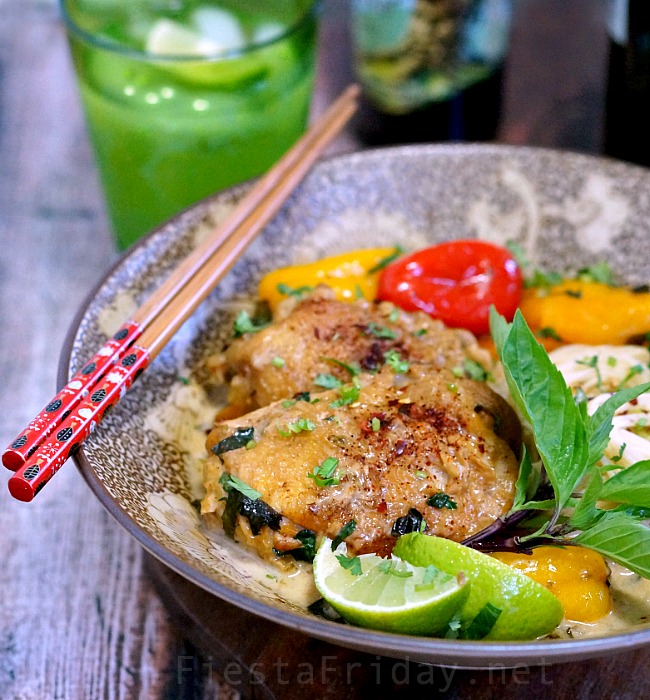 And I'm so glad I pulled myself together and managed to find some cooking energy to put this meal on the table. It awakens my spirit. I mean, my taste buds.
And spirit, too, I guess.
Since I'm feeling much better, inside and out.
Basically, this bowl cured my cabin fever.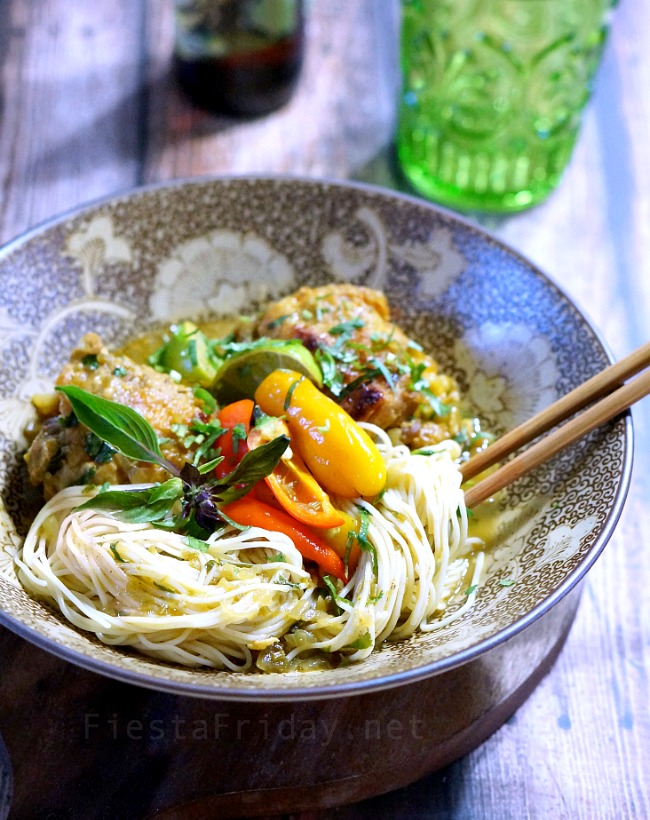 A little bit. I still want to go to the beach. A nice warm beach, though. And sunny, too. Definitely not right now!
Let's all pray that the warmth and the sun will get here soon, shall we? Punxsutawney Phil seems to think they will, yay!
Now, can you call this Coconut Cilantro Chicken curry?
At first I hesitated to call this a curry. Can you still call a dish curry if it doesn't really use curry powder or paste? What is considered a curry, anyway? I'm actually unsure what falls into that category.
The end result, however, resembles and tastes so much like a Thai curry that I decided to call it that. To all Thai cuisine aficionados out there, please don't hate me!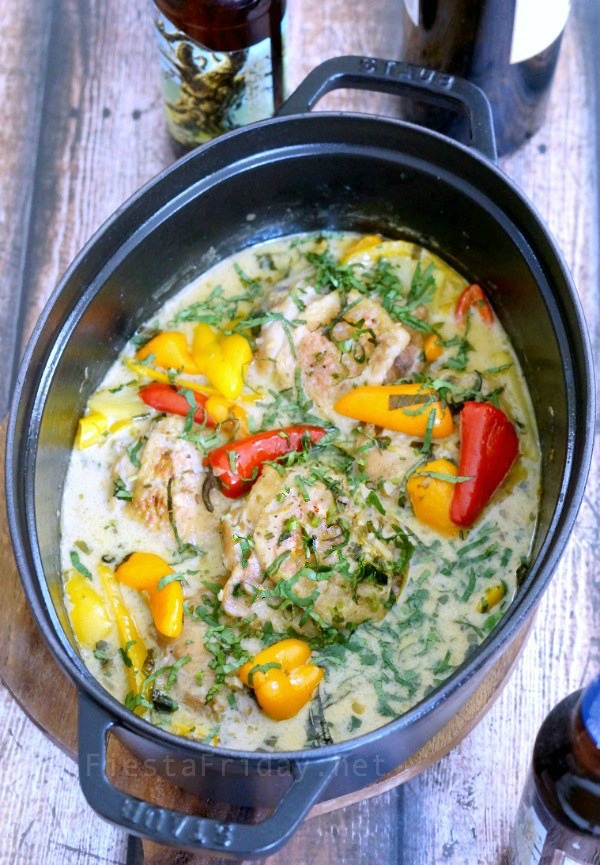 Coconut Cilantro Chicken Curry
This Coconut Cilantro Chicken is a super-easy Thai-style curry, and will immediately satisfy all your cravings! There's no need to go to the restaurant!
Recipe type:
Chicken/Main
Ingredients
6 chicken thighs (about 2 pounds)
1 tablespoon olive oil
1 medium onion, diced
3 cloves garlic, minced
1 jalapeño, seeded and minced
1 bunch of cilantro (stems and leaves separated), chopped
1 knob of ginger (2 teaspoons grated)
2 teaspoons ground cumin
2 teaspoons ground coriander
1 teaspoon paprika
2 cups chicken broth
2 tablespoons fish sauce
1 teaspoon brown sugar
Zest from 1 lime
Juice from 1 lime
1 can coconut milk
A handful of multi colored mini peppers, sliced into halves or quarters (or any preferred vegetable)
Thai basil leaves (optional), chopped
Instructions
In a Dutch oven or skillet, brown chicken thighs in one tablespoon of oil. Remove and set aside. Drain the fat that collects in the pot, except for 1 tablespoon.
Add the onion, garlic, jalapeño, and cilantro stems. Set the heat to medium low or low. Slowly cook down the vegetables, scraping the bottom of the pot often, until they are well cooked and brown.
Add cumin, coriander, and paprika. Stir briefly to blend.
Add chicken broth, fish sauce, and brown sugar.
Put chicken thighs back into pot, and cook for about 10 minutes, or until chicken is fully cooked.
Add coconut milk, lime juice and lime zest. Reduce heat to simmer. Add the peppers. Cook for another 5 minutes.
Add chopped cilantro and basil leaves before serving.
Serve over rice or noodles.
Save This To Make Later