Hey, all! I want to let you know that my plea for co-hosts received tremendously positive response and we're now booked until May, yay!
Several of you still need to get back to me and confirm the week allocated to you, so please check the comments I left you on Fiesta Friday #107, okay?
Anyway, I've never been so happy it's Friday. It's been such a looong…week!
I blame it completely on the weather. It's been gray and gloomy. Which is deadly for food bloggers. Well, not deadly, haha…. But it makes it really hard to take good food photos. If you're a food blogger, you're probably nodding and saying uh huh right now.
And speaking of photos, I have a quick blogging tip for you, on how to optimize your photos (images). Since you've been so supportive with the co-hosting and all.
Just joking, okay?! There's no quid pro quo in Fiesta Friday. We help each other because we care for each other.
As a matter of fact, I've been meaning to share some of my blogging knowledge with you, but have been a little shy to do it. I don't want you to think I'm a know-it-all because I definitely don't know it all.
But I do know a few things by now.
I'm going to start documenting these few things on this Blogging Tips Page. I hope to keep adding to it so it can serve as a helpful resource for all of us, especially for those who are just starting out.
Hopefully.
If I start sounding like a know-it-all, please just tell me to stop. And I will.
I do know one thing I won't be stopping even if you force me to. Fiesta Friday-ing with you!
Features First!
Curry Pork and Pineapple Noodle Bowls with Coconut Milk and Herbs from Julianna @ foodieonboard
"Very different, interesting and healthy recipe. Again, I do not eat pork; but I could have this colorful bowl of food any day! It is that tempting!" — Su
Thai Green Curry Baked Salmon With Coconut Rice & Vegetable Ribbon Salad from Hannah @ Domestic Gothess
"Is not a secret that I don't go crazy for salmon, or at least, I love it, but raw. Something happened with this recipe, maybe the beauty of the colours matching all together or maybe the perfect stylist of the plate… I don't know. The only thing I am sure of is that I would love to have the same thing for my dinner tonight and even for my lunch tomorrow." — Margy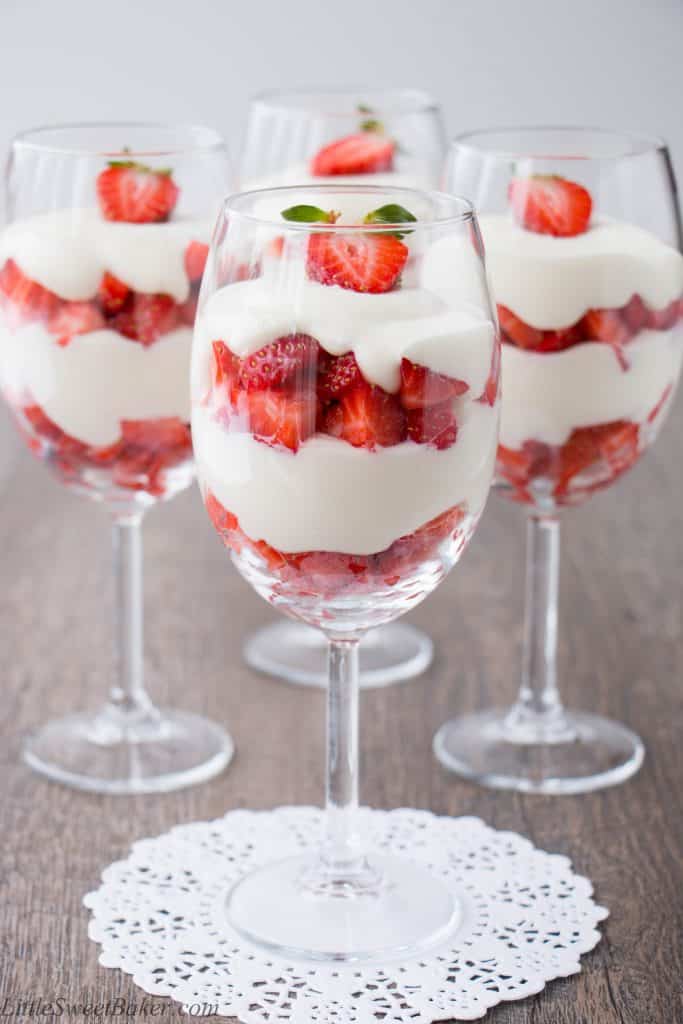 Strawberry White Chocolate Mousse from Lily @ little sweet baker
"There are strawberries, white chocolate and whipping cream, what else? In my opinion this recipe deserves to be featured for its simplicity, just 4 ingredients and wine glasses for an amazing outcome. Nowadays we all are busy, running behind time, what's better of an amazing dessert easy to make to surprise our guests?" — Margy
"A very nice and easy recipe for dessert that would appeal to all age groups and whose portion size and serving option could easily be adjusted." — Su
Spanish Tortilla from Jess @ cookingismysport
"What's a fiesta without a tortilla, right?! But this isn't your regular tortilla; it's a Spanish one. More like an omelet. A loaded omelet. Or a frittata. A patata frittata. Okay, it's getting late over here as I'm writing this and I can feel I'm getting silly. The point is, this is yummy! Yummy for my tummy!" — Angie
***
Now, let's party! Join Fiesta Friday #108 by adding your link. Don't forget to link your post to FiestaFriday.net and the co-hosts' blogs. Your co-hosts this week are Suzanne @ apuginthekitchen and Zeba @ Food For The Soul.
If you're new to Fiesta Friday, please read the guidelines
[inlinkz_linkup id=611174 mode=1]