Coconut Cilantro Chicken Curry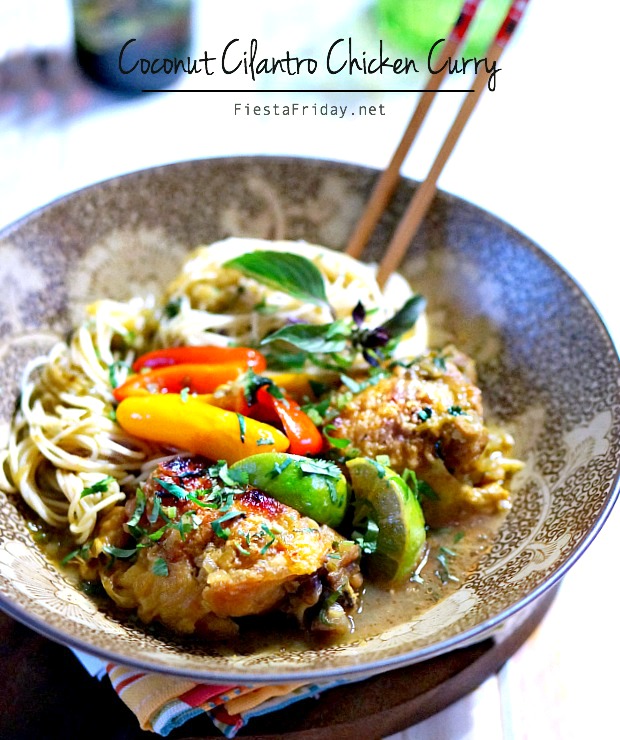 Recipe type:
Chicken/Main
6 chicken thighs (about 2 pounds)
1 tablespoon olive oil
1 medium onion, diced
3 cloves garlic, minced
1 jalapeño, seeded and minced
1 bunch of cilantro (stems and leaves separated), chopped
1 knob of ginger (2 teaspoons grated)
2 teaspoons ground cumin
2 teaspoons ground coriander
1 teaspoon paprika
2 cups chicken broth
2 tablespoons fish sauce
1 teaspoon brown sugar
Zest from 1 lime
Juice from 1 lime
1 can coconut milk
A handful of multi colored mini peppers, sliced into halves or quarters (or any preferred vegetable)
Thai basil leaves (optional), chopped
In a Dutch oven or skillet, brown chicken thighs in one tablespoon of oil. Remove and set aside. Drain the fat that collects in the pot, except for 1 tablespoon.
Add the onion, garlic, jalapeño, and cilantro stems. Set the heat to medium low or low. Slowly cook down the vegetables, scraping the bottom of the pot often, until they are well cooked and brown.
Add cumin, coriander, and paprika. Stir briefly to blend.
Add chicken broth, fish sauce, and brown sugar.
Put chicken thighs back into pot, and cook for about 10 minutes, or until chicken is fully cooked.
Add coconut milk, lime juice and lime zest. Reduce heat to simmer. Add the peppers. Cook for another 5 minutes.
Add chopped cilantro and basil leaves before serving.
Serve over rice or noodles.
Recipe by
Fiesta Friday
at https://fiestafriday.net/2016/02/25/coconut-cilantro-chicken-curry/