Rainbow pizza (vegetarian) loaded with nutritious and delicious vegetables AND kale in the crust! And kids love it!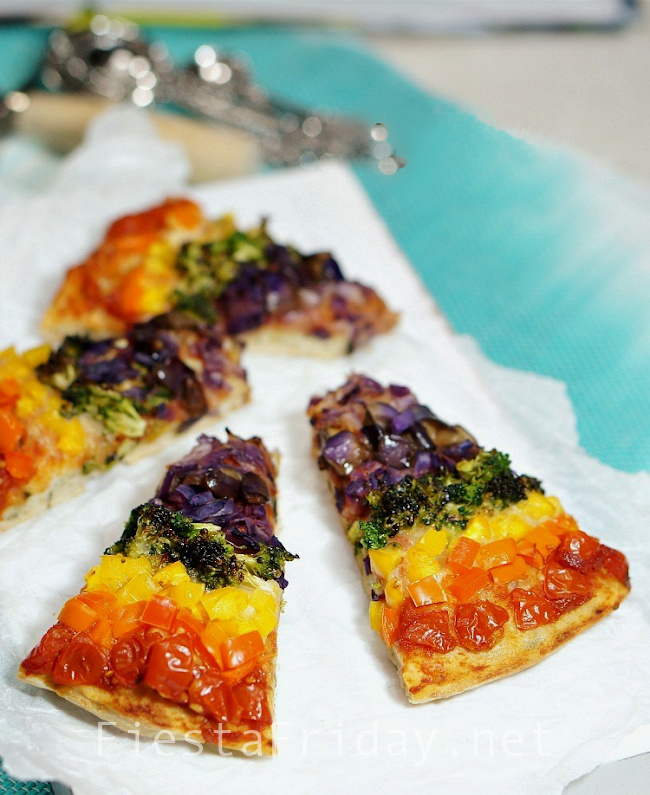 My baby girl showed me a picture of a rainbow pizza she found on Tumblr, a while ago. She asked me to make her one. But I was really dragging my feet about it, not wanting to think too hard about what ingredients I would have to search to satisfy ROY G. BIV. In case you didn't know, thinking too hard hurts my brain. What does that tell you about my brain capacity? The answer: it's low.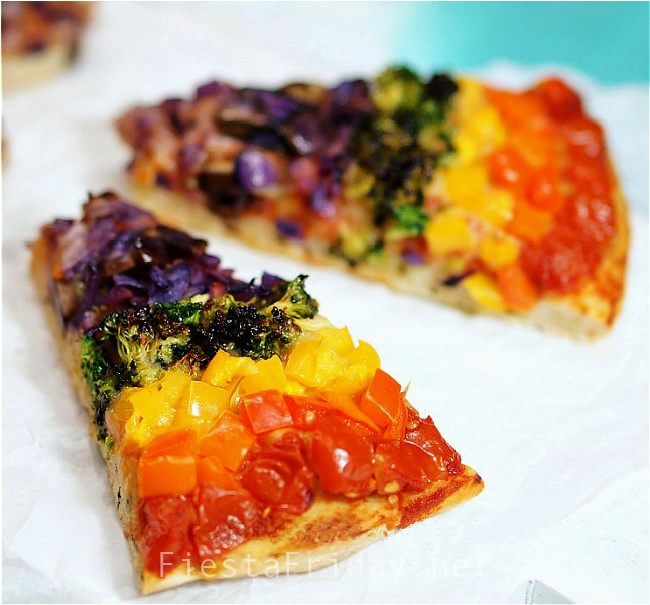 And then, we were driving somewhere, and all of a sudden, out of nowhere, a rainbow popped. Yeah, just like that, POPPED! It looked kinda like this.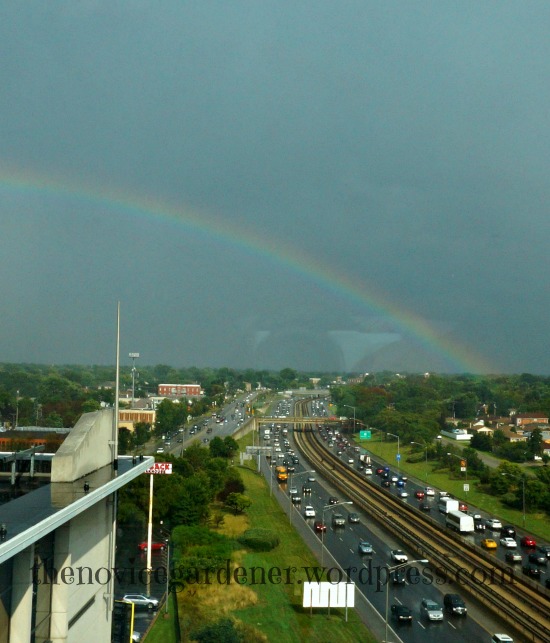 And then, I was digging somewhere in the garden, and all of a sudden, out of nowhere, these purple potatoes popped. Seriously! I didn't plant them. At least not this year. What does that say about my potato-digging skill? The answer: not that great.
They obviously came back from tubers that I had left in the ground the previous year. No complaint, free food is always appreciated.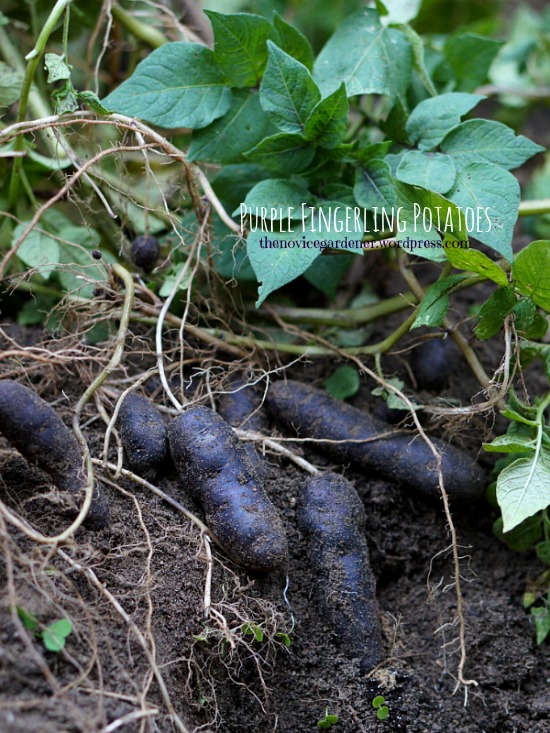 And then, I came home from work and my mother, who happens to be visiting, served me this beautiful salad. What does that say about my mother? The answer: she is awesome, my mother.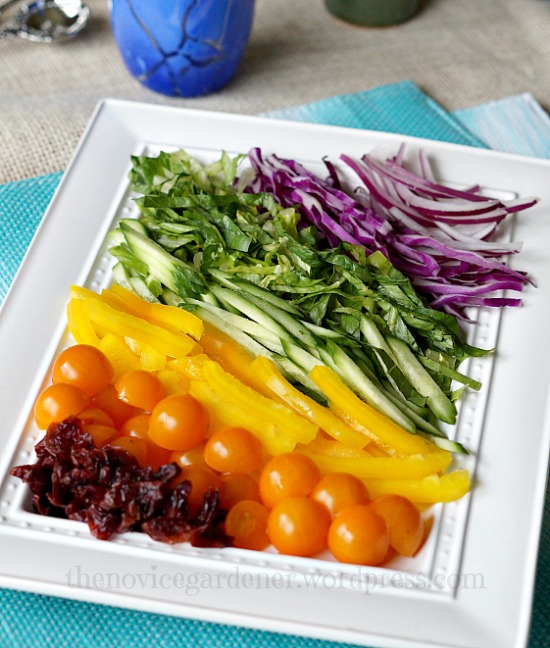 I took it that these were signs that I should make the rainbow pizza. If my mom could make that rainbow salad for her baby girl, I certainly should at least make an effort to make my baby girl her rainbow pizza. Don't you agree? The answer: YES!
So, baby girl, this is for you! By the way, how did you grow so fast? Can I still call you "baby" next year, when for sure you'll be taller than me? Maybe I should stop feeding you, so you won't grow anymore. Just kidding, obviously! I hope you like this!
Love,
Mom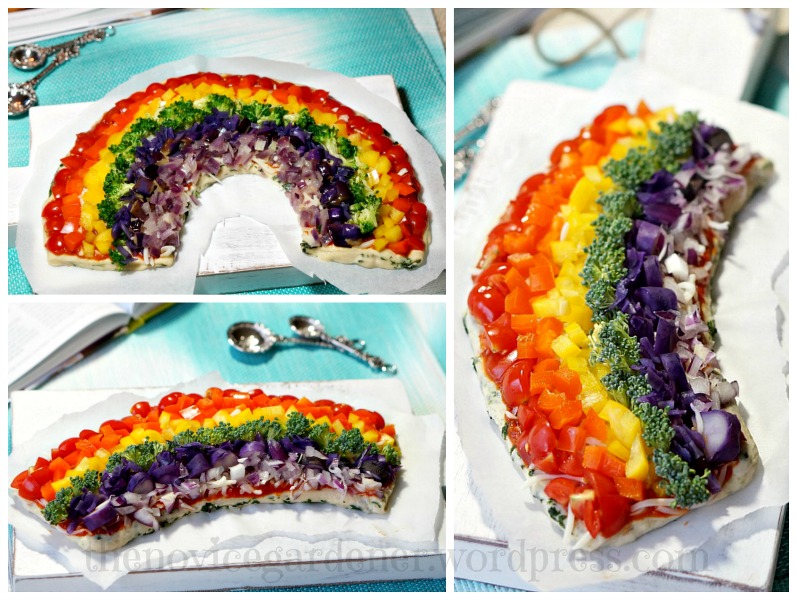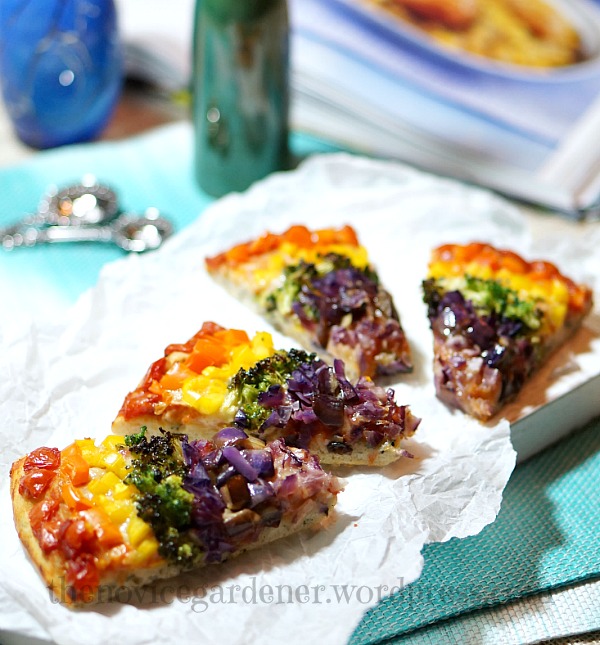 Rainbow Pizza with Kale Parmesan Crust
Rainbow pizza (vegetarian) loaded with nutritious and delicious vegetables AND kale in the crust! And kids love it!
Ingredients
For the crust
1 package (23 oz.) ready-made pizza dough
1 cup cooked kale leaves, finely chopped
½ cup shredded Parmesan cheese
For the toppings
R (Red) - Cherry tomatoes, chopped
O (Orange) - Bell pepper, diced
Y (Yellow) - Bell pepper, diced
G (Green) - Broccoli, chopped
B (Blue) - Purple Cabbage, chopped & steamed
I (indigo) - Purple Japanese eggplant or purple potatoes, diced
V (Violet) - Red Onion, diced
Pizza or Tomato sauce
Shredded Mozzarella cheese
Shredded Provolone Cheese
Instructions
For the crust
Squeeze any liquid out of kale leaves, by using a potato ricer or a tea towel. They must be completely dry.
Stretch pizza dough into a rectangle about ½-inch thick.
Sprinkle chopped kale leaves and Parmesan cheese.
Roll dough jelly roll style. Then cut into thirds.
Shape each third portion into the shape of a rainbow.
Makes 3 small pizza, about 4 x 10 inches.
To make the pizza
Spread pizza/tomato sauce on rainbow-shaped pizza crust.
Sprinkle the cheeses.
Lay vegetables on top of the cheese in the order of the colors of a rainbow (ROYGBIV).
Bake in a pre-heated oven at 450°F, for 15 minutes.
Notes
This recipe makes 3 small pizzas.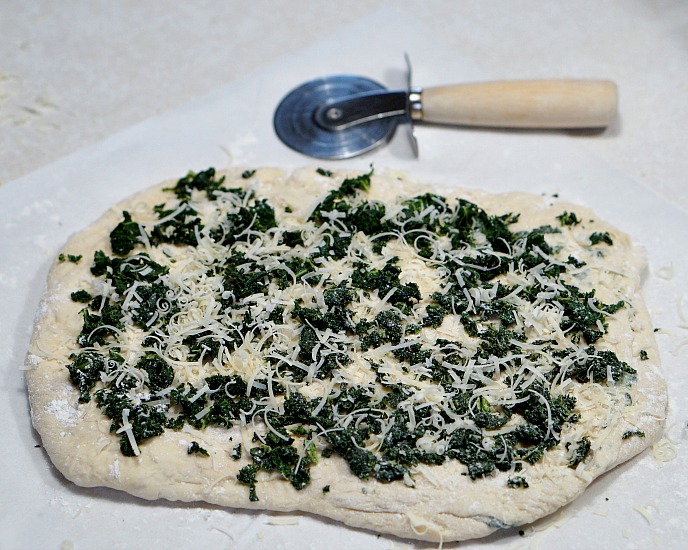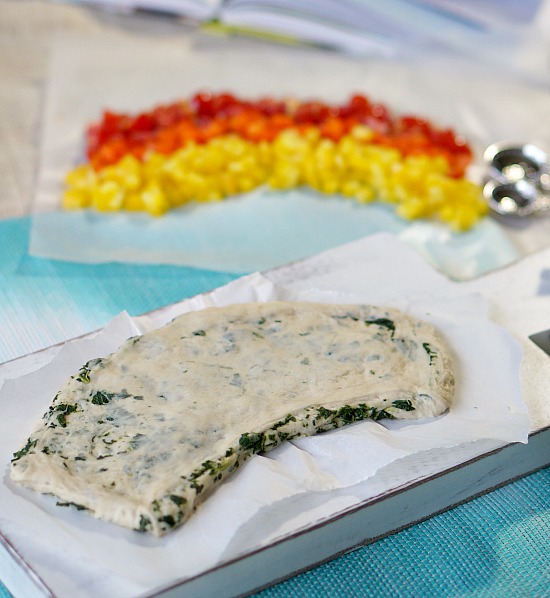 If you like this recipe, please give it a ⭐⭐⭐⭐⭐ rating in the comments section below. Thanks!
Pin This To make Later!