Rainbow Pizza with Kale Parmesan Crust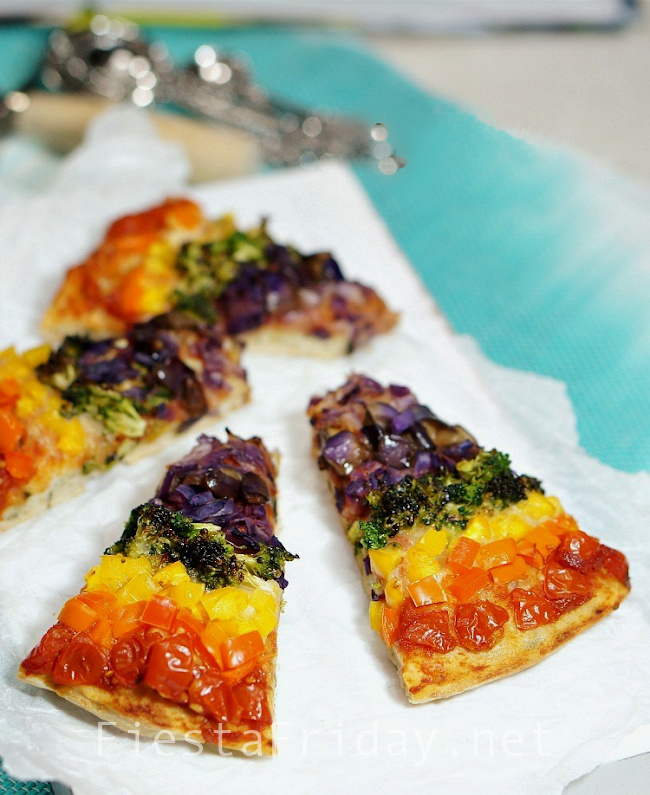 1 package (23 oz.) ready-made pizza dough
1 cup cooked kale leaves, finely chopped
½ cup shredded Parmesan cheese
R (Red) - Cherry tomatoes, chopped
O (Orange) - Bell pepper, diced
Y (Yellow) - Bell pepper, diced
G (Green) - Broccoli, chopped
B (Blue) - Purple Cabbage, chopped & steamed
I (indigo) - Purple Japanese eggplant or purple potatoes, diced
V (Violet) - Red Onion, diced
Pizza or Tomato sauce
Shredded Mozzarella cheese
Shredded Provolone Cheese
Squeeze any liquid out of kale leaves, by using a potato ricer or a tea towel. They must be completely dry.
Stretch pizza dough into a rectangle about ½-inch thick.
Sprinkle chopped kale leaves and Parmesan cheese.
Roll dough jelly roll style. Then cut into thirds.
Shape each third portion into the shape of a rainbow.
Makes 3 small pizza, about 4 x 10 inches.
Spread pizza/tomato sauce on rainbow-shaped pizza crust.
Sprinkle the cheeses.
Lay vegetables on top of the cheese in the order of the colors of a rainbow (ROYGBIV).
Bake in a pre-heated oven at 450°F, for 15 minutes.
This recipe makes 3 small pizzas.
Recipe by
Fiesta Friday
at https://fiestafriday.net/2014/09/12/rainbow-pizza-with-kale-parmesan-crust/