It's a week away from St. Patrick's Day, you guys! What kind of shenanigans are you all planning?
I myself probably will mark the day with a Shamrock Shake. Or maybe I'll splurge and get myself an Oreo Shamrock McFlurry. Or maybe I'll celebrate big time and get both! That's the kind of shenanigans I approve of!
Once I get my fill of the minty green treat, I'll be ready to hit the kitchen and boil the corned beef. I think I'll instant-pot it. I'll probably be making Colcannon, too.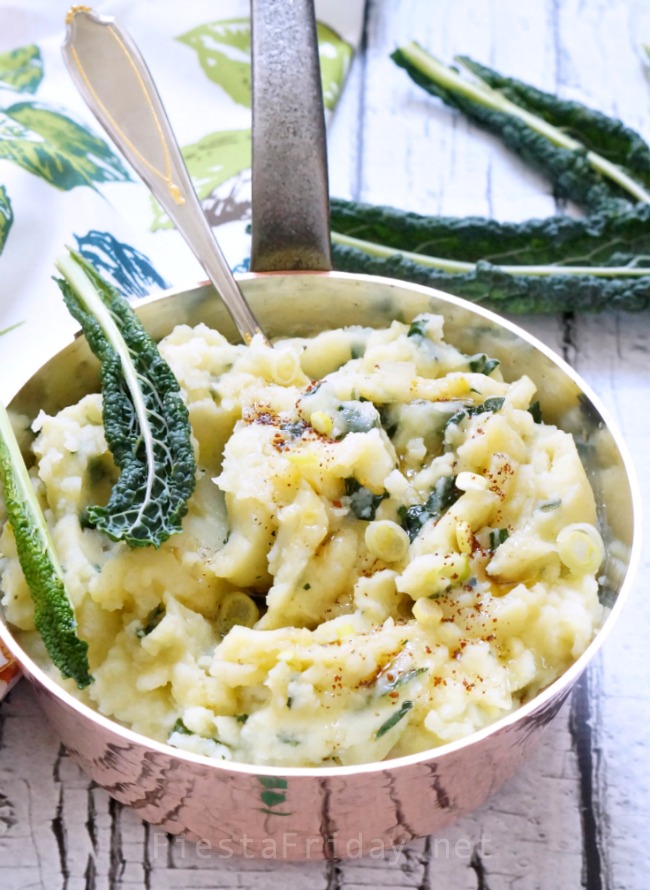 Okay, I should have said I'll be making colcannon again. It's been on our menu more often than I can count, and not necessarily just for St. Patrick's Day. Who really can resist creamy mashed potatoes?! Even with kale added?! I actually prefer it WITH kale! But then again, I'm a kale lover, unlike a few people I know. One of them being my better half.
Is he really the better half if he doesn't like kale? You be the judge, lol.
Okie dokie, guys! Let's fiesta!
From Last Week's Fiesta
Gluten Free Party Rings
"I love the idea of making these beautiful-looking party rings gluten-free and dairy-free. Use these as a blank canvas to unleash your creativity in decorating them." — Pauline
"Such colorful and pretty cookies… I mean, biscuits. These will be perfect for Easter!" — Angie
Tang Yuan, Chinese Glutinous Rice Balls with peanut and black sesame filling
"These beautiful Tang Yuan rice balls look so delectable. Pauline did a wonderful job explaining the history and significance of these gluten-free and dairy-free sweet treats. Wonderful post!" — Angie
Corned Beef Irish Deviled Eggs
"Gosh, these deviled eggs look unbelievably tempting! I may have to start early on the St. Patrick's Day celebration!" — Angie
Tantuni
"This is a new one for me. It looks very much like a burrito but with different seasonings, such as sumac. It's time to hunt for sumac!" — Angie
***
Now, let's party! Join Fiesta Friday #475 by adding your link(s). Don't forget to link your post to FiestaFriday.net so you can be featured.
If you're interested in becoming a cohost, please let me know.
If you're new to Fiesta Friday, please read the guidelines.
You are invited to the Inlinkz link party!