Gosh, how is it December already?! I feel so behind this year. I don't even have my Christmas tree up yet. Meanwhile, someone I work with mentioned that she has 2 (TWO!) Christmas trees up and decorated! Well, that makes me feel like the biggest underachiever there is.
I blame myself for being so late this time around. Normally, I started Christmas decorating the day after Thanksgiving but I've decided this year that my old tree, ornaments, and other Christmas doodads are just not up to snuff. I want a new Christmas tree, at least.
And I want one that's flocked.
Like the one I saw at Home Depot.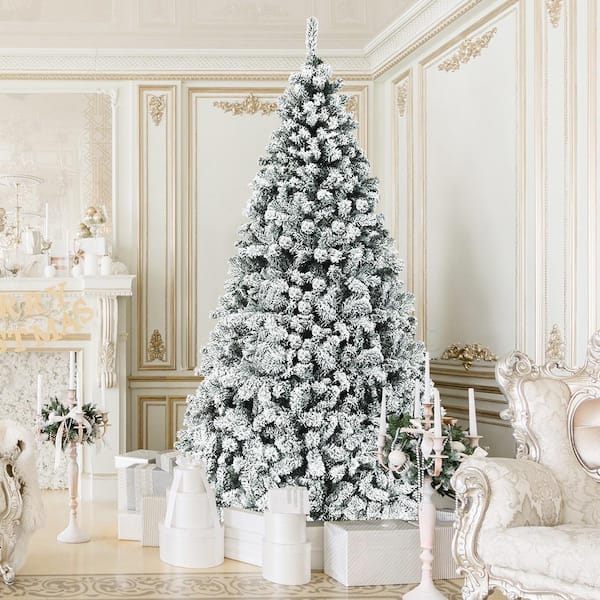 Photo courtesy of Home Depot
What do you think? Pretty, right?!
Isn't it weird how your tastes change as you get older? I don't think I'd opt for a frosted, let alone flocked Christmas tree when I was younger. I preferred the natural and lean (read: sparingly decorated) look.
Now, I don't care if it looks artificial. I just want "more"… Hmm… don't know what that says about me… midlife crisis much?!
Now, These!
Best Mince Beef Pie
Creamiest Creamed Corn
Vanilla Dutch Baby with Clementine Curd
Raspberry Truffle Cocktail
***
Now, let's party! Join Fiesta Friday #461 by adding your link(s). Don't forget to link your post to FiestaFriday.net so you can be featured.
If you're interested in becoming a cohost, please let me know.
If you're new to Fiesta Friday, please read the guidelines.
You are invited to the Inlinkz link party!