One week from Thanksgiving and my fridge is bursting at the seams. There's a 20-pound frozen turkey in there. I never bought my turkey this early. It was usually purchased either a day or two before Thanksgiving if I were to do a fresh one. Or 4 to 5 days for a frozen one.
But because someone at work scared me into thinking there was a shortage of turkeys, I sent the husband to the store on Wednesday to get one. Turns out there wasn't a shortage AT ALL! He said there were tons of them. Big ones, small ones, frozen ones, fresh ones, organic ones…
Oh, well… at least I'm prepared… Now I just have to make sure it doesn't spoil before the big day.
And because the fridge is full, I'm not cooking anything. Which, I realize, is contradictory.
My excuse is… there'll be no room for leftovers!
Don't worry, we're not suffering. We've been eating well. A new poke bowl restaurant, very near our house, opened less than a month ago. We've instantly become their loyal customers. And when we'd had enough poke bowls, I cobbled together these excellent fig jam, gouda, and prosciutto grilled cheese sandwiches.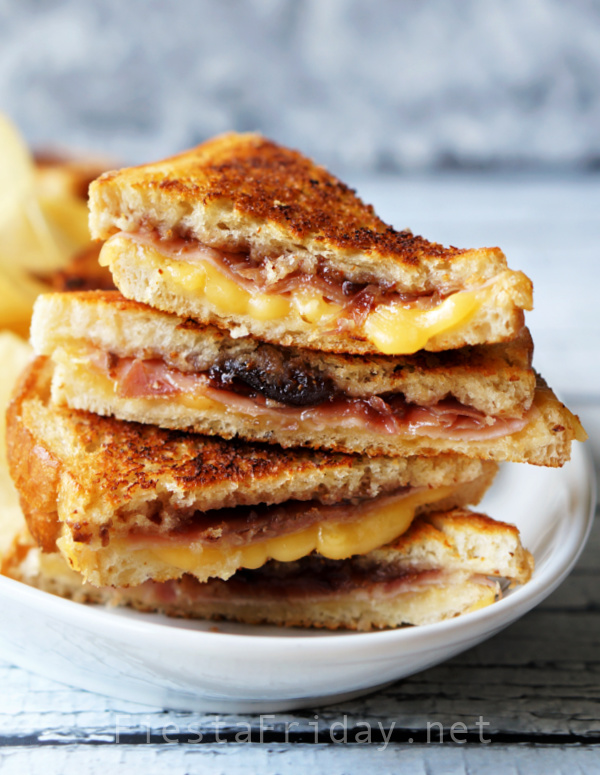 That's really not cooking, is it?! Sometimes the best meals are the simplest ones.
Since I won't be seeing you until after Thanksgiving, here's wishing each and every one of you A VERY HAPPY THANKSGIVING!
Now, These:
Spiced Sausage & Apple Pie
Chocolate Peppermint Whoopie Pies
Gingerbread Pear Upside Down Cake
Thanksgiving Meatloaf
***
Now, let's party! Join Fiesta Friday #459 by adding your link(s). Don't forget to link your post to FiestaFriday.net and the cohost's blog so you can be featured.
Your cohost this week is Jhuls @ The Not So Creative Cook
If you're interested in becoming a cohost, please let me know.
If you're new to Fiesta Friday, please read the guidelines.
You are invited to the Inlinkz link party!