It's Fiesta Friday #444, wow!! Who would have thought we'd last this long? And that number, 444, is that an auspicious number? As I was typing it, I thought to myself it looked pretty cool.
It's not 777, which is the luckiest number in the world, but it's not 666 either, lol. That number (666) is probably the unluckiest one.
Anyway, I thought it was appropriate to celebrate this milestone. And celebration means Indian food!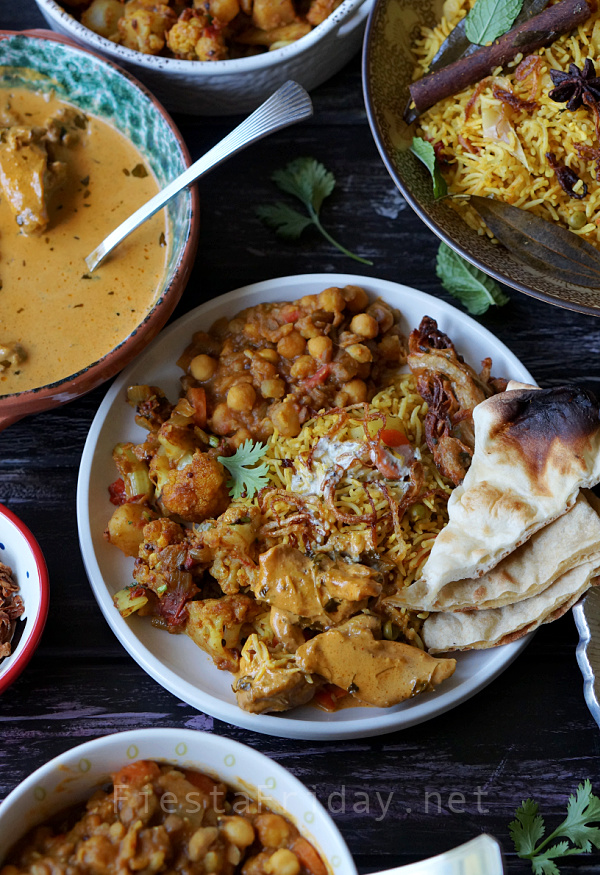 Fortunately, there's finally an Indian restaurant in town. It's small and strangely it operates inside the kitchen of another restaurant that offers an entirely different cuisine (American/Italian seafood) and the menu is limited, but hey, it's a start.
There isn't an extensive diversity in food choices in this township, which is a constant source of grumble on my part, so having an Indian restaurant opening here is definitely a step in the right direction. It's one of my favorite cuisines but I'm slightly challenged in producing authentic-tasting Indian food.
I'm getting better, though. The Indian feast above features both my own homecooked dishes as well as restaurant takeouts. Can you tell which is which?
Now, let's look at these inspiring recipes:
Savory Breakfast Hand Pies
Cassoulet-Style French Bean Stew
Meat Lovers Rice
No Bake Mojito Cheesecakes in a Jar
***
Now, let's party! Join Fiesta Friday #444 by adding your link(s). Don't forget to link your post to FiestaFriday.net so you can be featured.
If you're interested in becoming a cohost, please let me know.
If you're new to Fiesta Friday, please read the guidelines.
You are invited to the Inlinkz link party!