White strawberries… What do you think? They look wrong, right?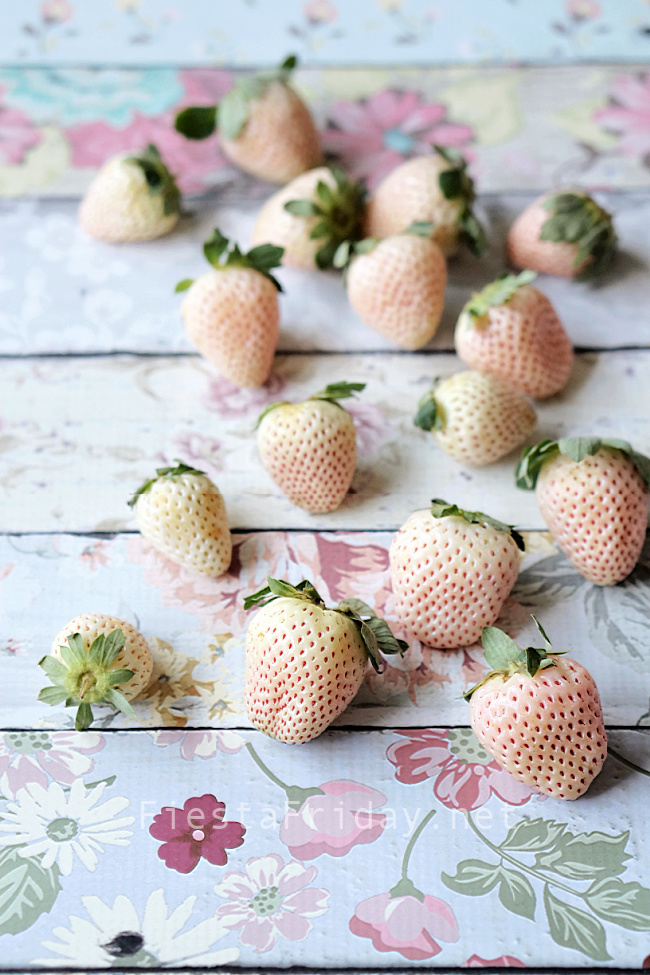 For years I've resisted buying these strawberries, because who would want to eat white strawberries… They look downright wrong to me… Like they're unripe… Most likely sour… So I thought.
Until I bit into one. Guess what?! They're actually sweeter than their luscious-looking red counterparts. Who would have thought?
It goes to show you need to be open-minded when it comes to anything new or unusual. I'm not sure how new these white strawberries are, actually. I've seen them around for several years now. But I was never interested in them before because let's face it, they're not as attractive as the red ones.
Now that I know they taste good, however, I'm going to see if I can grow them myself. They're pretty hard to find; I only see them at specialty markets occasionally.
I will shock the husband on Valentine's Day by serving Red Velvet Shortcake with White Strawberries, shh…
And Now, It's Time for Features
Fresh Strawberry Cake with Strawberry Buttercream Frosting
"Oh, how pretty is this cake?! See what I mean, red strawberries are just prettier. I wonder how this cake would look made with white strawberries… hmm… Should I give it a try?!" — Angie
Kimchi Fried Noodles
"This is right up my alley… noodles… kimchi… yum! As long as the kimchi is not too, too spicy. I'll still eat it, though. Just make sure there's a box of tissue and a big glass of milk." — Angie
Classic Patty Melt
"This is seriously mouthwatering! The caramelized onion, melty Swiss cheese, thousand island dressing, and seasoned ground beef in a sandwich – I mean, it's difficult to resist!" — Jhuls
Super Easy Mu Shu Pork Wraps
"Good old Mu Shu… I haven't had it in… like forever! It's time to get reacquainted. And this easy recipe is the ticket!" — Angie
***
Now, let's party! Join Fiesta Friday #417 by adding your link(s). Don't forget to link your post to FiestaFriday.net so you can be featured.
If you're interested in becoming a cohost, please let me know.
If you're new to Fiesta Friday, please read the guidelines.
You are invited to the Inlinkz link party!