Today is the last day of the year 2021. I'm glad.
It's been a tough year. For many people around the world.
My own situation has not been too difficult aside from inconveniences such as canceled trips or the inability to see and get together with friends and relatives. Nevertheless, I'm ready for the new year. I'm hoping for an improved situation for all citizens of the world, in all aspects affecting their lives.
I'm celebrating the end of the year by doing the kind of "cooking" I like best, i.e., no cooking at all. We'll have a glorified indoor picnic with a charcuterie board/spread.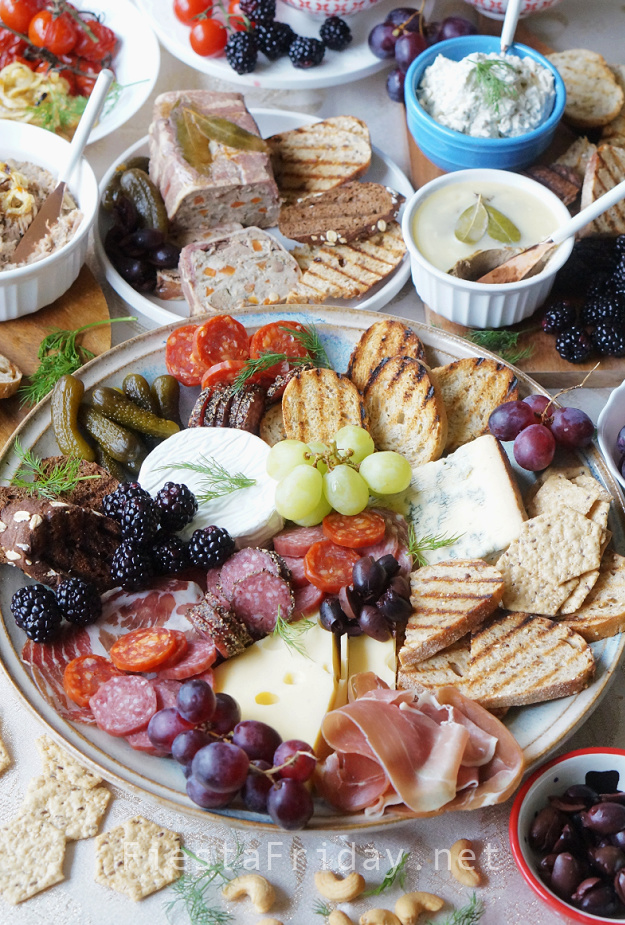 Anything that truly needs to be cooked or baked, like the terrine, or pâté, or rillettes, has already been prepared ahead of time. So now we can just relax and indulge.
Hopefully, there will be champagne to go around, too. Adults and the underaged alike can partake. No? Just a little bit? No? My grandfather used to slip me a bit when I was growing up and I turned out alright. Okay, okay… sparkling cider for the underaged.
Wishing you all a FANTABULOUS NEW YEAR!!
Now, These!
Cast Iron Apple Pancake
Panettone Bread and Butter Pudding
Jerricallas – A Custardy Treat from Jalisco
Black Eyed Pea Casserole
***
Now, let's party! Join Fiesta Friday #413 by adding your link(s). Don't forget to link your post to FiestaFriday.net so you can be featured.
If you're interested in becoming a cohost, please let me know.
If you're new to Fiesta Friday, please read the guidelines.
You are invited to the Inlinkz link party!