I finally made something worthy of a conversation.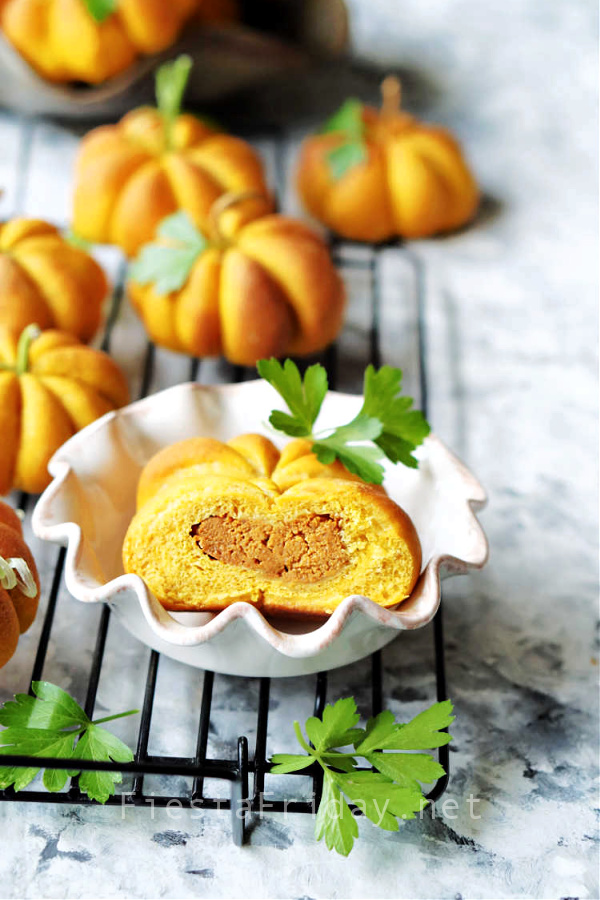 Right, right?! Pumpkin-shaped soft buns stuffed with more pumpkin, what can be more irresistible than that? If you love pumpkin, that is.
Even if you don't, I think you would still appreciate these bread buns. Shaped like miniature pumpkins (so high marks on the cute factor), these pumpkin buns are made soft and fluffy by the Tangzhong method.
And then, they were stuffed with pumpkin custard. So when you bite into the innocent-looking pumpkin buns, it's like….. surprise!! Your pumpkin pie is hidden inside! Now, what can be more fun than that? Unless, of course, you're not into pumpkins. In which case you should definitely stuff these buns with melty cheese! I think I'll try that next.
I will report on the final result, hopefully in the form of an intelligible recipe.
For Now, let's look at this fabulosity!
Leftovers Quiche
"With all the holiday cooking upon us, surely there will be leftovers on top of leftovers. Why not turn them into Leftovers Quiche? What a marvelous idea!" — Angie
Amish Apple Fritter Bread
"This simply sounds beyond De-lish! I'm eager to try this one!" — Diann
Cappuccino Swirl Butter Cookies
"Well, I love cappuccino… and I love butter… so naturally I most likely will love these cookies! So appealing!" — Angie
Thanksgiving Turkey Pretzel Rods
"[This is] a truly fun and innovative idea for kids of all ages – including those of us past retirement age!" — Diann
***
Now, let's party! Join Fiesta Friday #407 by adding your link(s). Don't forget to link your post to FiestaFriday.net and the cohost's blog so you can be featured.
Your cohost this week is Jhuls @ The Not So Creative Cook
If you're interested in becoming a cohost, please let me know.
If you're new to Fiesta Friday, please read the guidelines.
You are invited to the Inlinkz link party!