Hey, Fiesta Friends! Sorry, I didn't have the chance to reply to your comments last week, but I do have a good excuse.
I had to undergo a minor surgical procedure that required me to rest afterward. Everything is a-ok and I'm back on my feet, yay!
For a while, though, the husband was responsible for the food situation at home. His response to that was typical. He basically ordered takeouts for everything, from breakfasts to dinners. I haven't met anyone else who is so averse to cooking!
By day 5, I had enough. So I braved the kitchen and rustled up something gloriously satisfying. It was healthful, too, I might add. There's nothing as restorative as home-cooked soups and this particular one down here takes the top billing in that.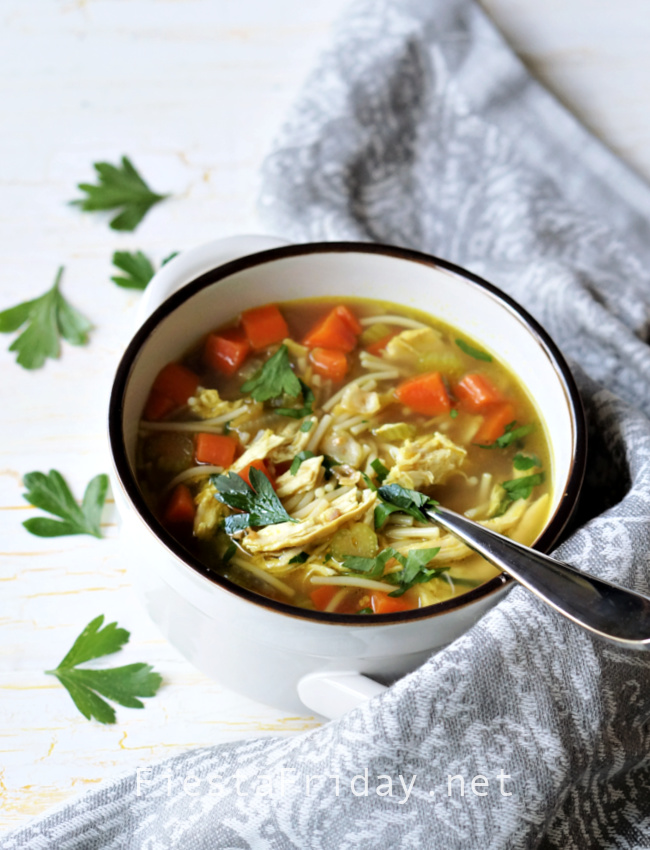 It's Ginger Turmeric Chicken Noodle Soup, also known as Homemade Penicillin ? I may be even healthier now than before the surgery, haha…
Now, It's Features Time!
Chocolate Dreams – Vegan Tart
"[This tart] is delicious, vegan and dairy free, just perfect for all members of my book club." — Liz
"What a chocolate tart! It looks just as beautiful as it sounds. This recipe is an absolute keeper!" — Petra
Beef Shortribs cooked in Crispy Crunchy Chilli Oil
"I know Petra is my co-host but my mouth was watering at yet another wonderful way to use this addictive condiment." — Liz
"I'm completely obsessed with crispy chili oil! That thing is good with EVERYTHING! But using it to cook with beef short ribs like this is fantastic. Absolutely mouth-watering!" — Angie
Puff Pastry Savory Tarts
"This is my kind of food! The kind I just want to tuck into and savor! Not to mention a puppy play date as well. I am jealous!" — Petra
"Puppies and Tarts! What can possibly be better than that? That could be the title for a play, btw. Who wants to write the script?" — Angie
Pan-Seared Pork Chops with Maple Roasted Pears
"What a wonderful nod to the fall season, all the best flavors this time of year." — Liz
"This looks taystee… That's what my daughter and I say when something is better than tasty. It's beyond… therefore… taystee, lol." — Angie
***
Now, let's party! Join Fiesta Friday #402 by adding your link(s). Don't forget to link your post to FiestaFriday.net and the cohost's blog so you can be featured.
Your cohost this week is Jhuls @ The Not So Creative Cook
If you're interested in becoming a cohost, please let me know.
If you're new to Fiesta Friday, please read the guidelines.
You are invited to the Inlinkz link party!