There is no such thing as a small-batch lasagna, is there?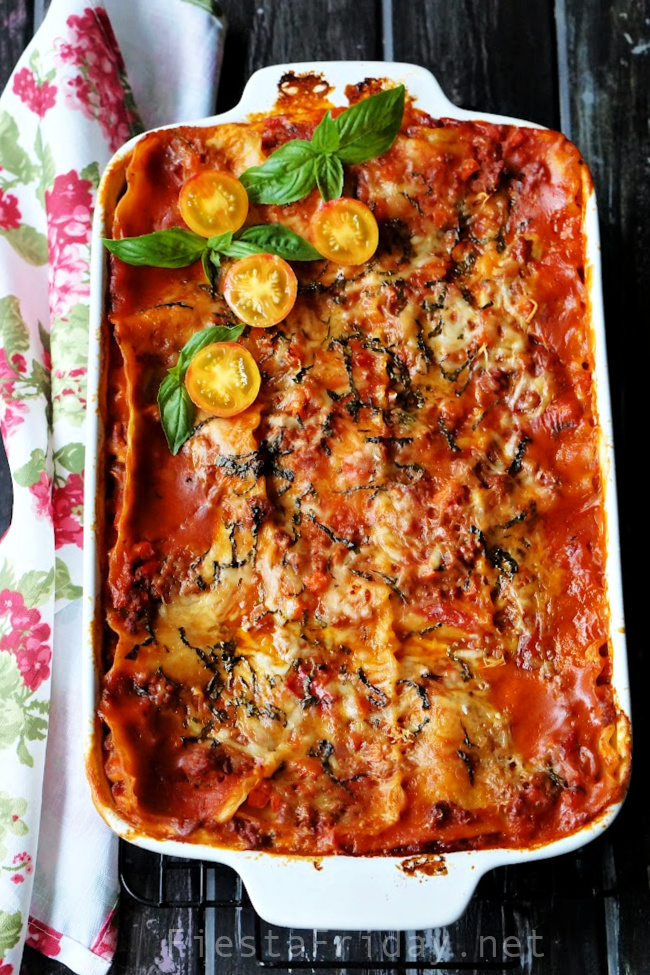 When you make lasagna you gotta commit. Including the possibility of it bubbling over.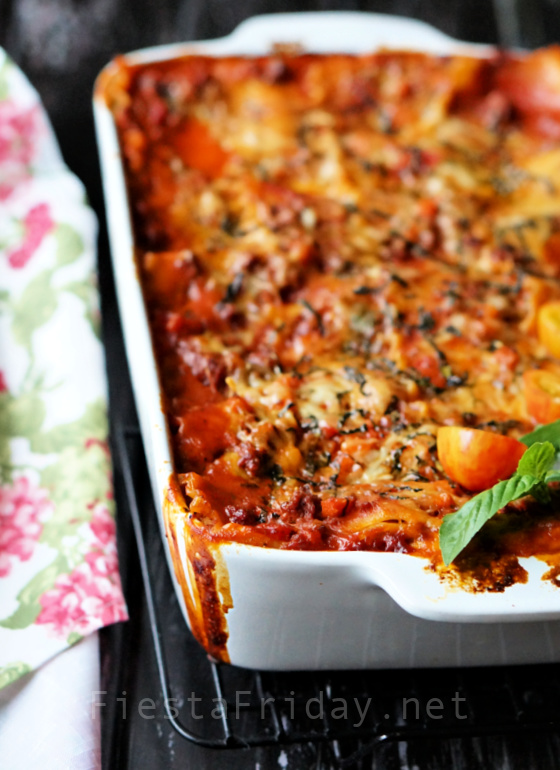 Clever cooks would have used a sheet pan underneath the lasagna to catch the spill, but the author of this blog aka I/Ik/Ich/Je/Yo is rarely clever. Now I'll have to spend time cleaning the oven!?
Darn! Why does lasagna have to be so good?! And why does it have to be the husband's favorite pasta dish?!
Mine, on the other hand, tends to be the really simple ones – Spaghetti Aglio e olio or Cacio e Pepe. Not that I won't eat lasagna, of course, but I'll be perfectly happy with those simple pasta dishes. What's YOUR favorite?
From Last Week's Fiesta
Pumpkin Cheese Dip with Bread Sticks
"A great party idea, any time this fall. I am figuring out which potential gathering here this autumn to try this at." — Diann
"Yep, same here! I'll be trying out this fabulous idea this fall, most likely for Thanksgiving. Though maybe if I can fashion the breadsticks into spiders or snakes or scorpions, it'll be perfect for Halloween, too." — Angie
Instant Pancit Canton Rice Balls
"These are going to be delectable to cook and eat. I may have to order a couple of ingredients, but I'd be happy to do so." — Diann
Roasted Cinnamon Buttery Pear
"There is a pear tree in my backyard, sadly neglected by the humans. Only the squirrels appreciate it, partying day and night in and around it. Soon though, the humans might join them, spurred by this simple yet enticing recipe of cooked pears that are versatile enough to be an accompaniment for a savory pork dish or a sweet dessert." — Angie
Autumn Salad with Sweet Dumpling Squash
"Some days a salad just hits the spot. This one contains a varied amount of foods, a complete meal altogether." — Diann
***
Now, let's party! Join Fiesta Friday #399 by adding your link(s). Don't forget to link your post to FiestaFriday.net and the cohost's blog so you can be featured.
Your cohost this week is Jhuls @ The Not So Creative Cook
If you're interested in becoming a cohost, please let me know.
If you're new to Fiesta Friday, please read the guidelines.
You are invited to the Inlinkz link party!