For the past several years, I've always made Croque Madame on Father's Day. It's for my husband, not my dad (RIP). The husband loves anything with fried eggs.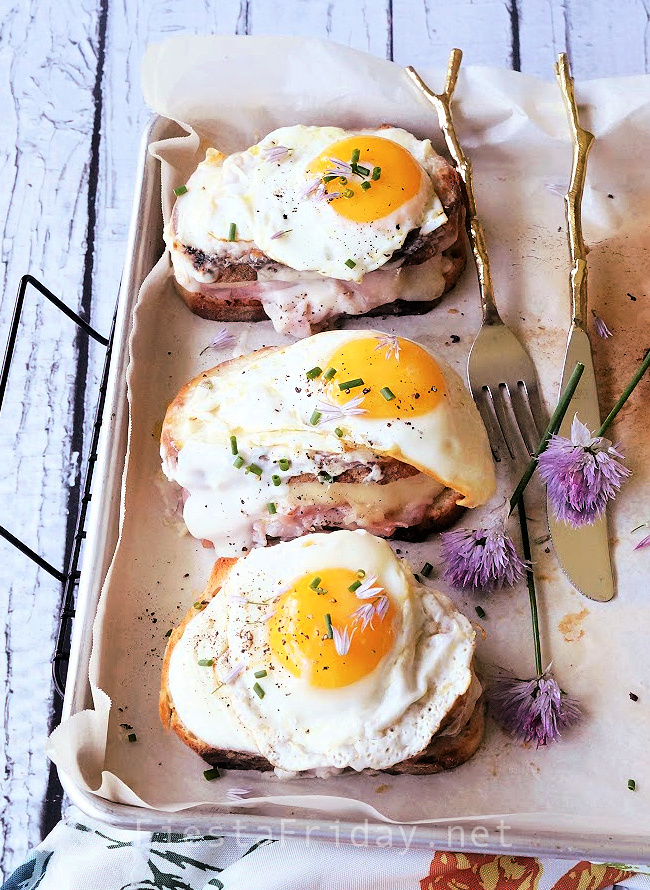 The Croque Madame is my little contribution for the day. The rest is up to the big guy himself and the kids. In most years, he would want an all-you-can-eat buffet dinner. My daughter and I have a running joke about his once-a-year garbage meal. Because that's our snooty perception of what buffets are. Aren't they? No? It's just a joke, okay?!
Her dad, meanwhile, along with her brother, thinks buffets are grand. Quantity, in their view, makes up for quality. Truth be told, there are items on a buffet line sometimes that are quite desirable. I do appreciate the unlimited salad bar and the chocolate fountain.
Last year we couldn't give the husband the buffet dinner because all buffet restaurants were shuttered. So I think I know what he'll be asking for next Sunday. Though secretly, the daughter and I are hoping that he won't.
From Last Week's Fiesta
Easy Lemon Bars
"I adore lemon bars and this is certainly an easy method." — Liz
"You can't go wrong with lemon bars. They really are an anytime dessert. I love the easy method presented here." — Angie
Vegetarian Tricolor Quinoa Salad
"What a beautiful platter!" — Liz
"Ditto, Liz!" — Angie
Gluten Free Chelsea Buns
"I have seen these buns in bakeries but never knew the back story. These could give cinnamon buns a challenge." — Liz
Bloody Mary Pork Soup
"This sounds interesting. And it really looks delicious!" — Angie
***
Now, let's party! Join Fiesta Friday #384 by adding your link(s). Don't forget to link your post to FiestaFriday.net so you can be featured.
If you're interested in becoming a cohost, please let me know.
If you're new to Fiesta Friday, please read the guidelines.
You are invited to the Inlinkz link party!