Hiya, friends! If I don't talk to you again until next Friday, let me wish each and every one of you a very Happy Easter!
I thought about posting another Easter recipe before Sunday, and I may just do that if I find the time to work on it, but honestly, I think it's a little too late by now. I'm pretty sure all of you have already made your Easter menu. What are you all having?
My family will most likely have the yoozh. You know, ham and scalloped potatoes, asparagus, glazed carrots… the yoozh. Nothing fancy, just our regular, annual Easter meal.
The leftovers, however, will be made into something a little more fancy-schmancy.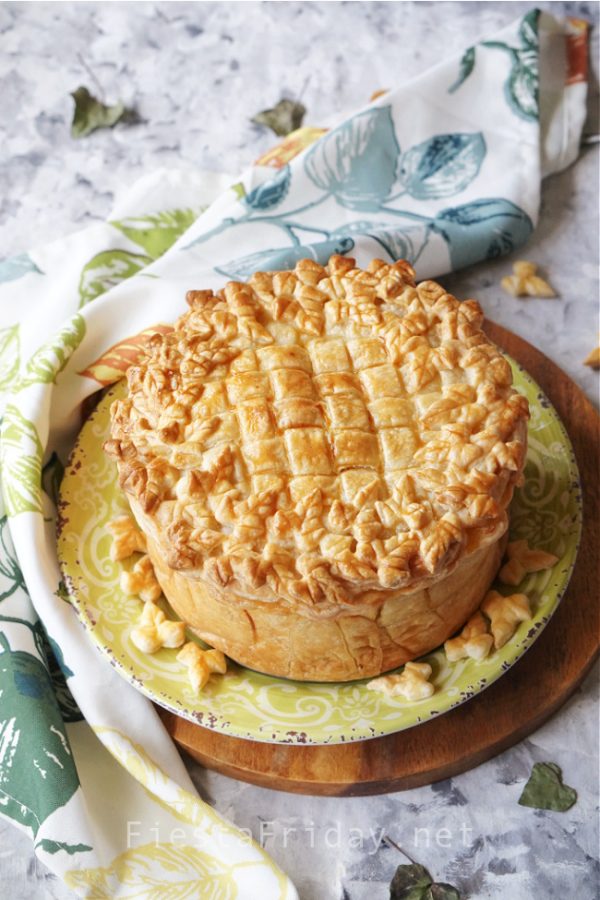 The Easter Leftovers Pie. An annual tradition.
Ok, now let's party!
Features!
Whisky and Walnut Cakes
"Love the look of these Whisky and Walnut Cakes! I do think they are perfect for that special man in your life." — Angie
Chocolate Chip Espresso Scones with Espresso Glaze
"A truly new take on scones, what with chocolate and espresso – definitely a mocha fan's delight." — Diann
Cheddar Leek Soup with Bacon and Beer
"A warming combination of cheese, leeks, bacon, and beer, which should not be missed in these early days of spring where the weather in many places isn't yet warm. Sounds incredibly tasty." — Diann
Easiest Tapioca Flour Popovers – Gluten-Free
"This is a revelation to me, gluten-free popovers. I always thought that the gluten in the flour is what causes them to be able to rise high. Apparently, I was wrong. So glad to know! Now I can share these gluten-free popovers with my GF friends and relatives." — Angie
***
Now, let's party! Join Fiesta Friday #374 by adding your link(s). Don't forget to link your post to FiestaFriday.net so you can be featured.
If you're interested in becoming a cohost, please let me know.
If you're new to Fiesta Friday, please read the guidelines.
You are invited to the Inlinkz link party!