Gado Gado, an Indonesian cooked-vegetable salad, presented as rolls. Because, let's face it, it's much more fun eating food sans utensils.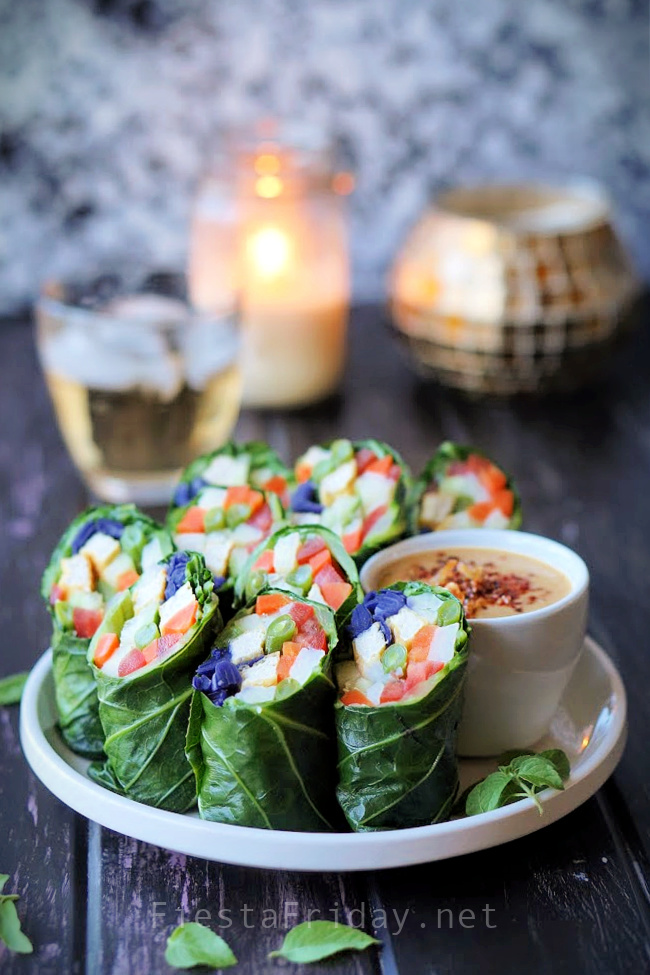 Eating food with one's fingers is life's greatest joy. O.K. That's just silly. Life's greatest joy is obviously eating, full stop. With or without utensils.
The Queen of England may have something to say about that. I heard she eats bananas with a knife and fork. There shall be no eating bananas like monkeys at the Queen's table, according to former royal chef Darren McGrady.
Well, I'm no royalty, so I'm at liberty in using my fingers to eat my bananas or Gado Gado Rolls.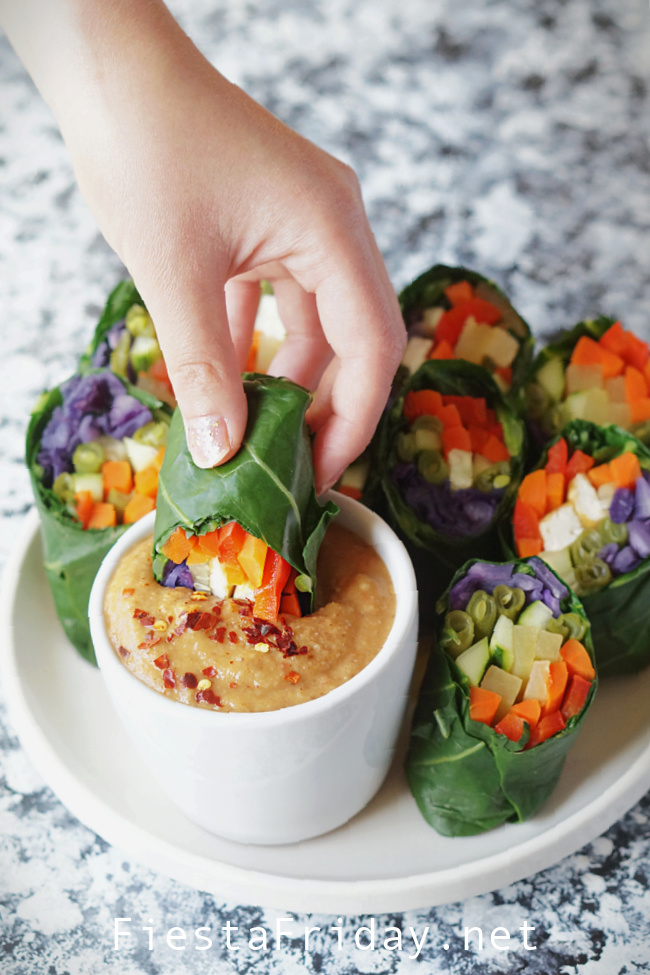 Royalty or not, I think it's a shame what's been going on in that family. Have you seen the Oprah interview with Meghan and Harry?
I'm not taking sides. The truth is probably somewhere in the middle.
O. K. How did we end up talking about the Windsors when we're supposed to be talking about Gado Gado Rolls?
Next time I go off on a tangent like that again, which happens more often than I'd like to admit, please feel free to remind me… What about the Gado Gado, Angie?! What about the Gado Gado?!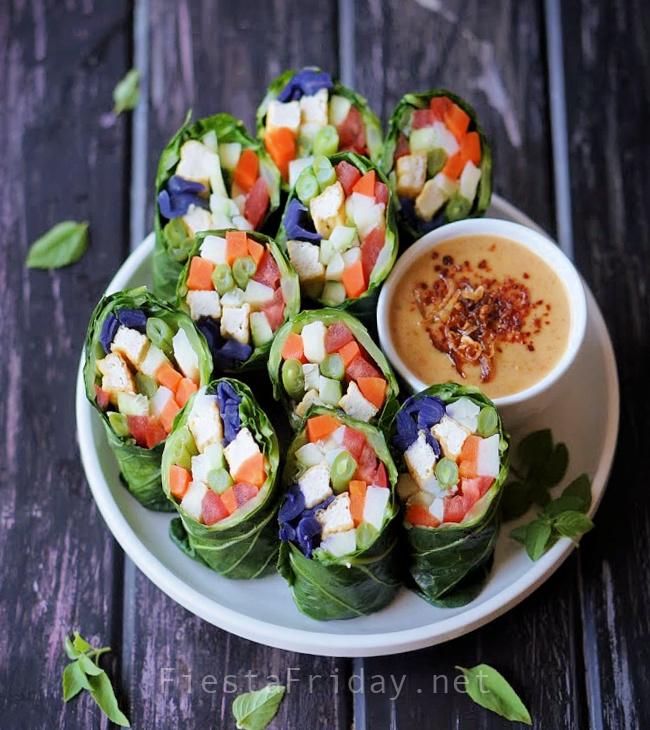 Gado Gado, what is it?
Gado Gado is an Indonesian dish consisting of blanched vegetables and fried tofu in a peanut sauce. There are many variations, depending on localities. The vegetables used as well as the sauce can differ from one cook to another. Some versions may have additional ingredients such as boiled eggs, fried tempeh, and fresh vegetables like cucumbers, lettuce, and tomatoes. Many versions also include shrimp or rice crackers.
What they all have in common, however, is that there is no presence of rice in the dish, because to "gado" in the Indonesian language means "to eat without rice".
There are, however, versions that include rice cakes. Boiled or fried potatoes may sometimes be added as well.
When I first made this for my family, they were sort of reluctant to try it. First of all, they weren't warm to the idea of peanut salad dressing. Then there's the vegetable question, more precisely the large amount of it. A certain member of the family is a vegetable disliker.
Thus, the idea of presenting it as fun and finger-friendly rolls was born. And guess what?! The bait was taken! Even by the veggie disliker!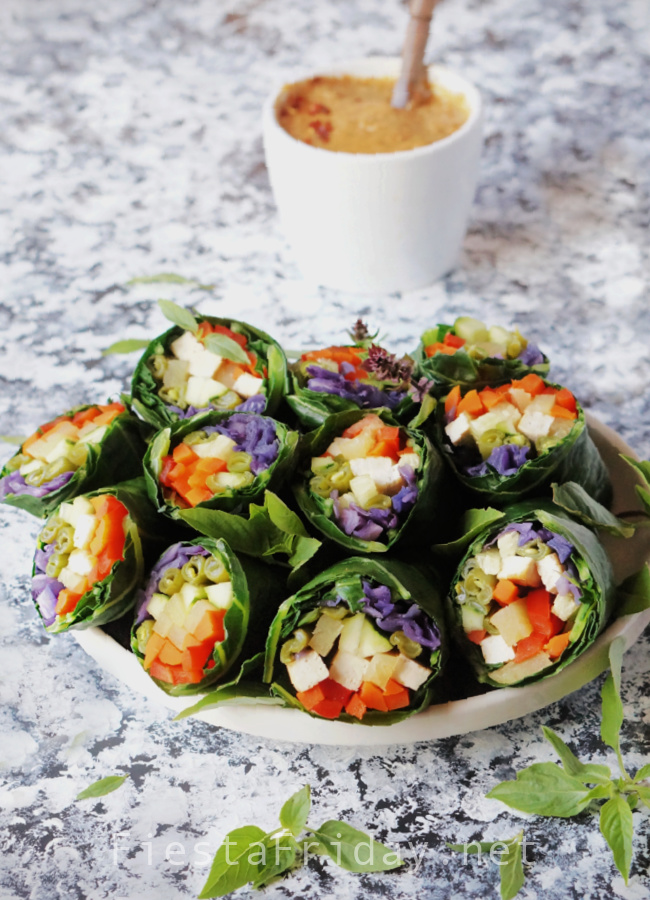 It goes to show that presentation is half the battle when it comes to getting people to try new food.
Eat The Rainbow
Since St. Patrick's Day is just around the corner, I'm filling these Gado Gado Rolls with rainbow-colored vegetables.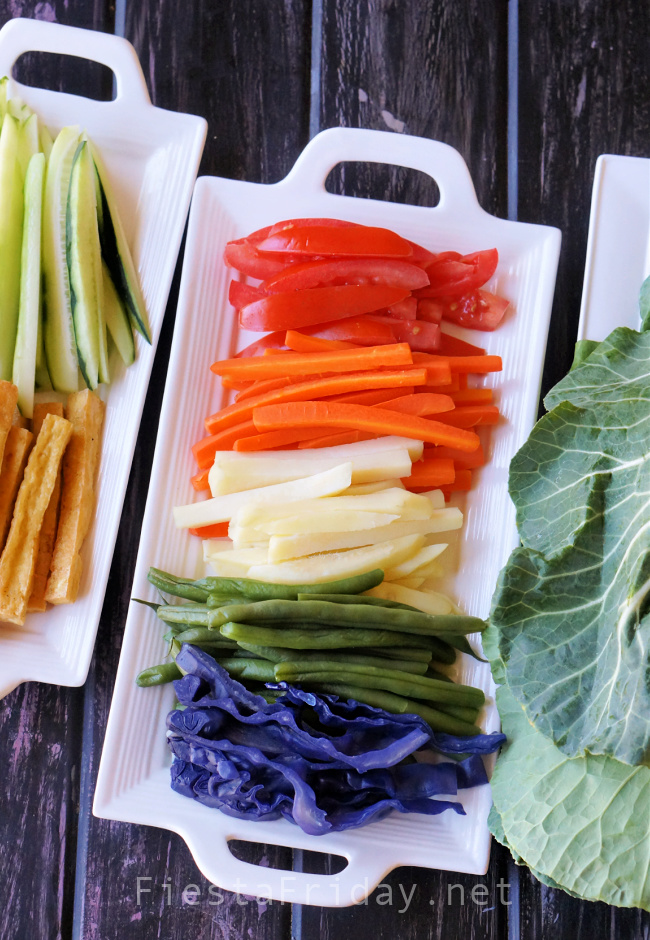 If you're looking for more rainbow food, check out this Rainbow Pizza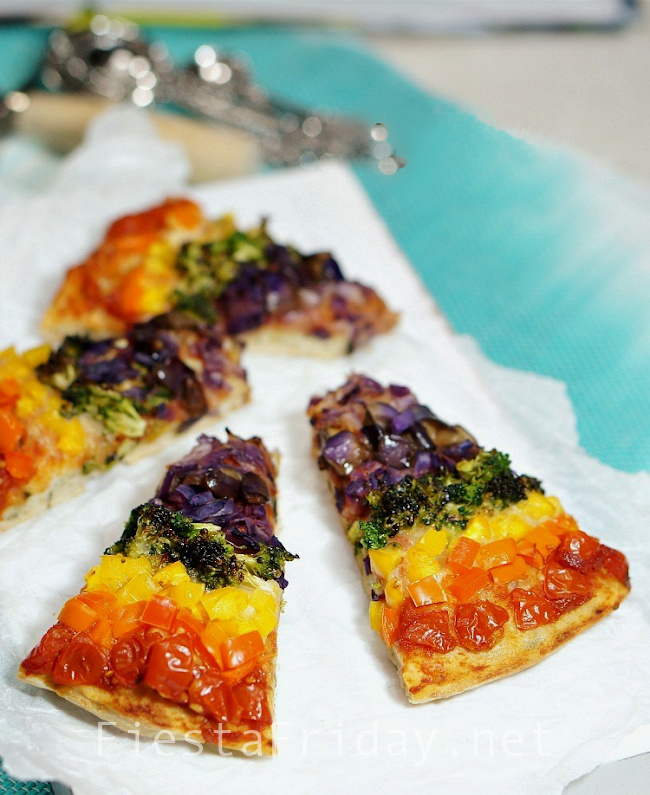 A Few Tips & Tricks
Before using the collard greens, prepare them by cutting the stalks off and trimming the midribs. You can do this before or after blanching the leaves.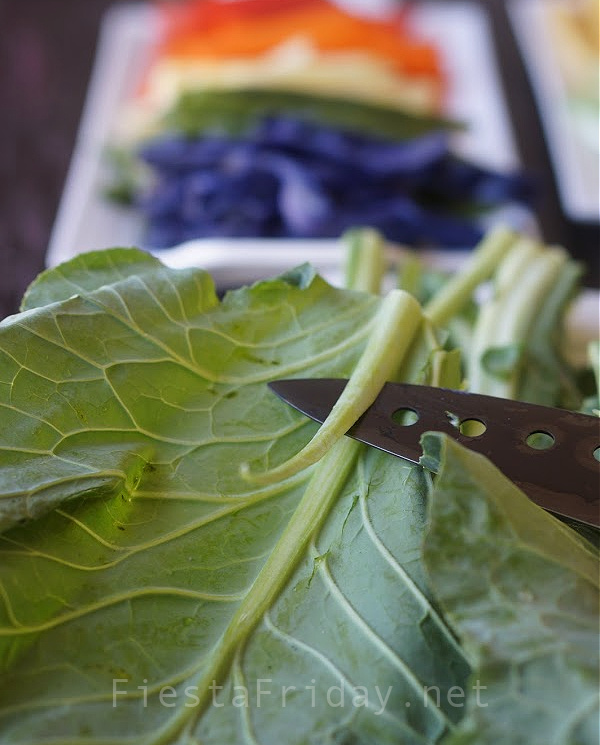 Don't overfill your rolls. 2 to 3 pieces of each vegetable are sufficient.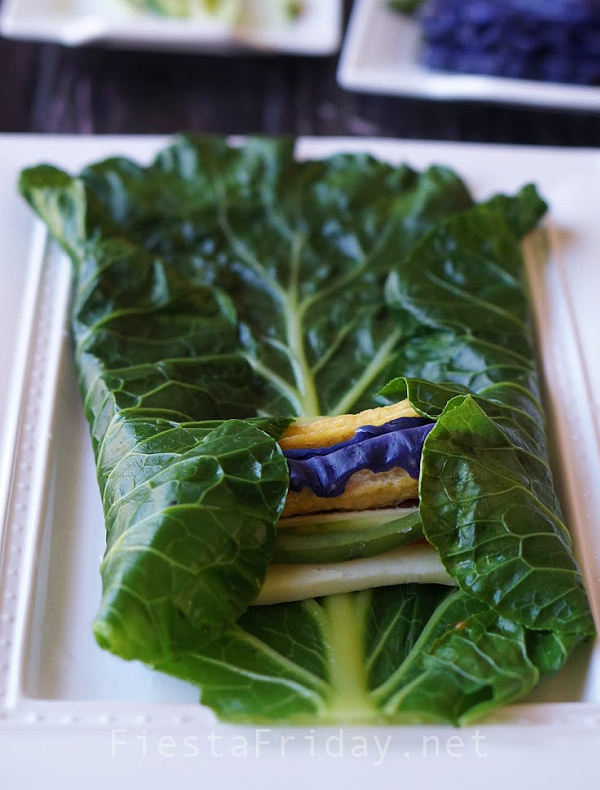 Use collard greens that are large and are about the same size, so that your rolls will be uniform. You can also use 2 pieces of leaves to make a bigger wrapper.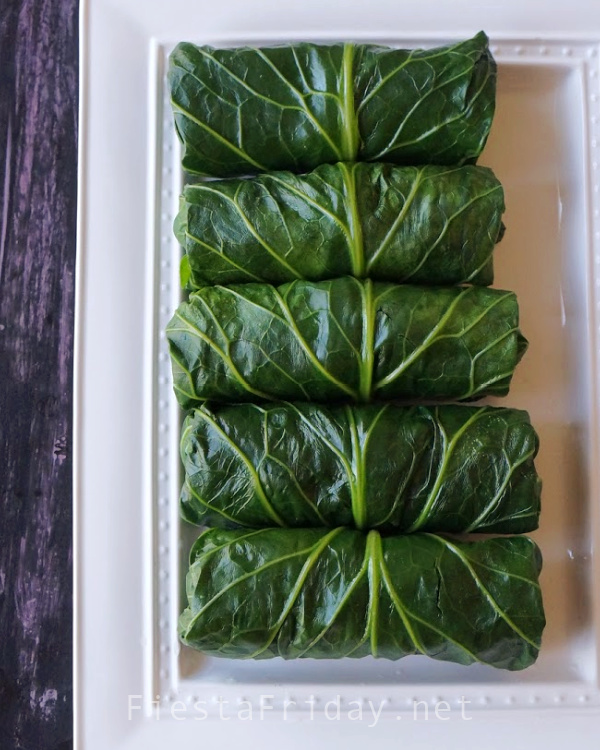 Gado Gado Rolls or Gado Gado Wraps
What actually distinguishes rolls from wraps and vice versa? I had a hard time deciding between calling this Gado Gado Rolls or Gado Gado Wraps.
In the end, I decided that in order for something to be called a wrap, it must have a flatbread involved as the wrapping. A wrap may or may not be eaten with a dipping sauce, but a roll must. So, in the end, I decided to go with Gado Gado Rolls.
And that, ladies and gentlemen, is a wrap.
Gado Gado Rolls
Gado Gado, an Indonesian cooked-vegetables salad, presented as rolls. Because, let's face it, it's much more fun eating food sans utensils.
Author:
Angie | FiestaFriday.net
Cuisine:
Asian/Indonesian
Ingredients
For the Dipping Sauce
1 cup roasted peanuts, unsalted
2 shallots, chopped
4 garlic cloves, chopped
2 - 3 red sweet mini peppers or hot red chilies, chopped
1 teaspoon tamarind paste
1 tablespoon brown sugar
½ teaspoon salt
1 cup water
½ cup thick coconut milk
For the Rolls
1 bunch collard greens
1 each of these vegetables: tomato (or red bell pepper), carrot, potato, and cucumber
¼ lb. green beans
¼ of a small purple cabbage
12 oz. block of firm tofu
Instructions
For the Dipping Sauce
In a small frying pan, on medium-high heat, add a little bit of oil (about 1 - 2 teaspoons) or you can use cooking spray. Toast chopped onion, garlic, and peppers in the pan until they're soft and slightly charred. Set aside to cool.
Grind peanuts in a food processor (I like to grind them coarsely but you can grind them into a smoother consistency if you prefer). Pour into a saucepan.
Grind the toasted onion, garlic, and peppers in the same food processor. Use a little bit of the water or coconut milk to get it going. Add to the peanuts in the saucepan.
Add the rest of the ingredients and set the saucepan on medium heat. Stir and boil until the sauce is thickened. *See Notes
For the Rolls
Prepare collard greens by cutting off the stalks and trimming the midribs (see photo above). Blanch in boiling water until they're wilted and pliable but not too soft, about 2 minutes. Set aside to cool.
Cut all vegetables and tofu into thick matchsticks.
Boil or steam potato, carrot, green beans, and cabbage until they're tender. Tomato and cucumber should be left raw/fresh.
Pan fry tofu sticks in a little bit of oil until they're nice and golden. Drain on paper towels.
To roll, spread a collard leaf, one at a time, on a big plate or tray, stack vegetable and tofu sticks on the lower (stem) end of the leaf, fold the sides, and roll it up like a burrito.
You can cut the rolls in half at an angle, to reveal the colorful vegetables. Serve with the dipping sauce.
Notes
Since the sauce is meant for dipping, it should be fairly thick. You can add more water if you prefer a thinner consistency.
If you like this recipe, please give it a ⭐⭐⭐⭐⭐ rating in the comments section below. Thanks!
Pin This To make Later – Follow me on Pinterest