Mushroom Risotto topped with crispy pork cracklings. Can I hear you say YUM?!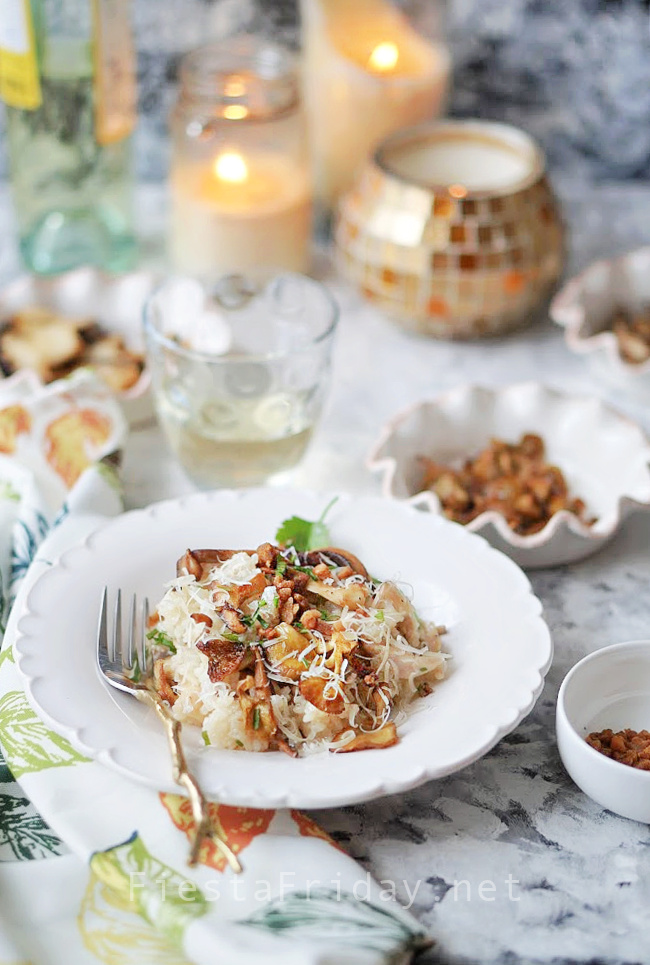 Risotto has got to be comfort food to many. Creamy and warming and filling, I can see risotto at the top of the comfort food hierarchy.
Mention mushroom risotto, however, and you'll suddenly hear groans of displeasure. When it comes to mushrooms, it seems there are as many lovers as there are haters. If you're one of the former, you'll love this risotto, and obviously vice versa if you belong to the latter group.
Seriously, though, there are so many other ingredients you can use besides mushrooms. See the risotto below, with spring vegetables like asparagus, fava beans, and peas?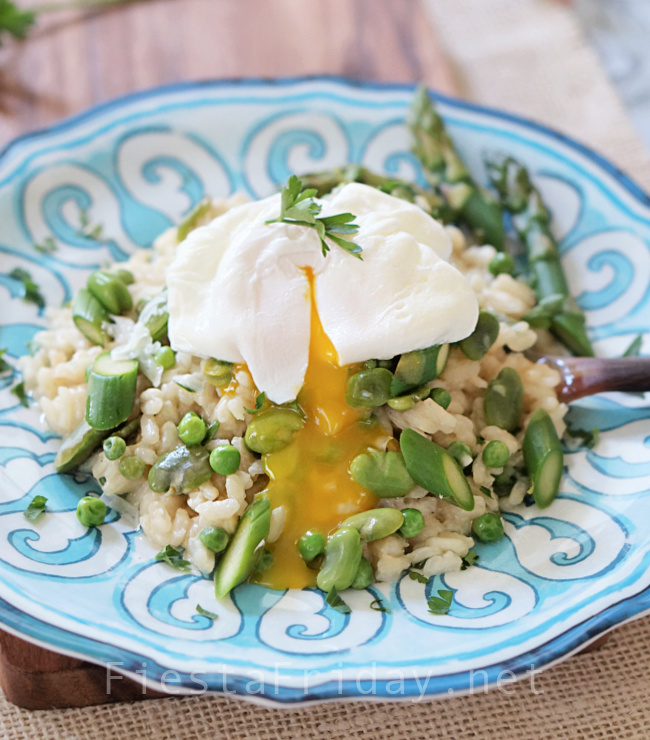 Topped with a poached egg. Can I hear you say YUM?!
But I have to work with mushrooms.
The Backstory
During the recent parade of snowstorms preceded by months of stay-at-home & social-distancing, I developed a serious case of cabin fever. I reacted by ordering Aerogardens and these mushroom grow kits.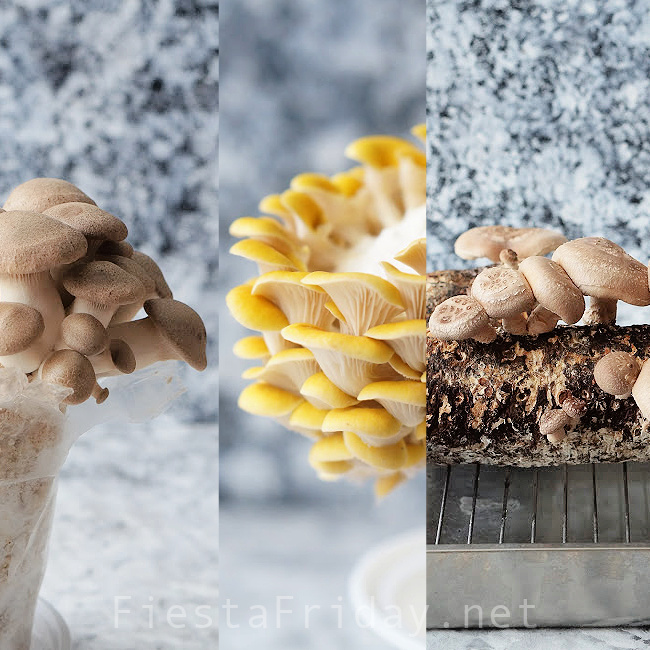 These are, from left to right, Trumpet or King Oyster, Golden Oyster, and Shiitake Mushrooms.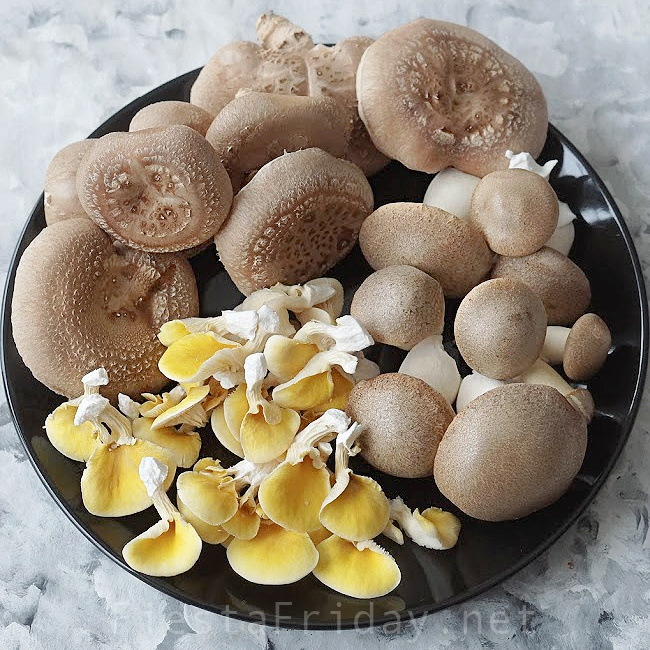 Once these mushroom kits started fruiting, I needed to find a way to use those "fruits" aka mushrooms quickly. Mushrooms don't stay fresh very long. So, I thought about what the mushroom lover in our family aka the daughter would appreciate.
She appreciates risotto, that's what. And so this Mushroom Risotto with Pork Cracklings was born.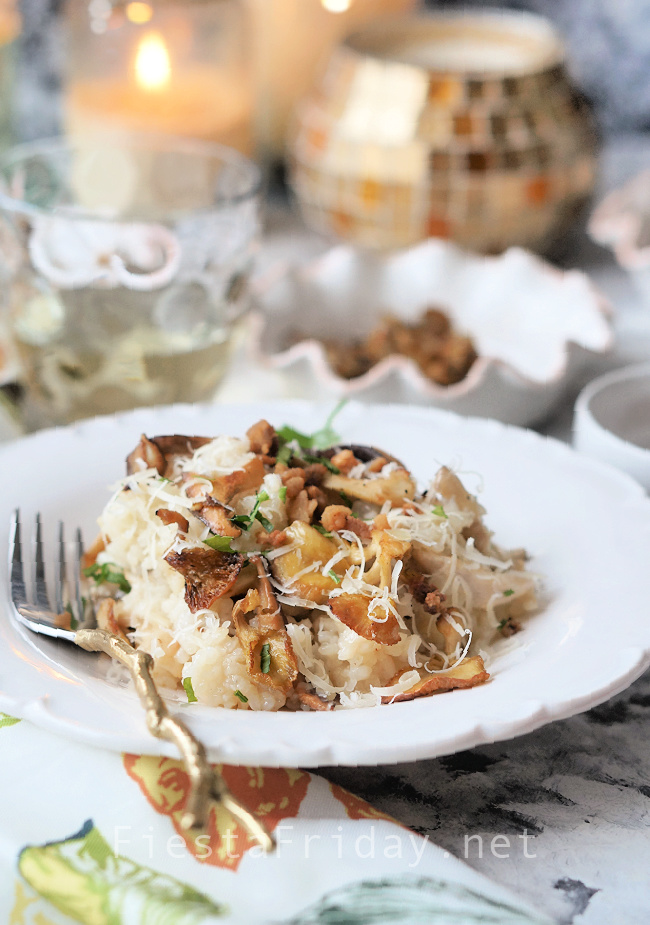 The cracklings idea came out of not having either bacon or pancetta, which would have been a lovely addition, but sometimes you just have to work with what you have on hand. Channeling a contestant on Chopped, I spied a fatty piece of pork loin in the fridge and used the fat to make the cracklings. Just a friendly warning, they're very addictive!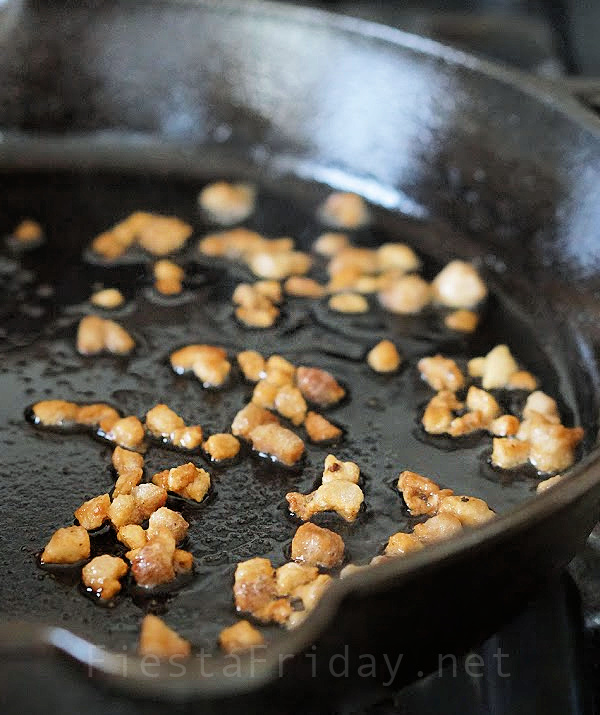 What Rice to use in Risotto?
It's important to use the right type of rice for risotto. Typically, I use Italian Arborio rice, because it's widely available in the US. I think the best rice for risotto is Carnaroli rice. It produces the creamiest risotto.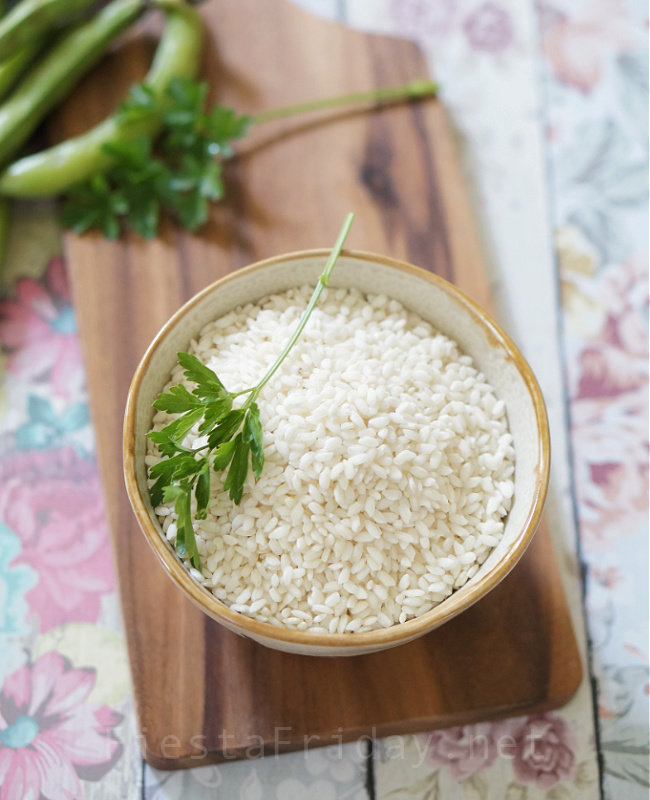 If you can't find any of the above-mentioned rice, try to use short or medium-grained rice with rounded kernels and high-starch content. Long-grained rice like basmati or jasmine is not suitable for risotto.
Having said that, I've seen risotto made out of different varieties of grain and even orzo. If it works for you, go right ahead. It's your risotto, after all. There's no risotto police in your kitchen, is there?!
One of these days, I may even venture into some of these newfangled risotto creations using Calrose or wild rice, etc.
What other ingredients are necessary to make Risotto?
Fat/oil (traditionally olive oil or butter, but other fats or oils can be used, i.e., rendered bacon or pancetta fat. I used a mix of extra virgin olive oil and some of the pork fat rendered from making the cracklings)
Garlic
Shallots, onions, or leek
Broth (vegetable, seafood, chicken, or possibly other meat broths though I haven't tried them)
Wine (if you don't consume alcohol, replace with more broth)
Salt & Pepper
Grated cheese (normally hard Italian cheeses like Parmesan or Pecorino, but I can see Gruyere as a delicious substitute. Semi-soft Asiago or soft and creamy mascarpone can also be used to finish the dish)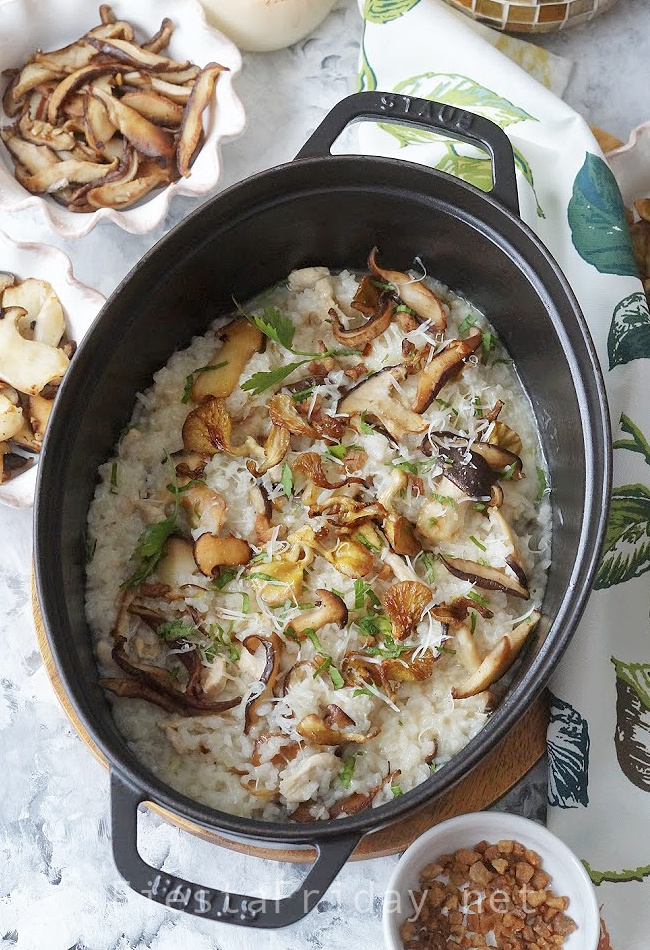 Can you make risotto ahead to serve later?
Risotto is not a make-ahead kind of meal, unfortunately. I mean, of course, anything can be made ahead for later consumption, but risotto is best served immediately after cooking because it tends to dry out quickly upon standing so it'll lose its creaminess which is its most valuable attribute.
Even during the short time spent in staging to photograph this Mushroom Risotto, I could see it started losing its luxurious glossy creaminess.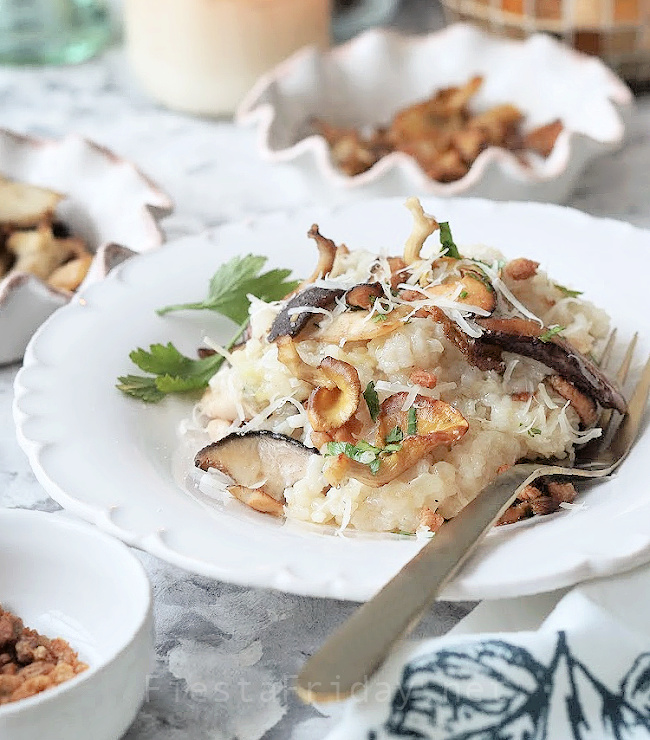 If you must cook risotto ahead, do the following steps instead.
Cooking Ahead
The only way to make risotto ahead, to serve later, is to stop the cooking halfway.
After about 10 minutes of cooking or when half of the broth is used, and the rice is still hard in the middle, remove it from the heat, and spread it on a baking sheet. Let it cool to stop the cooking process.
When you're ready to serve, continue with the rest of the cooking steps.
Mushroom Risotto with Pork Cracklings
Mushroom Risotto topped with Pork Cracklings. Warm, creamy, and filling, risotto is comfort food at its best. Can I hear you say YUM?!
Author:
Angie | FiestaFriday.net
Recipe type:
Entrée/Main or First Course
Ingredients
3 to 3½ cups chicken or vegetable broth
2 thick slices of bacon or pancetta or pork fat, chopped
2 tablespoons olive oil (or 1 tablespoon olive oil + 1 tablespoon rendered pork fat)
2 tablespoons butter
2 garlic cloves, minced
2 shallots, chopped (or 3 tablespoons chopped onions)
8 oz. mixed mushrooms (shiitake, trumpet and golden oyster), sliced or left whole if they're small.
1 cup Arborio or Carnaroli rice (don't wash the rice)
½ cup dry white wine (I used sauvignon blanc)
¼ cup grated Parmesan cheese
Chopped parsley for garnish
salt & pepper
Instructions
In a saucepan, heat broth and keep it simmering on the stove.
In a skillet or saucepan, fry bacon/pancetta/pork fat until crispy. Season with salt & pepper if using pork fat. Drain fat, reserving 1 tablespoon, if you like. Remove crispy pieces of bacon/pancetta/pork fat and set aside.
Add 1 tablespoon of olive oil, or use rendered fat, and sauté mushrooms, until tender. Remove and set aside.
Add remaining oil and butter and sauté garlic and shallots until soft but not browned so it won't discolor the rice.
Add rice and stir until all grains are coated in oil and they begin to crackle. Add wine and stir until it's fully absorbed.
Add heated broth, just enough to cover the rice. Stir frequently until almost all broth is absorbed.
Continue to add broth, about ¾ cup at a time, stirring until it is absorbed before adding more. Use enough broth to cook the rice until it's just al dente.
Once the rice is cooked to the desired consistency, remove from heat, stir in reserved mushrooms and Parmesan cheese.
Serve immediately, garnishing with chopped parsley, more Parmesan, and sautéed mushrooms. Sprinkle reserved crispy pieces of bacon/pancetta/pork cracklings on top.
If you like this recipe, please give it a ⭐⭐⭐⭐⭐ rating in the comments section below. Thanks!
Pin This To make Later!