Yes or no to Meal Kit Delivery?
I recently signed up with HelloFresh and delivery should commence tomorrow. I shall find out if it's a good idea or not, and will let you know. The food pictures on their site are certainly enticing. This one below is an example. Looks good, doesn't it?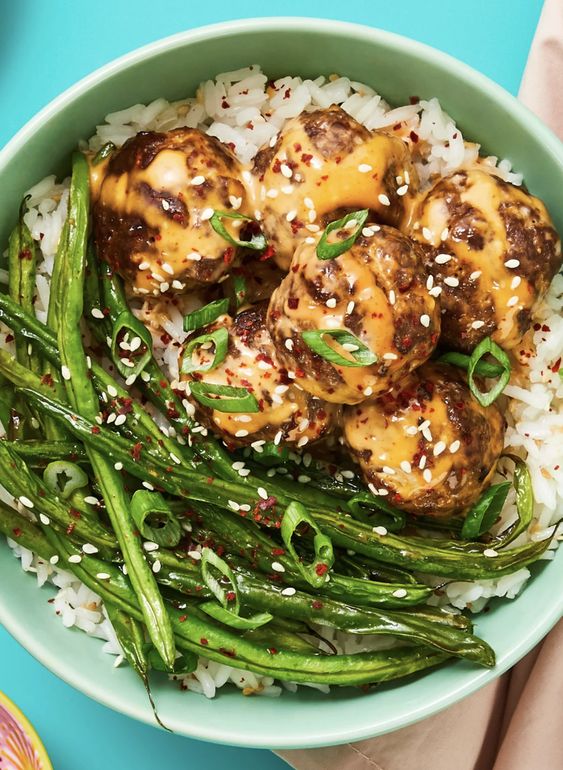 HelloFresh Firecracker Meatballs
Hopefully, the food will taste as good as it looks.
And I hope the service will help speed things up in the kitchen. I find myself ravenous when I get home from work and thinking of what to cook and starting the whole process from scratch at times leaves me overwhelmed. This way, at least the menu is already set ahead of time and the ingredients already portioned out.
Until I get used to my new schedule, I'll rely on this new-to-me idea of having my dinner ingredients pre-measured and delivered.
Have you tried a meal kit delivery service? How was your experience?
Now let's look at these fabulous posts from last week's fiesta:
Pink Swan Cupcakes
"These had me at first glance, how absolutely adorable!" — Liz
"Whoa, these swan cupcakes! They are too pretty to eat! Absolutely gorgeous!" — Angie
Philly Cheesesteak Stuffed Shells
"Philly Cheesesteaks are my husband's guilty pleasure. I now know what to cook for his birthday." — Liz
"What. Philly Cheesesteaks stuffed inside pasta shells?! That's crazy delicious! I will try these, definitely." — Angie
Chocolate & Vanilla Marbled Shortcake
"Shortcake cookies are my favorite and these are a different twist." — Liz
"Wow, marbled shortcake, what a great idea. Come to think of it, I've never even tried chocolate shortcake before, so it's time." — Angie
Pumpkin Leek Soup with Ramiro Peppers
"A delicious-sounding pumpkin soup without pumpkin pie spices and it's gluten-free as well." — Liz
***
Now, let's party! Join Fiesta Friday #346 by adding your link(s). Don't forget to link your post to FiestaFriday.net and the cohost(s), so you can be featured. Your cohost this week is Jhuls @ The Not So Creative Cook
If you're interested in cohosting Fiesta Friday Link Party, please let me know.
If you're new to Fiesta Friday, please read the guidelines.
You are invited to the Inlinkz link party!