Last weekend I helped my husband organize the garage. A little bit. You could say I was supervising. Or spying. Or snooping. Basically, I was being nosey and wanted to see what he decided to throw out. Thankfully, he didn't get rid of my knitting machine.
But what was more thankful than that and downright exciting was that I found my popover pan! What? How? When did someone think it was a good idea to put a popover pan in the garage? Grr… I'm looking at you, husband!
To make up for lost time, I've been baking popovers after popovers.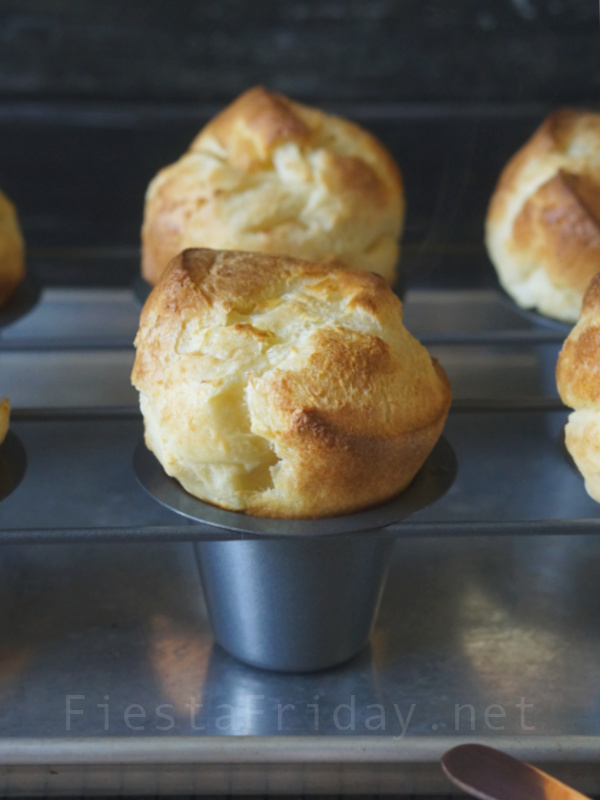 It's not like you can have too many popovers. Besides, they're so easy to make, maybe even way too easy. For something so spectacular, anyway. Anybody else a popover glutton over here? Go ahead, admit it. The truth shall set you free.
Now it's time for festures
Tomato and Stone Fruit Salad with Seeds
"Wait… what? Tomato and peaches together? Mind blown! I am so excited to try this Liz, how totally amazing!" — Laurena
"Me, too! I want to try this, too. A warm tomato and peach salad. It sounds simple but it's so creative!" — Angie
Dairy Free Raspberry Bliss Balls
"I've been meaning to try making bliss balls, and these Raspberry Bliss Balls are a good start. So pretty and so healthy!" — Angie
Plum Breakfast Cake with Plum Caramel Sauce
"Cake for breakfast? I'm sold! Fresh plums and caramel sauce, too. Oh my, Beth, it looks and sounds totally delicious!" — Laurena
Fall Acorn Cookies
"This would be a fun project for the little ones to do. There's no baking involved, and the cookies are so cute." — Angie
***
Now, let's party! Join Fiesta Friday #345 by adding your link(s). Don't forget to link your post to FiestaFriday.net and the cohost(s), so you can be featured. Your cohost this week is Liz @ Spades, Spatulas & Spoons
If you're interested in cohosting Fiesta Friday Link Party, please let me know.
If you're new to Fiesta Friday, please read the guidelines.
You are invited to the Inlinkz link party!