In an effort to encourage my family to eat more fruits, I sometimes resort to making them a big fruit platter, like this one below.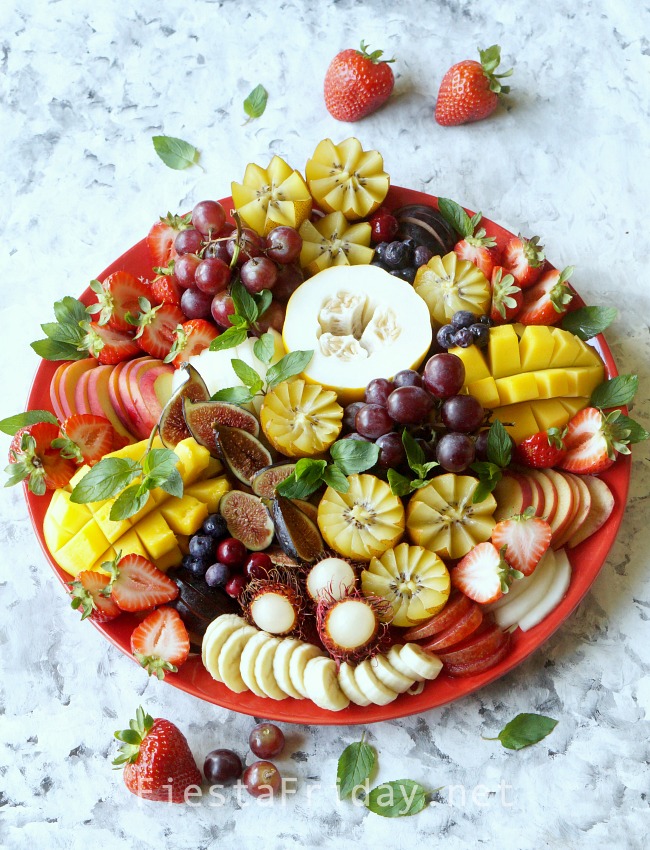 I was hoping that it would entice them to snack off that fruit platter, instead of reaching into the cookie jar. It seems like a good idea, doesn't it? I myself can easily polish off half of that platter. How can you resist a platter of fresh fruits?! But unfortunately, my plan does not always work.
Maybe if I had hidden other snacks in the house, or hollowed out that halved melon in the middle and fill it with some kind of a dipping sauce, it would have been more successful. Oh, well… there's always next time. Right now though, I need to figure out what to do with the remaining half of that platter. Yup, I did end up eating the other half.
Now It's Features Time!
Raspberry Clafoutis
"A wonderful, easy and fresh dessert idea while fresh raspberries are in season." — Liz
"Oh, I love clafoutis! Strangely, I've never made a raspberry version, always cherry, duh!" — Angie
Smoked Gouda, Cheddar, and Parmesan Mac 'n' Cheese
"Ruh-roh, I'm in trouble now! I can't get this out of my mind; it's mac 'n' cheese on steroids, with smoked gouda and parmesan, aaand… Duke's mayo!" — Angie
Greek Pita Nachos
"I love Greek food and this is a lighter and fresher version of nachos, always a favorite." — Liz
Saag Paneer
"This looks so fresh and green and full of flavor, not like the olive drab saag paneer I am used to in most restaurants." — Liz
***
Now, let's party! Join Fiesta Friday #341 by adding your link(s). Don't forget to link your post to FiestaFriday.net and the cohost(s), so you can be featured. Your cohost this week is Zeba @ Food For The Soul
If you're interested in cohosting Fiesta Friday Link Party, please let me know.
If you're new to Fiesta Friday, please read the guidelines.
You are invited to the Inlinkz link party!