Dinner is served.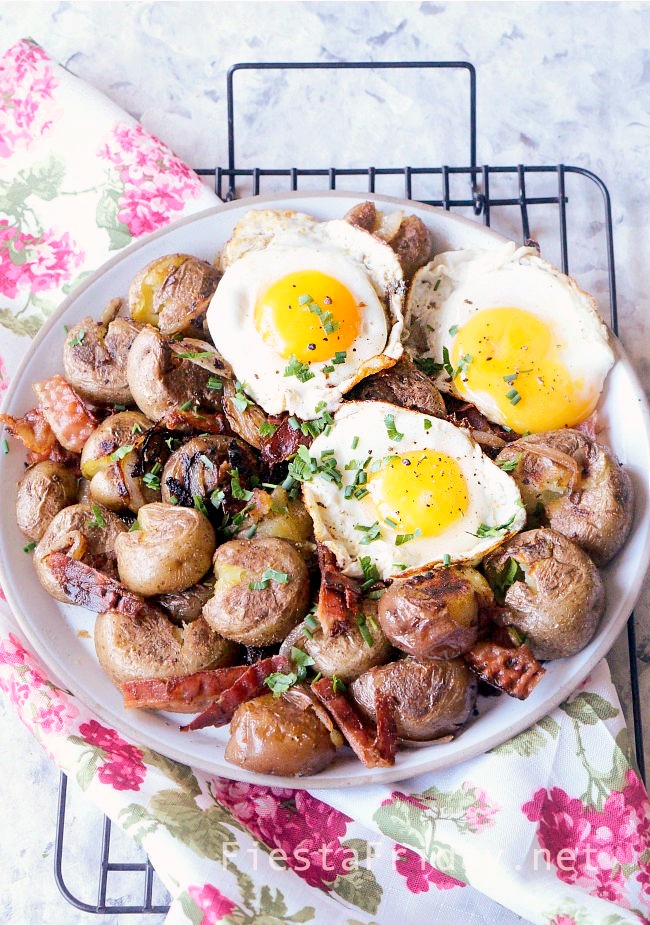 That may look like breakfast to most of you, but seriously, that was our dinner last night. Why? Because sometimes the best thing for dinner is breakfast. You know what I mean?
Truth be told, I was too lazy to cook dinner. And I had all these baby potatoes, which more often than not, start to sprout on my watch. Or should I say lack of watch? That's right, folks, babies tend to suffer from lack of supervision under my care. But only veggie babies. I'm a good human baby watcher, I swear.
Anyway… nobody complained, as I had predicted. Every little bit on that plate was demolished. Who in their right mind would refuse crisp smashed potatoes with bacon and fried eggs? See, I told you breakfast for dinner is the best thing, maybe ever!
Now let's look at these:
Roasted Eggplants with Yogurt Sauce
"Eggplants are one of those vegetables that continue to mystify me. I never know what to do with them. Yet every year I continue to grow them because the plants are so beautiful, so I need to collect eggplant recipes. This one here sounds pretty incredible. Eggplants with yogurt, wow!"
Creamy Green Sauce
"That Creamy Green Sauce up there ↑ is made with zucchini, y'all! Isn't it a great idea? I can't wait to give it a try!"
Lime Fluff
"Apparently this old fashioned salad also goes by the name Seafoam Salad. Believe it or not, I've never had any! I find it highly intriguing."
Strawberry Lemon Water
"Geez Louise, looking at this drink sure makes me thirsty! It's been so hot lately; I really need to remind myself to hydrate. This infused water will make that easier to do."
***
Now, let's party! Join Fiesta Friday #340 by adding your link(s). Don't forget to link your post to FiestaFriday.net and the cohost(s), so you can be featured. Your cohost this week is Liz @ Spades, Spatulas & Spoons
Who wants to cohost next week?
If you're new to Fiesta Friday, please read the guidelines.
You are invited to the Inlinkz link party!