I heard through the grapevine there's such a thing as cucumber blindness. Now I know it's real. I'm afflicted with it.
How else can you explain those overgrown cucumbers that I always miss every time I harvest my cucumbers?! Eventually, I do see them, but only after they've grown yellow and the size of an elephant's trunk. Well, approximately… give or take a few inches… Okay, obviously I'm exaggerating.
The more important point is, what do you do with these oversized cucumbers? Besides throwing them into the compost bin?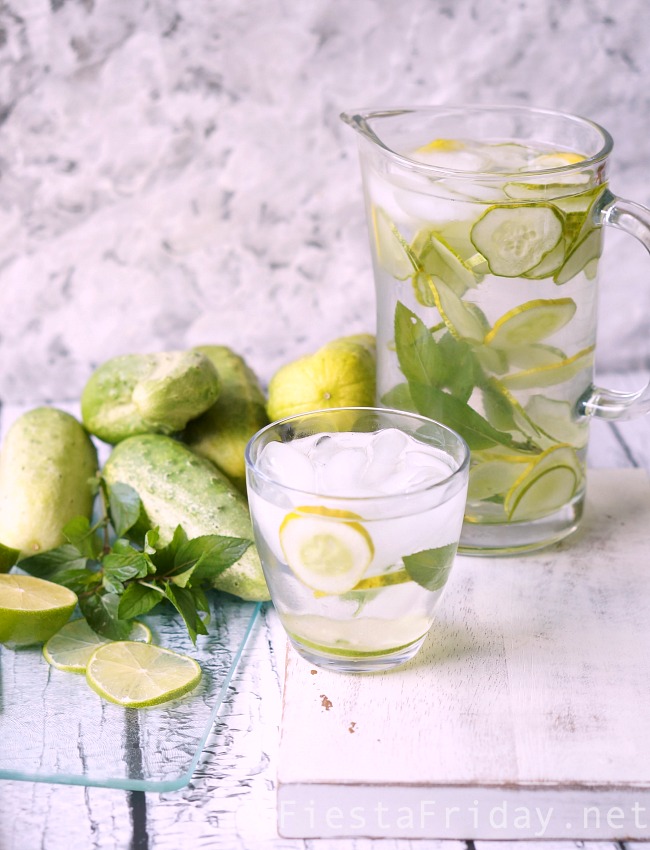 And making cucumber water with them? Any ideas? Anyone?
First, though, it's Features Time
No Churn Ice Cream
"Who wouldn't love homemade ice cream during these hot days. I don't know about you, but I can eat a huge batch of homemade ice cream. With chocolate syrup and toffee bits – absolutely perfect!" — Jhuls
Fresh Peach Mojito
"I have peaches, I have mint, and… I always have rum. Guess it's mojito time! But not just any mojito… peach mojito, you guys! Exactly what I need right now!" — Angie
Pastel Buns with Yema Filling
"These soft buns look so scrumptious, and the custard filling makes them even more irresistible. I wonder if I can use sourdough starter in place of the yeast, hmm…" — Angie
Nasturtium Infused Vinegar
"I love this idea but keep forgetting to give it a try. Note to self – Don't forget!" — Angie
***
Now, let's party! Join Fiesta Friday #338 by adding your link(s). Don't forget to link your post to FiestaFriday.net and the cohost(s), so you can be featured. Your cohost this week is Mollie @ Frugal Hausfrau
Who wants to cohost next week?
If you're new to Fiesta Friday, please read the guidelines.
You are invited to the Inlinkz link party!