Is it really May 1st today?! How long have we been under stay at home order?! I have completely lost track of the days… and weeks… and soon, time altogether. Is that good or bad?! I can't decide. Apparently, I've also lost my senses.
I am, however, aware that Cinco de Mayo is fast approaching. Something has got to be done. It may be a minor holiday in its native Mexico, but stateside it's a big opportunity to celebrate, albeit in a culturally superficial way, i.e., people seem to equate it as a national fiesta. But, wait a minute… why am I against a national fiesta? Let's not be against anything having to do with a fiesta!
With that in mind, I'm going to have a Mexican feast this week.
I'll start with this plate of churros.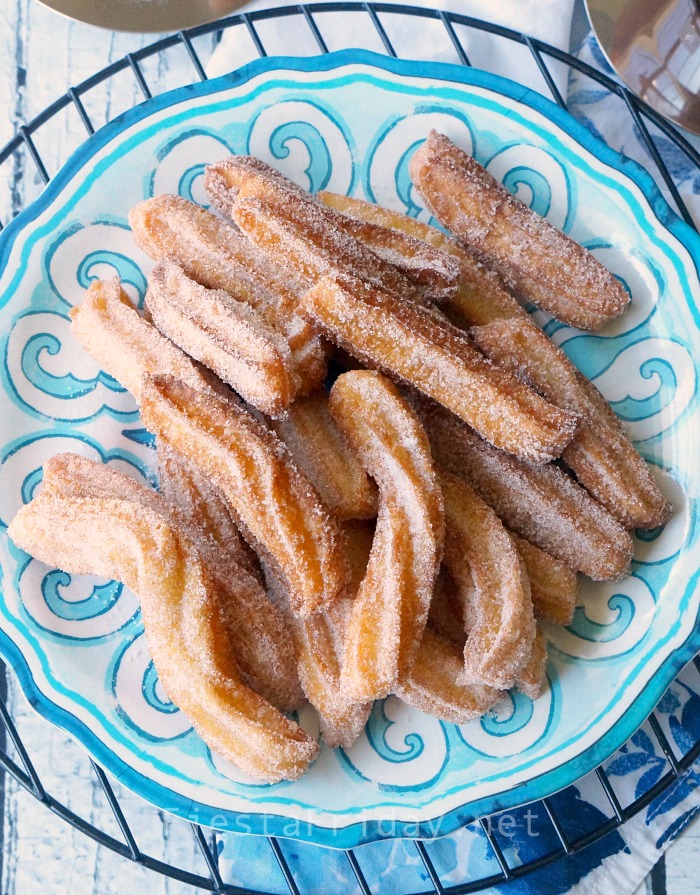 How are you all going to mark Cinco de Mayo?
Now, Features Time
Take Me to the Islands Granola
"I am a granola freak and this granola reaches a whole new level!! Thanks, Colleen!" — Mollie
"I am almost a granola freak, not full-fledged yet, but almost. But I live with one (looking at you, daughter!). Kidding aside, who wouldn't be turned into a freak with this over-the-top granola?!" — Angie
Chocolate Crinkle Cake Mix Cookies
"Of course I've HEARD of cake mix cookies but never really "GOT" cake mix cookies until I saw these, baked up by Tracey's 10-year-old daughter! I need to get me cake mix and a 10-year-old, stat!" — Mollie
Filipino Cheese Bars
"Jhuls' Filipino Cheese Bars might have been her childhood treat but they're new to me and I can't wait to try them!" — Mollie
Rhubarb Curd – A Jar of Perfection
"Rhubarb curd, wow! What an excellent idea!" — Angie
***
Now, let's party! Join Fiesta Friday #326 by adding your link(s). Don't forget to link your post to FiestaFriday.net and/or the cohost(s), so you can be featured.
Your cohost this week are Antonia @ Zoale.com and Zeba @ Food For The Soul
If you're new to Fiesta Friday, please read the guidelines.
P.S. Who would like to cohost next week?
You are invited to the Inlinkz link party!