Hi, guys! I'm happy to report to you that I'm completely healthy now. No more sneezing or coughing. Hurray!! The bad news is that my doctor suspects that I may be allergic to my dog. Good grief, how can that be?! I adopted Skye more than 3 years ago. If I was allergic to her, wouldn't I have had problems earlier?
Anyway, he wasn't entirely sure, but as he was looking at my chart he noticed I've had many episodes of cold-like symptoms like runny nose, coughing, and wheezing since I had a dog, so he mentioned the allergy thing.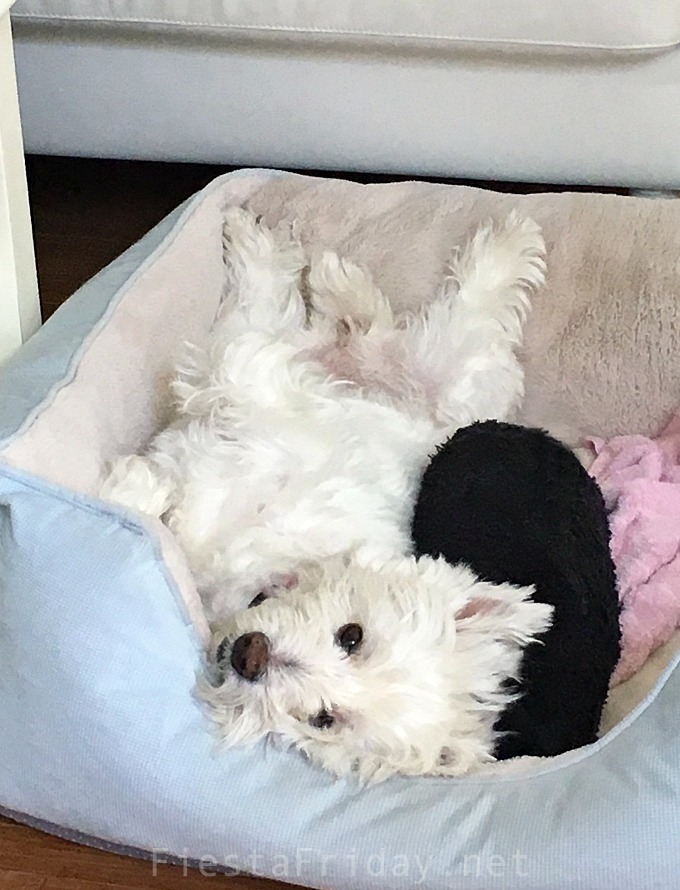 What, me?? What did I do??
I told him there's no way I'm giving up Skye. Besides, even if it was true about the allergy, it must have been a mild one. I'm healthy more often than I'm sick. So, there… Skye is here to stay. And doctors have been known to err.
The great, great news is that now that I'm healthy, I'm suddenly ravenous. I want to cook and eat everything! And pictures of food don't make me nauseous. This means now I can look at your links many many times because I want to. And I also want to edit my food photos, so I can share a recipe with you. FINALLY!
With that, let's all look at these links below, many many times!
Groundhog Day Peanut Butter Cookies from Colleen @ Faith, Hope, Love & Luck
"I am totally going to make these cookies! And my daughter can bring them to school to share with her friends. She will be over the moon!" — Angie
Kansas City Barbecue Sauce from Mollie @ Frugal Hausfrau
"Kansas City Barbecue is the BEST! Of course, I'm probably biased since I used to live in Kansas but look… the Kansas City Chiefs are in the Super Bowl, so I think it's meant to be that I have to make this sauce to go with my baby back ribs and chicken wings. My husband will be over the moon!" — Angie
Gluten Free Chocolate Cakes from Kate @ Gluten Free Alchemist
"I'm loving on these darling Gluten Free Chocolate Cakes. They have Coconut Whipped Cream. Maybe a guilty pleasure CAN be had without all the guilt!" — Mollie
Flavor Bomb Barbacoa from Jaxx @ The Bearded Hiker
"I love barbacoa, and so does my entire family. So much that I wish I could serve barbacoa every Tuesday night for our Taco Tuesday. But barbacoa always takes me a long time to prepare. This quick and easy version from Jaxx is going to be a game-changer!" — Angie
***
Now, let's party! Join Fiesta Friday #313 by adding your link. Don't forget to link your post to FiestaFriday.net, so you can be featured.
I will be manning the fiesta without any cohosts this week. How sad is that? You all can be my unofficial cohosts if you like, and help me to visit or comment on the links, and select features.
Or better yet, you can be official cohosts of the fiesta, for this week or any week. Just let me know!
If you're new to Fiesta Friday, please read the guidelines.
You are invited to the Inlinkz link party!