Mini Savory Cheesecake Appetizer that's so versatile you can serve it not only as an appetizer, but in a salad, a sandwich, or on a piece of toast, either warm or cold… the possibilities are endless!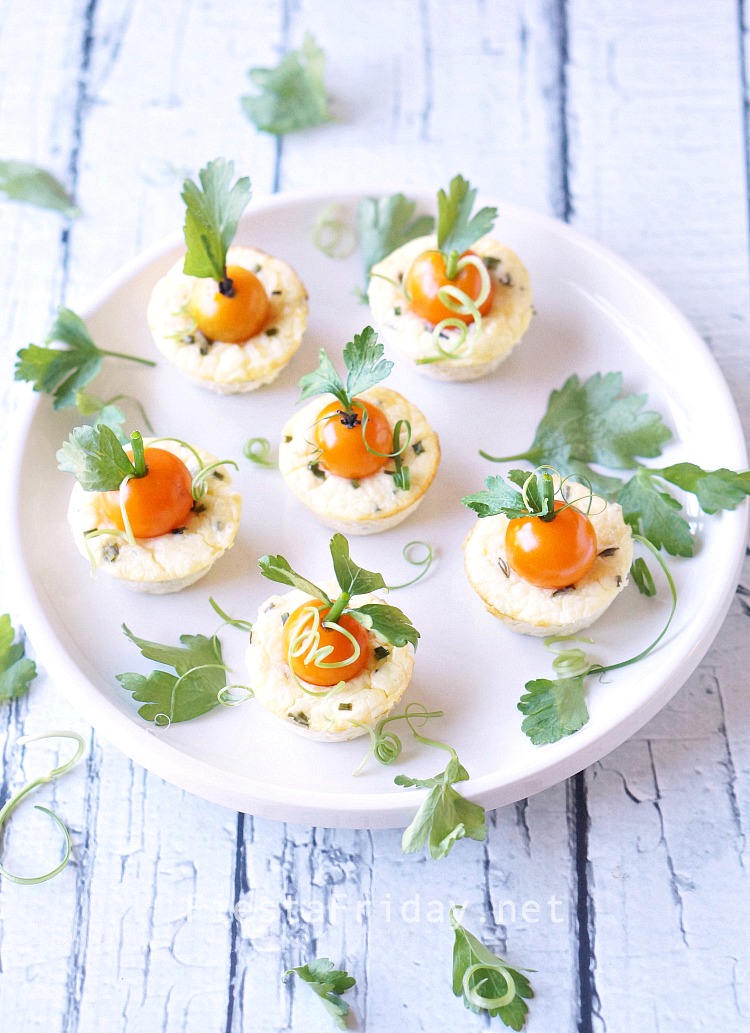 I wanted to call this mini savory cheesecake appetizer "The Stinkin' Cute Lil' Cheesecake That's So Cute You Can't Bring Yourself To Eat It." But that's too long. Plus it doesn't really describe what it actually is, except for the cute part.
Plus if I did, it would make me sound like a wierdo.
So, therefore, Thanksgiving Mini Savory Cheesecake Appetizer it is. Which is long enough.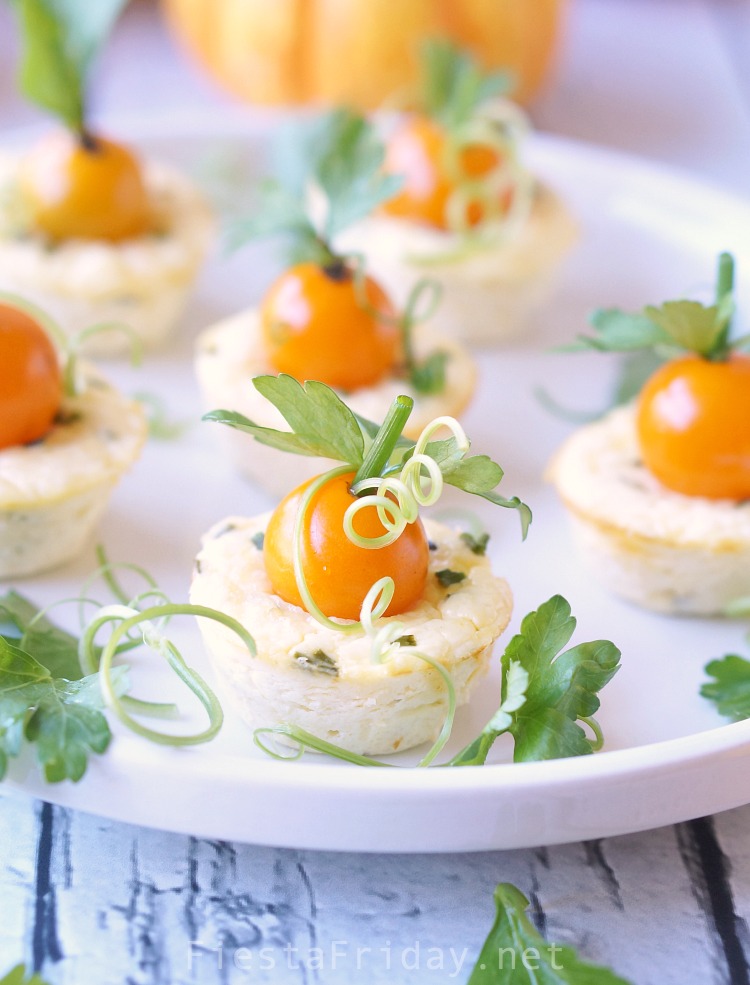 I could have cut out the Thanksgiving part, but I wanted to be a little more precise, since the topping is in the shape of a pumpkin. Which, as you know, makes these mini savory cheesecakes apropos for a Thanksgiving appetizer.
Yes, apropos. I use words like that all the time. I'm very sophisticated. If only I can convince myself that.
Also because this way, I can easily generate more seasonal recipes out of this one.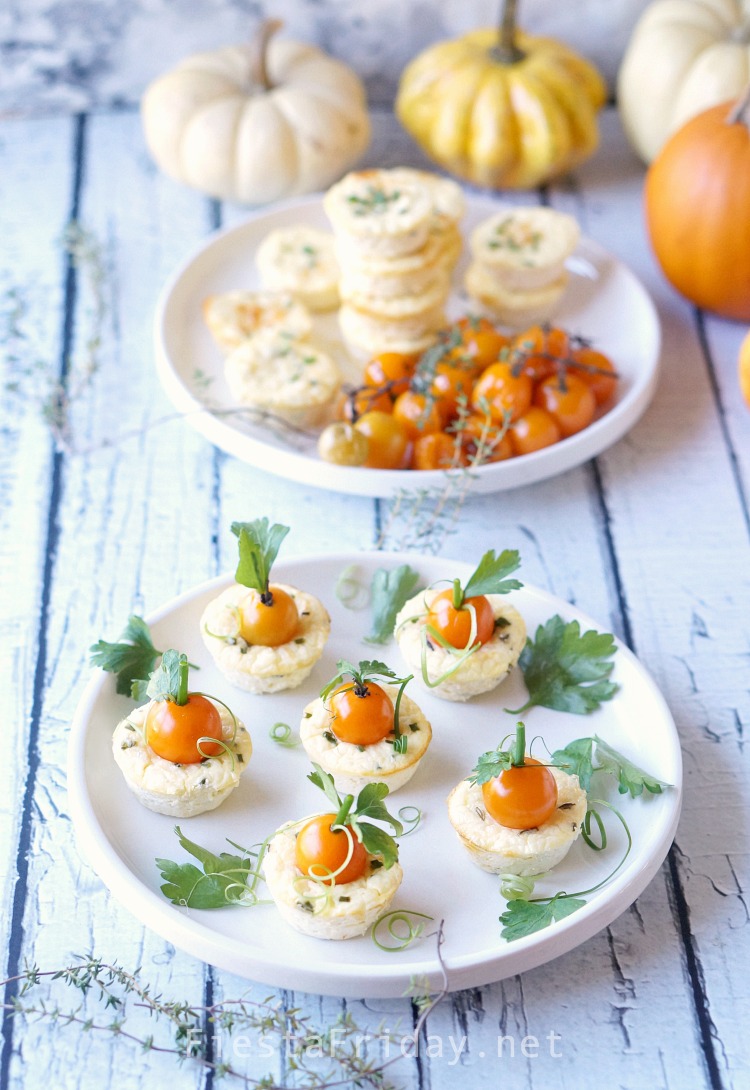 I can swap the "pumpkin" tomato topping with let's say… a mini carrot, and all of a sudden I have the making of an Easter appetizer.
Make the topping in the shape of a shamrock, and it'll become a St. Patrick's Day appetizer. And so on and so forth. One basic recipe for multiple posts. Brilliant!
See, besides being sophisticated, I'm also smart. I can also see you rolling your eyes at me. That's okay, I deserve that.
Anyway, these Thanksgiving Mini Savory Cheesecakes are not just cute-looking, they're bonafide delicious as well. And we can thank the late Selma for creating the recipe. Simple, easy-to-do, fail-proof, guaranteed yumminess… in short, perfect.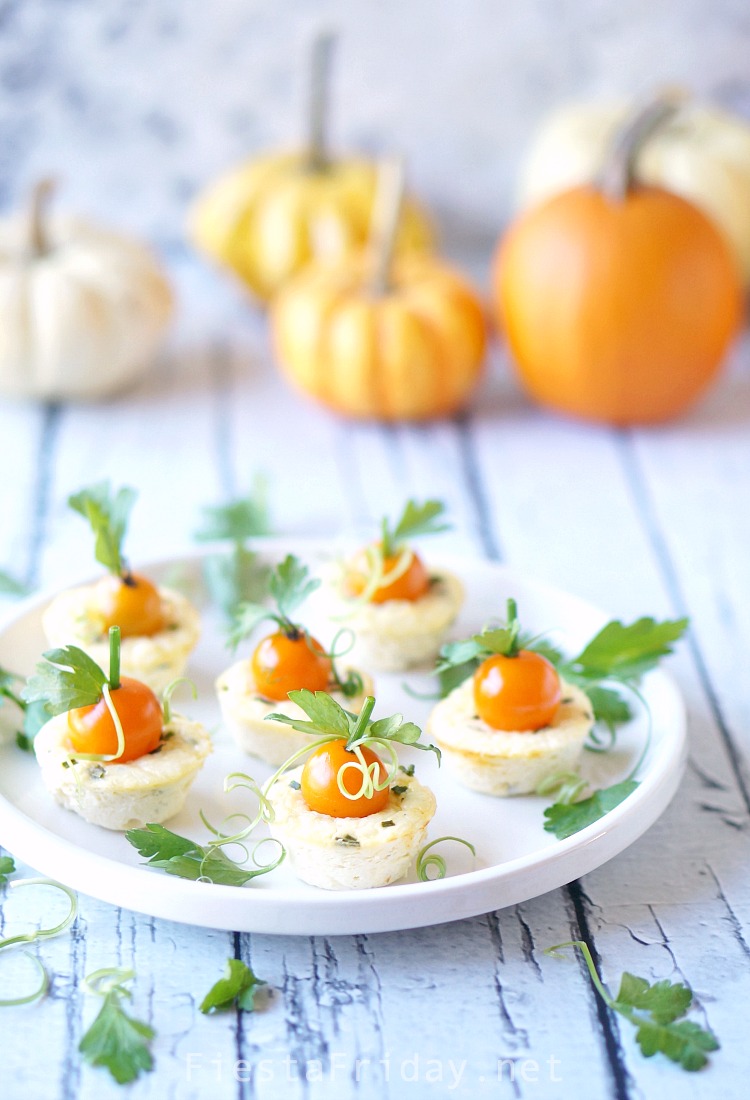 Every now and then, whenever I miss her, I go to Selma's site to reread her posts (I've probably read each one of them at least twice) or just to look at the pictures. I find it comforting knowing that I can always "visit" her any time I need to hear her "voice".
Needless to say, her blog is full of inspiration. She was an exceptional recipe developer. These savory mini cheesecakes, particularly, have been in my monthly rotation because they're very easy to make, and because they're so versatile.
Obviously, you can serve them as an appetizer, as I have here, with or without grilled or toasted slices of bread.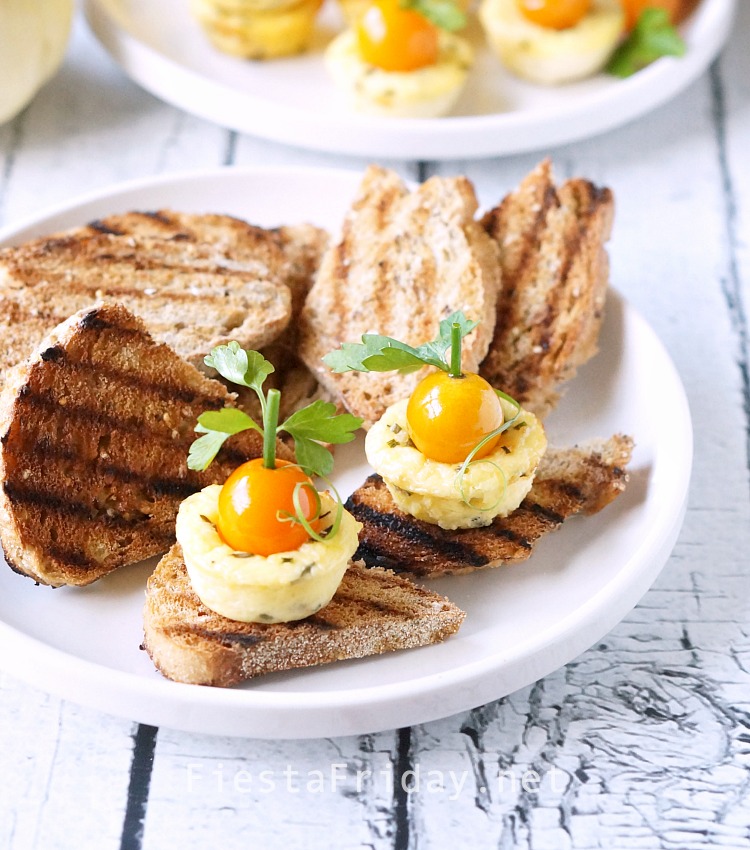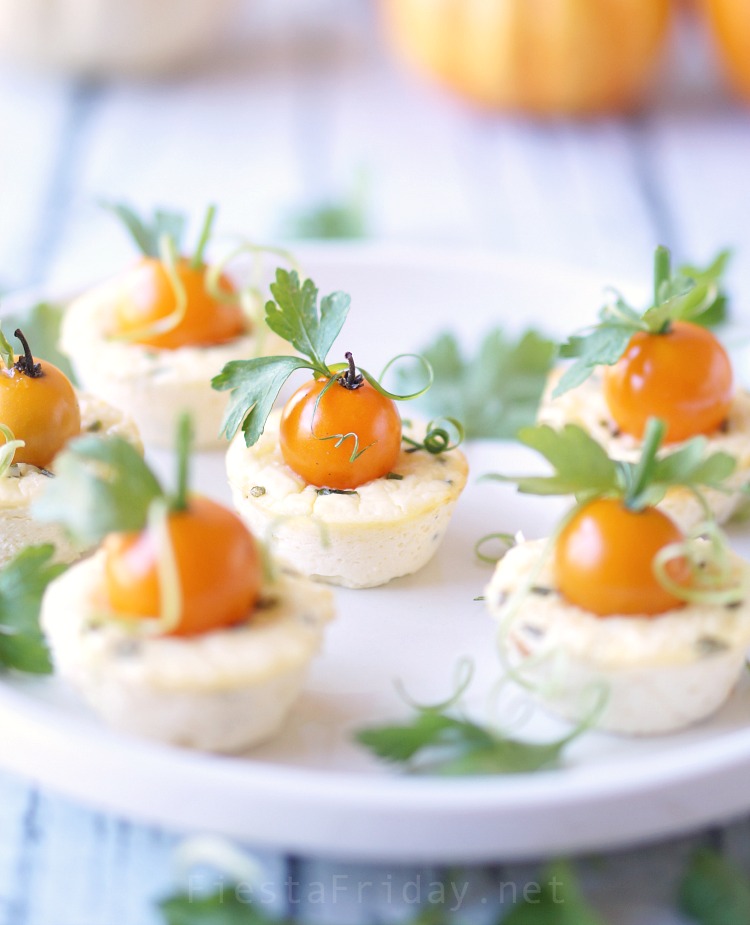 You don't even need to top them with the cherry tomato "pumpkins" if you don't want to, and they're still attractive enough for a party.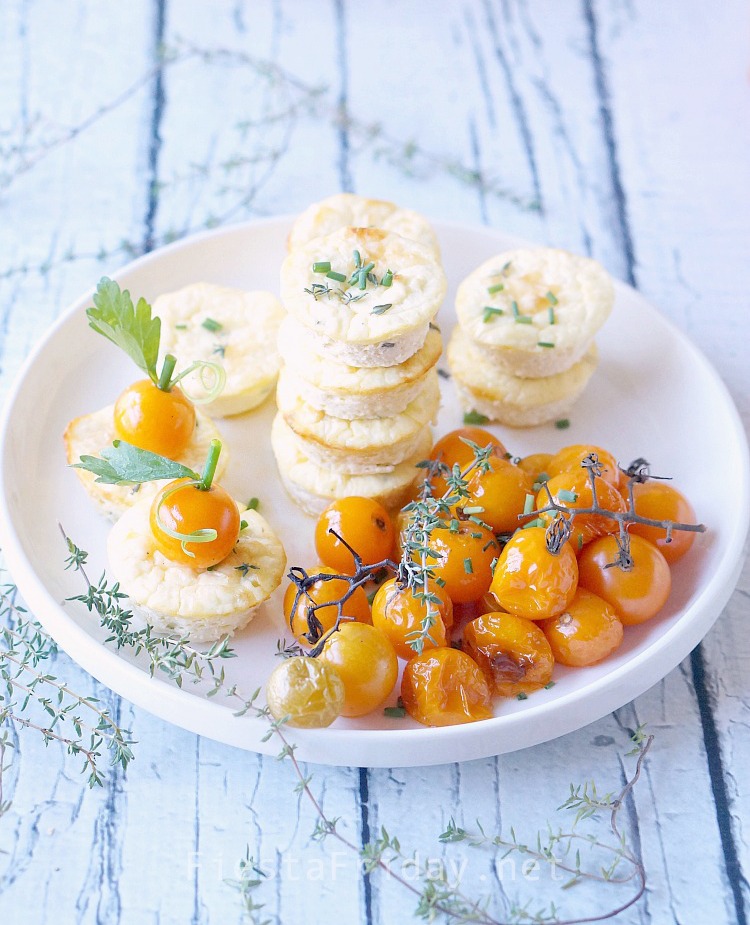 You can use them to top your salads, which is so, so delicious! I really enjoyed this!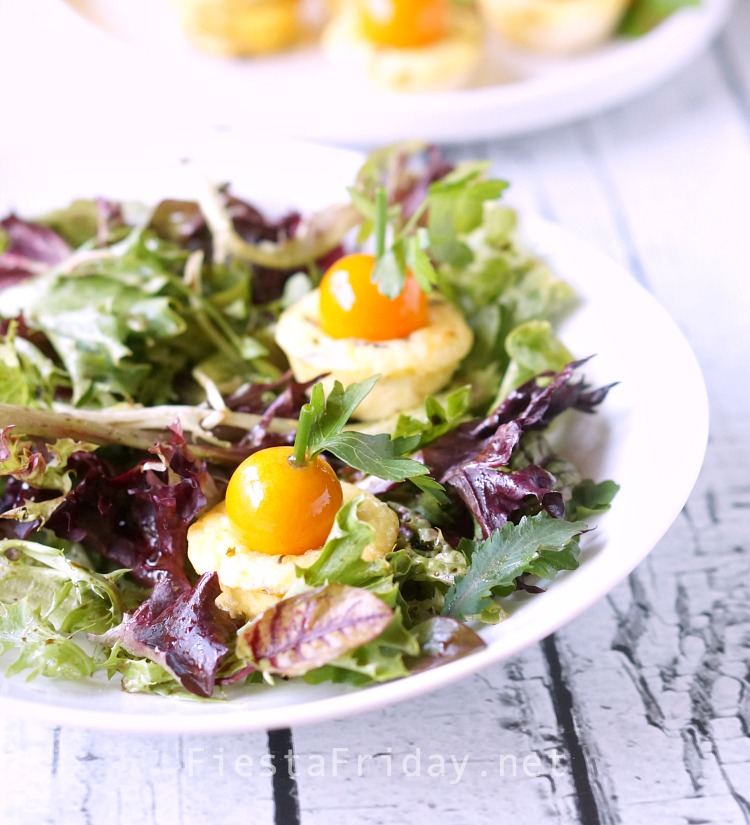 Or… if you're my husband, and he being the savage that he is and does not care about making sure his food is pretty-looking, you squash them inside a bagel.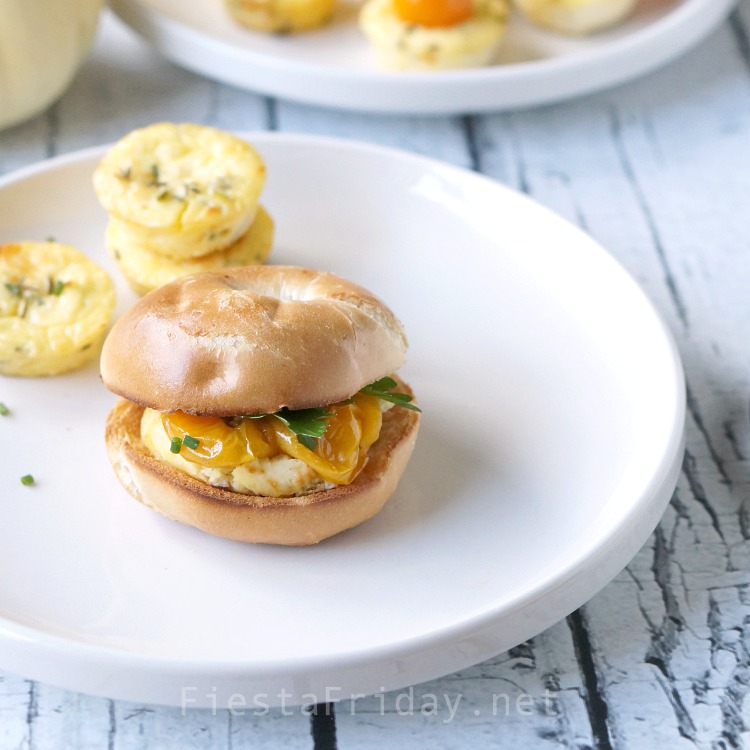 That man!! But you know what, it was actually good! I have to begrudgingly admit he does have a good idea every now and then.
Anyway… as you can see, these mini savory cheesecakes are completely adaptable to multiple applications. So, I've got only one request… make them already! Especially for Thanksgiving next week. They will fit in nicely with the rest of your Thanksgiving menu. And when you do make them, make sure you think of my friend Selma.
Thanksgiving Mini Savory Cheesecake Appetizer
Mini Savory Cheesecake Appetizer that's so versatile you can serve it not only as an appetizer, but in a salad, a sandwich, or on a piece of toast, either warm or cold... the possibilities are endless!
Author:
Angie | FiestaFriday.net
Ingredients
For the cheesecakes
15 oz. ricotta cheese
½ cup grated parmesan cheese, divided
2 large eggs
½ tsp. salt
½ tsp. ground black pepper
2 tbsp. chopped fresh chives
1 tbsp. chopped fresh thyme
For the "pumpkin" decoration
Orange cherry tomatoes
Chives or green onions, cut into 1-inch pieces
Parsley leaves & stems
Instructions
Heat oven to 350°F.
Spray mini muffin pan with cooking spray.
In a medium-sized bowl, break up the eggs by whisking them lightly.
Add half of the parmesan and the rest of the ingredients.
Whisk until all the ingredients are well mixed.
Fill muffin cups almost to the top of the rim with about 1½ tablespoons of the mixture. These cakes will puff up slightly but not too much.
Sprinkle with more parmesan.
Bake for 20 minutes.
Top each cake with a cherry tomato, then bake for another 5 minutes. You want the tomatoes to be soft and heated through but not bursting or collapsing.
If your tomatoes come with stems already, leave them. Otherwise, use a bamboo skewer to poke a hole on top of the tomatoes, then insert chive/green onion pieces for stems.
Decorate with parsley leaves and tendrils made out of strips of parsley stems or green onions that have been shocked in cold water.
Save This To Make Later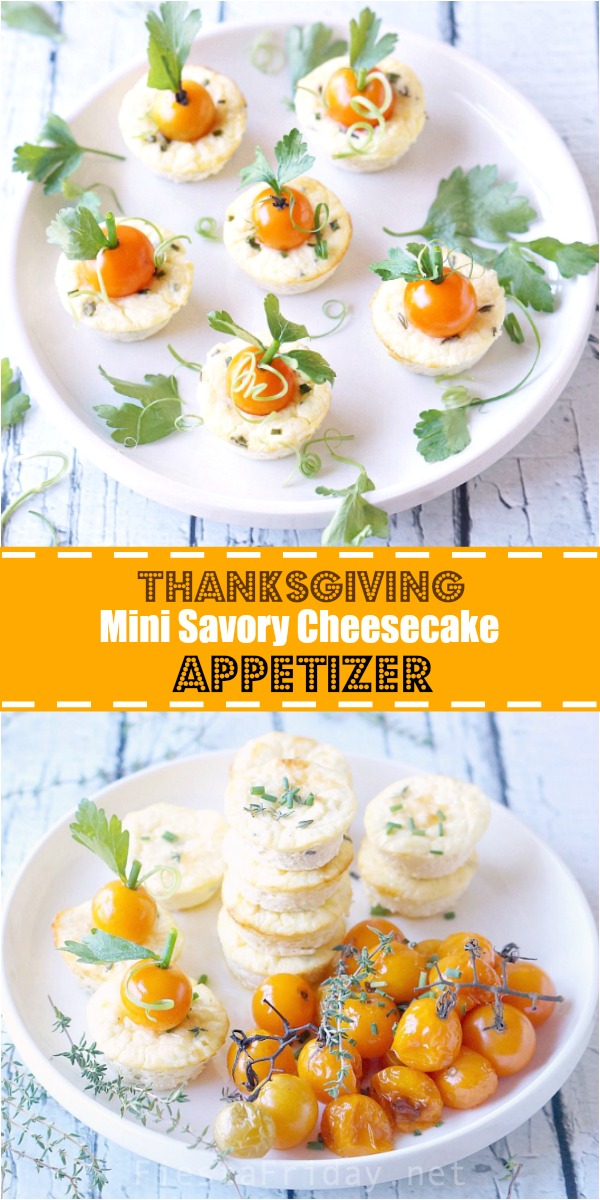 This Thanksgiving Mini Savory Cheesecake Appetizer is partying with:
Baking Crumbs, hosted by Apply To Face Blog and Jo's Kitchen Larder
Cook Blog Share