Thanksgiving Mini Savory Cheesecake Appetizer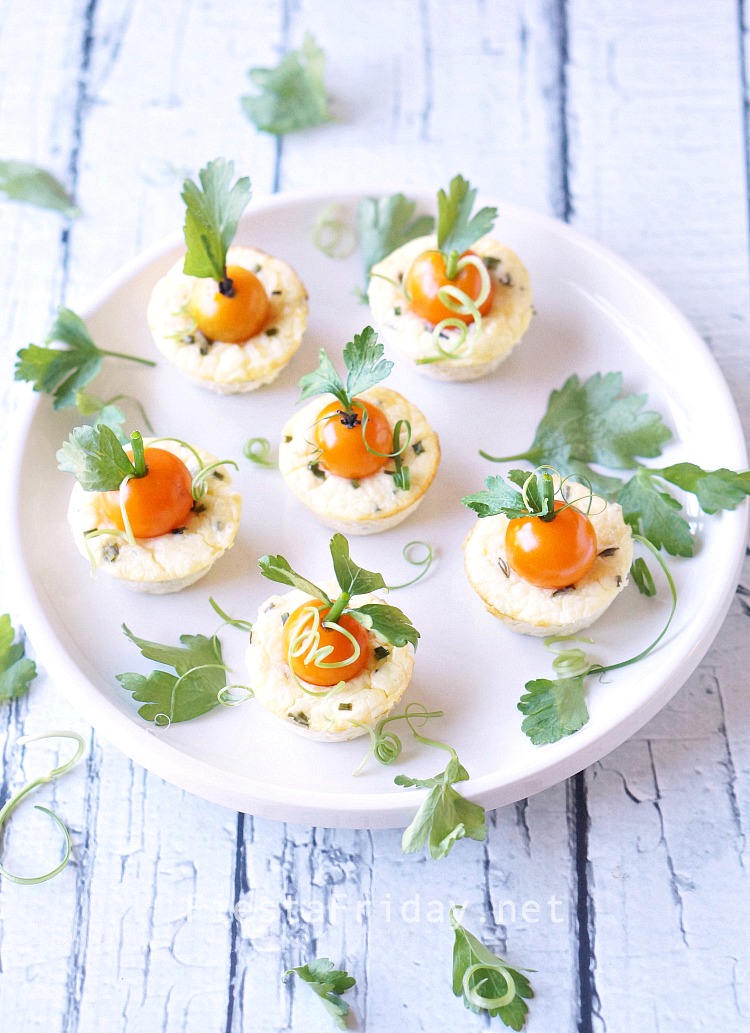 Author:
Angie | FiestaFriday.net
15 oz. ricotta cheese
½ cup grated parmesan cheese, divided
2 large eggs
½ tsp. salt
½ tsp. ground black pepper
2 tbsp. chopped fresh chives
1 tbsp. chopped fresh thyme
Orange cherry tomatoes
Chives or green onions, cut into 1-inch pieces
Parsley leaves & stems
Heat oven to 350°F.
Spray mini muffin pan with cooking spray.
In a medium-sized bowl, break up the eggs by whisking them lightly.
Add half of the parmesan and the rest of the ingredients.
Whisk until all the ingredients are well mixed.
Fill muffin cups almost to the top of the rim with about 1½ tablespoons of the mixture. These cakes will puff up slightly but not too much.
Sprinkle with more parmesan.
Bake for 20 minutes.
Top each cake with a cherry tomato, then bake for another 5 minutes. You want the tomatoes to be soft and heated through but not bursting or collapsing.
If your tomatoes come with stems already, leave them. Otherwise, use a bamboo skewer to poke a hole on top of the tomatoes, then insert chive/green onion pieces for stems.
Decorate with parsley leaves and tendrils made out of strips of parsley stems or green onions that have been shocked in cold water.
Recipe by
Fiesta Friday
at https://fiestafriday.net/2019/11/22/thanksgiving-mini-savory-cheesecake-appetizer/