It's October, aka my birthday month ? Is it too much to ask for a month-long celebration? Where everyday you're treated to a nice quiet dinner, and maybe a small gift awaits you in the morning when you wake up?
You don't have to answer that ? That's not what I really want to talk about anyway.
I want to talk about this.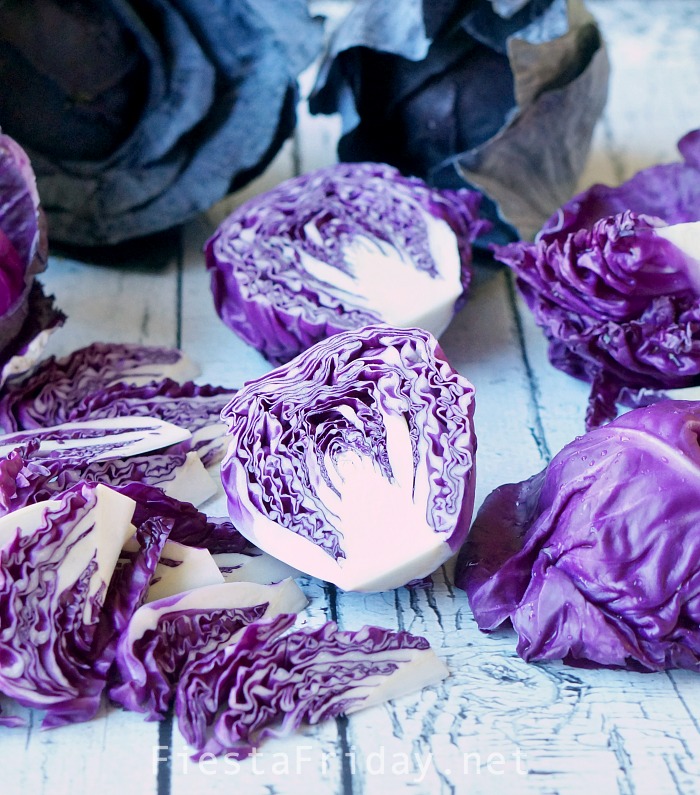 I called the husband just before he left work if he could stop on the way home to get purple ornamental cabbage/kale plants. I asked for 3, to fill the 3 planters on our front stoop.
He came home with those 3 purple cabbages. The kind for cooking and eating ?
It's possible I forgot to say "plants" or "planters" but I'm quite sure I mentioned "ornamental" ?
Regardless, he's going to pay for it. Cabbage for dinner for the next 3 weeks!
From last week's Fiesta
Apple Cider Pound Cake from Jess @ Cooking Is My Sport
"I just know I will love Jess' Apple Cider Pound Cake. I love apple cider donuts and look forward to them every year and a pound cake trumps donuts any day!"
"Ditto! Everything she said, up there ↑" — Angie
Witches' Hats And Broomsticks from Claire @ Claire Justine
"These are so perfect for Halloween and everything Clare has on her page is darling!" — Mollie
Caramel Pumpkin Spice Cupcakes from Erin @ Delightful E Made
"Erin's Caramel Pumpkin Spice Cupcakes look so appealing! I just want to dive right in!" — Mollie
Crustless Custard Pie from Erin @ Big Green House
"I really love the simplicity of this pie. Easy enough to make on a busy day when the thought of making a pie crust deters even the most ardent baker." — Angie
***
Now, let's party! Join Fiesta Friday #296 by adding your link. Don't forget to link your post(s) to FiestaFriday.net. (Psst! It'll make for a stronger case to be featured on the next fiesta.) I'm hosting this fiesta without cohosts this week, and I will do my best to visit each and every one of you!
If you're new to Fiesta Friday, please read the guidelines.
If you're interested in becoming a co-host, please leave me a message.
You are invited to the Inlinkz link party!