Sorry this comes so late. Without too long of an explanation, let's just say FiestaFriday.net was hacked by some unknown entity, but it seems to be operating fine right now. If you see anything suspicious, please let me know.
Now that St. Patrick's Day is over, my attention is laser-focused on Easter. It happens to be my most favorite holiday, by the way. Besides Halloween. Or Christmas. Or 4th of July. I guess I really like holidays. They give me the chance to do something creative in the kitchen.
Easter is one I particularly look forward to. After the dreary and bleak months of winter, Easter comes with the arrival of spring and with it, the landscape once again offers colors. Flowers are blooming and trees are greening. No other holidays offer the freshness of springtime colors. That's why Easter is so special, and I've always made a point of making my family a special treat for Easter. Here are a couple of them: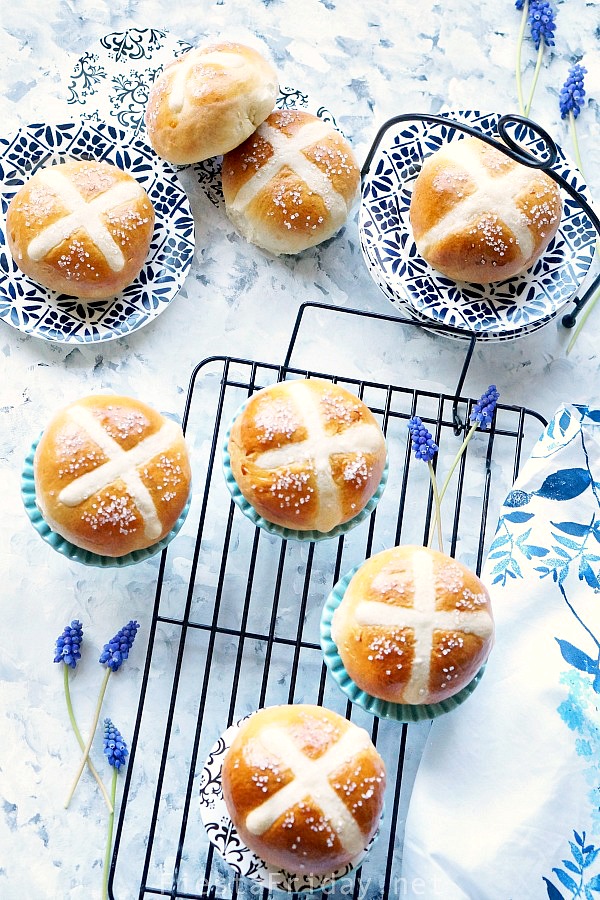 Hot Cross Buns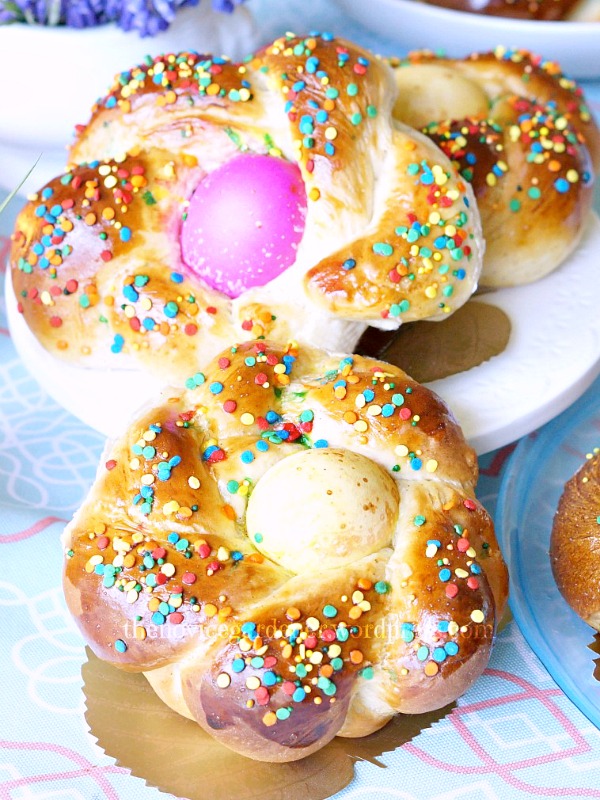 Italian Easter Bread
I had posted these pictures on the blog for you to see quite some time ago. All the while neglecting to share the recipes. So my order to myself in the next few weeks is to try to write the recipes to go with these pictures. Hopefully, in time for Easter.
What are you making for Easter?
Fiesta Features Time!
Chocolate-Nutella Tart from Vanitha @ Curry and Vanilla
"Wow, chocolate and Nutella in a jam cookie crust. This tart is not only delicious, but beautiful. I adore elegant and creative desserts like this." — Antonia
Chili Pineapple Chicken Tacos from Petra @ Food Eat Love
"Tacos are one of my favorite foods! I love the idea of adding the chili pineapple. Spices it up and adds a new flavor to the idea of tacos." — Abbey
Mint Chocolate Chip Cookie Bars from Kat @ Kat's 9 Lives
"These seriously couldn't get any better!! They are green and festive for St. Patty's Day, and mint! I mean, how can you go wrong with mint!" — Abbey
Simon Pearce Vermont Cheddar Soup from Mollie @ Frugal Hausfrau
"I adore this soup! I'm a sucker for anything cheesy, and this soup truly delivers! I can't wait to make it!" — Antonia
***
Now, let's party! Join Fiesta Friday #268 by adding your link. Don't forget to link your post to FiestaFriday.net and the co-hosts' blogs, so we can feature you. Your co-hosts this week are Julianna @ Foodie on Board and myself.
If you're new to Fiesta Friday, please read the guidelines.
If you're interested in becoming a co-host, please leave me a message.
[inlinkz_linkup id=818860 mode=1]