These Valentine's Day Soft Pretzels are sweet. And salty. And soft. In short, just so scrumptious. And best of all, they are made with love, which makes them oh…so special, aaw…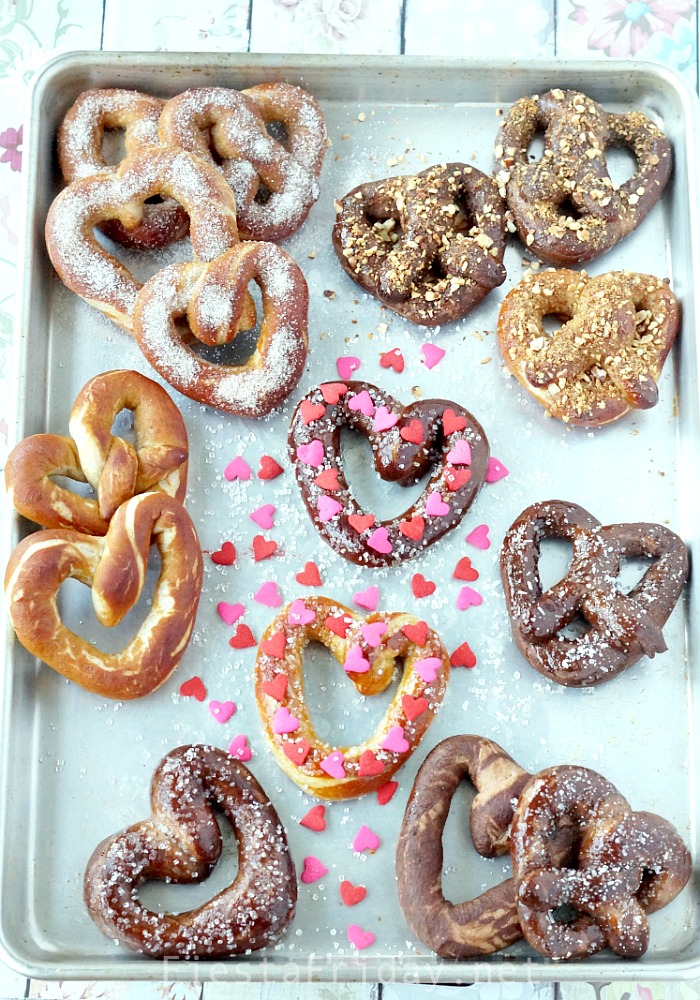 Valentine's Day Pretzels sound redundant. Let me explain. Pretzels, on their own, should already be de facto Valentine's Day snack. Just think of it, they are pretty much heart-shaped, are they not?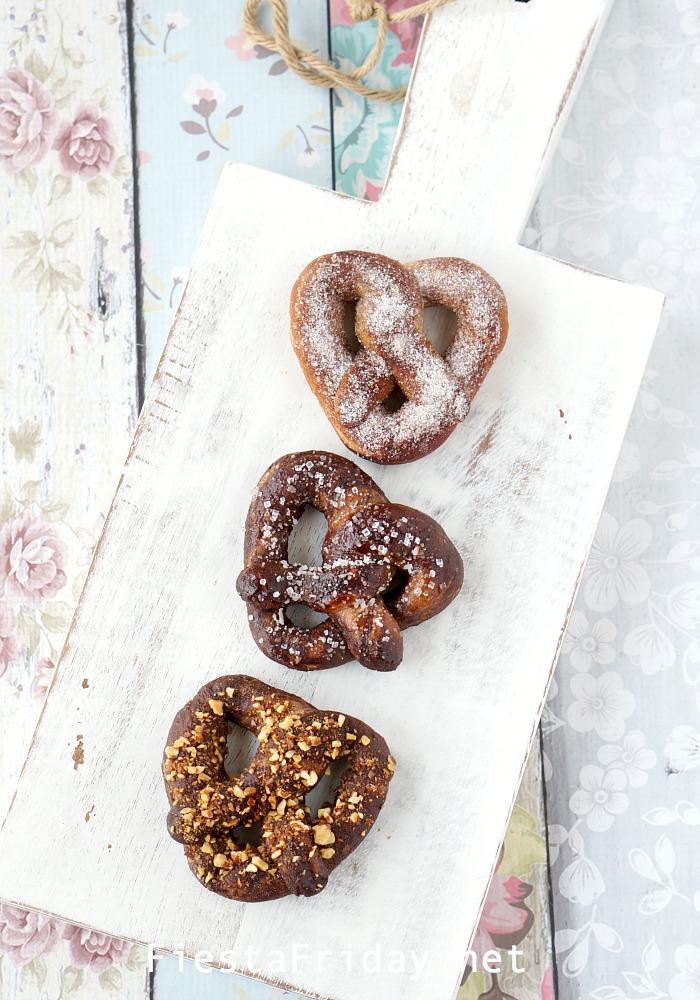 So it's not a stretch that when I thought about what perfect Valentine's Day treats I should make for my family, I thought about pretzels.
And also because my first plan of making the usual chocolate-covered strawberries was thwarted by my grocery store running out of strawberries! Can you believe that?! How can they run out of strawberries?! The week of Valentine's Day?!
I wasn't going to be deterred by the lack of strawberries, however. I always make my family their Valentine's Day treats, and this year shouldn't be any different. It's tradition.
And if you can't find strawberries, you do the next best thing. You make Valentine's Day Pretzels, which in hindsight should have been your first choice to begin with.
Oh, by the way, when I say Valentine's Day treats for the family, that really means for the kids. Let's be honest here, once you have kids, they ARE your Valentines, am I right?!
So… these cute heart-shaped soft pretzels are for my kids, aka my Valentines.
But, of course, they will share with their dad. They can't possibly eat a whole tray by themselves.
But they get the best ones. The special ones with sprinkles.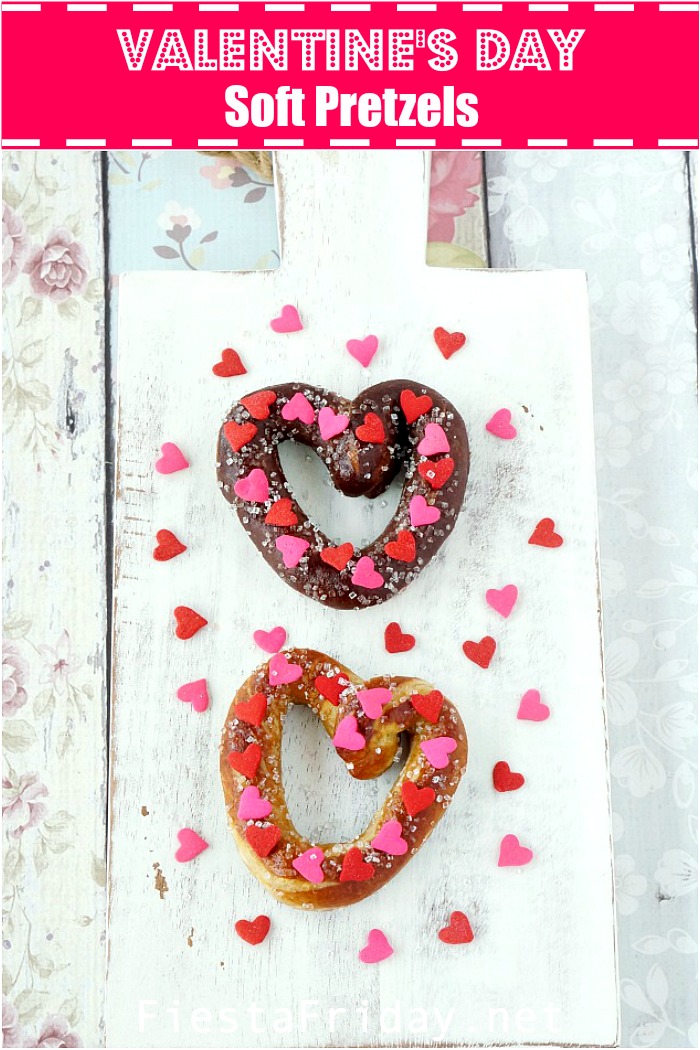 Their dad gets the less exciting ones. The ones without sprinkles.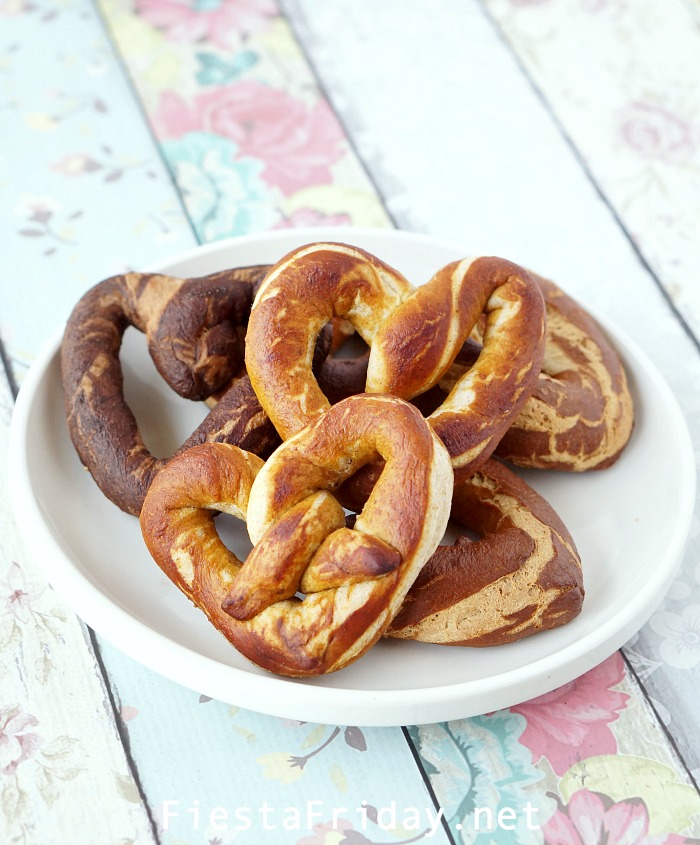 But guess what? They're all good! So in the end everybody wins!
Besides, the husband actually prefers those plain pretzels. He's not into sprinkles or anything sparkly all that much. Don't even talk about unicorn food when he's around, but that's another story.
My favorite are these ones.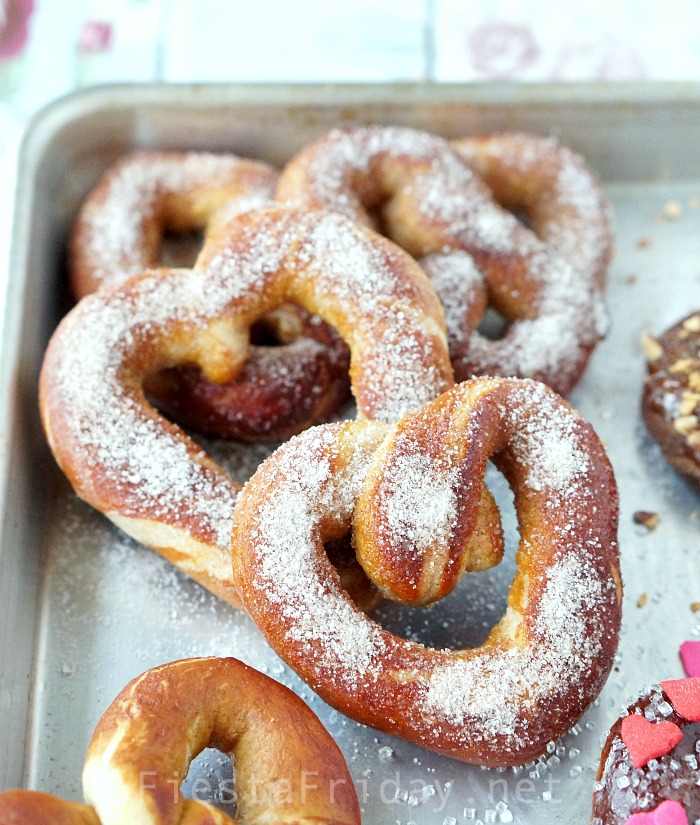 These Cinnamon Sugar Pretzels taste just like Auntie Anne's!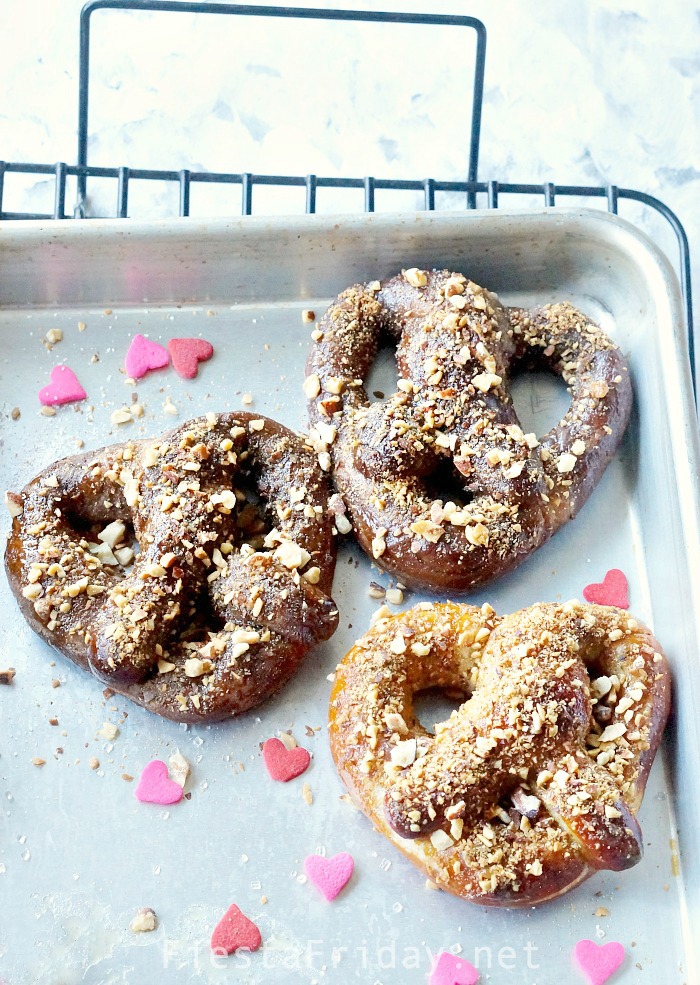 Sweet Almond Pretzels
For those who like the combination of sweet and salty, these may be for you.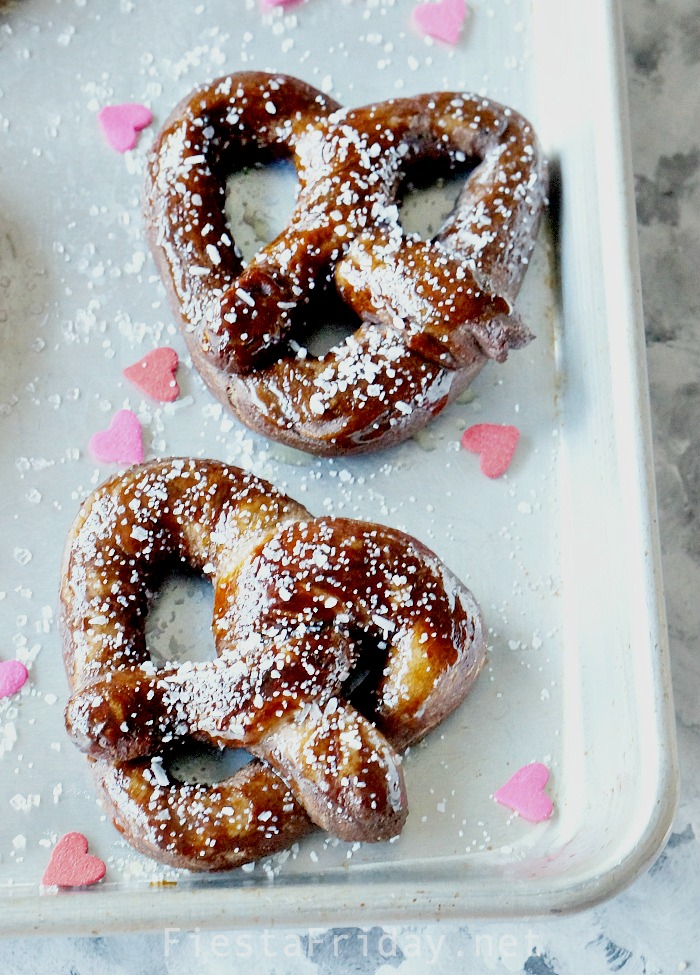 Honey Butter & Sea Salt Pretzels
Happy Valentine's Day to one and all!
Valentine's Day Pretzels
These Valentine's Day Soft Pretzels are sweet. And salty. And soft. In short, just so scrumptious. And best of all, they are made with love, which makes them oh...so special, aaw...
Author:
Angie | FiestaFriday.net
Recipe type:
Snack/Breakfast/Bread
Ingredients
1 cup milk
¼ cup brown sugar
2 teaspoons active dry yeast
2 tablespoons butter, melted
1 cup whole wheat flour
1¼ cups bread flour
1 teaspoon salt
For the baking soda bath
⅓ cup baking soda
4 cups water
For the toppings
Honey butter sauce (1/4 cup melted butter mixed with ¼ cup honey)
Cinnamon sugar (1/4 cup granulated sugar mixed with 1 teaspoon ground cinnamon)
Roasted almonds, coarsely ground
Sparkling sugar
Kosher or Sea salt
Heart-shaped sprinkles
Instructions
Warm milk until it reaches 110°F (or lukewarm to the touch). Pour into the bowl of your mixer.
Add brown sugar, stir to dissolve, then sprinkle the yeast, stir again. Set aside for about 5 minutes to let yeast bloom.
Add melted butter, salt, and the rest of the flour.
Stir slowly at first, using the dough attachment, to incorporate all ingredients. Then turn up the speed and continue to mix for 5 minutes, or until dough pulls away from the sides of bowl. Dough should be smooth but slightly sticky.
Scrape dough into a bowl that's been oiled or buttered. Cover with plastic wrap then place in a warm spot.
After dough doubles in size (about 1 hour), punch it down lightly to deflate, then turn out onto floured surface and divide into 15 equal portions for small-sized pretzels.
Roll each portion into a long and thin rope, about 24-inch in length, then shape as desired (either into a simple heart or a pretzel shape.)
Meanwhile, heat oven to 400°F, and prepare the baking soda bath by boiling water and baking soda in a deep pot (I prefer using a deep pot because this solution has the tendency to bubble and spray droplets of soda water all over the place.)
Drop pretzels one at a time into boiling water, boil for 5-10 seconds, flip and boil for another 5-10 seconds, then remove with a slotted spatula.
Drain pretzels on paper towels to remove excess water, then place on a baking sheet that's been lined with parchment paper. If pretzels unravel or become misshapen in the bath, reshape while placing on the baking sheet.
Bake for 10 - 12 minutes, or until they're deep golden brown.
While still hot, brush with the honey butter sauce, then sprinkle with desired toppings.
Notes
For chocolate pretzels, replace 2 tablespoons of either flour with cocoa powder.
If you like this recipe, please give it a ⭐⭐⭐⭐⭐ rating in the comments section below. Thanks!

Save This To Make Later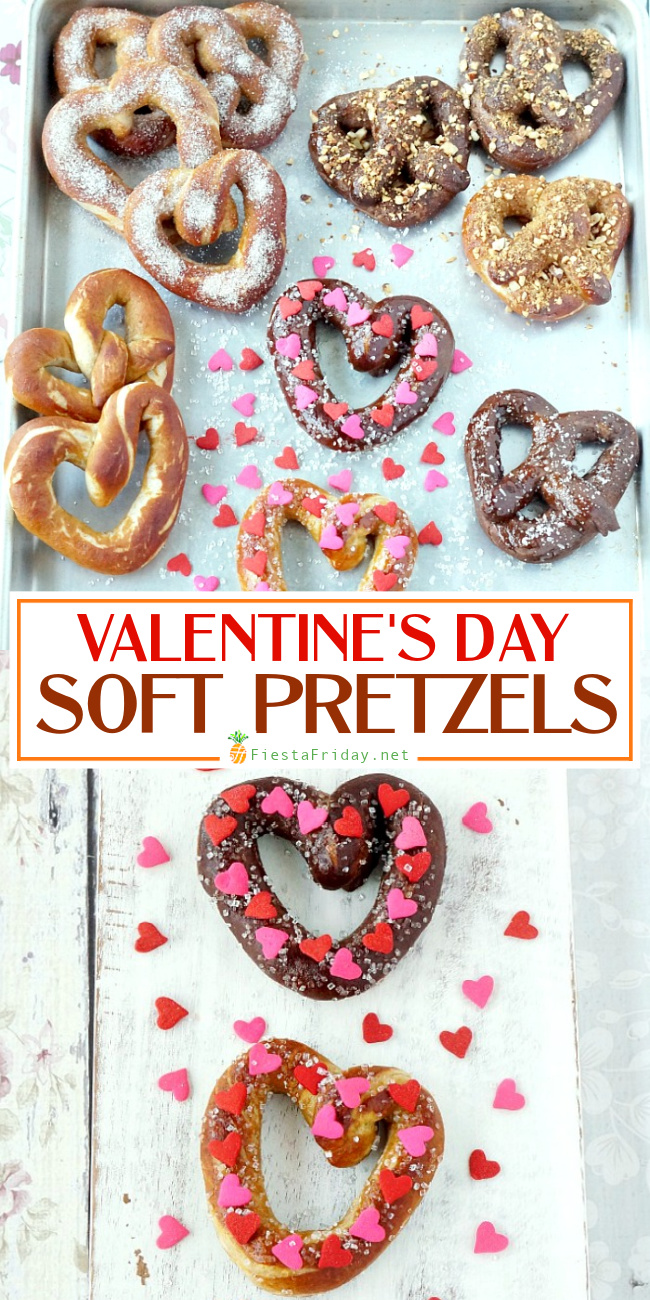 These pretzels are partying with:
Baking Crumbs
Cook Blog Share
Cook Once Eat Twice
What's for Dinner?
Pretty Pintastic Party
Creative Muster Party
Saturday Sparks