Corn Fritters made gluten-free and even crispier with rice flour. A perfect recipe not only for when fresh corn and herbs are plentiful in the summer months, but any time of the year!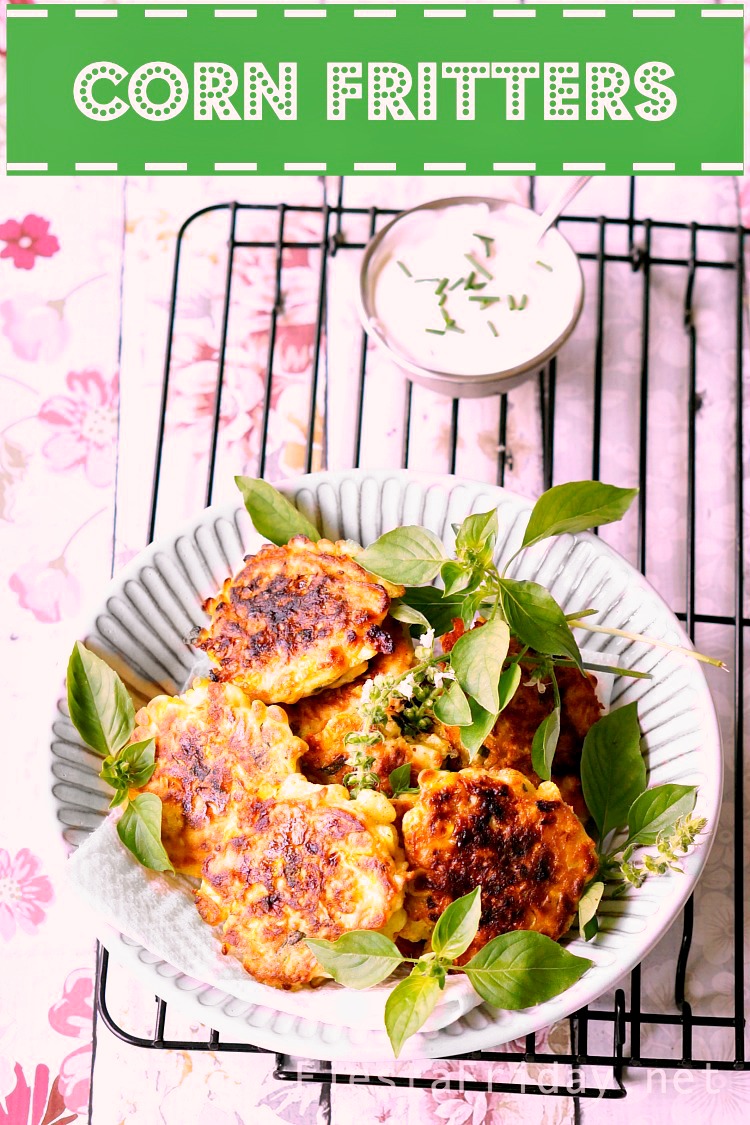 These Corn Fritters were made and consumed sometime this summer, when fresh corn and homegrown herbs were plentiful but were never shared with you, until now. So sue me.
No, don't sue me. I think you would find enough reasons in this recipe to forgive me. Corn Fritters are, first and foremost, always a crowd favorite. Fritters of all kinds generally have the reputation of being well-liked by people of all ages.
For that reason alone, posting fritters any time of the year should be welcomed and the norm. Fritters, even the corn type, should not just be a summer fling, but an anytime-appetizer or snack, or even a side dish.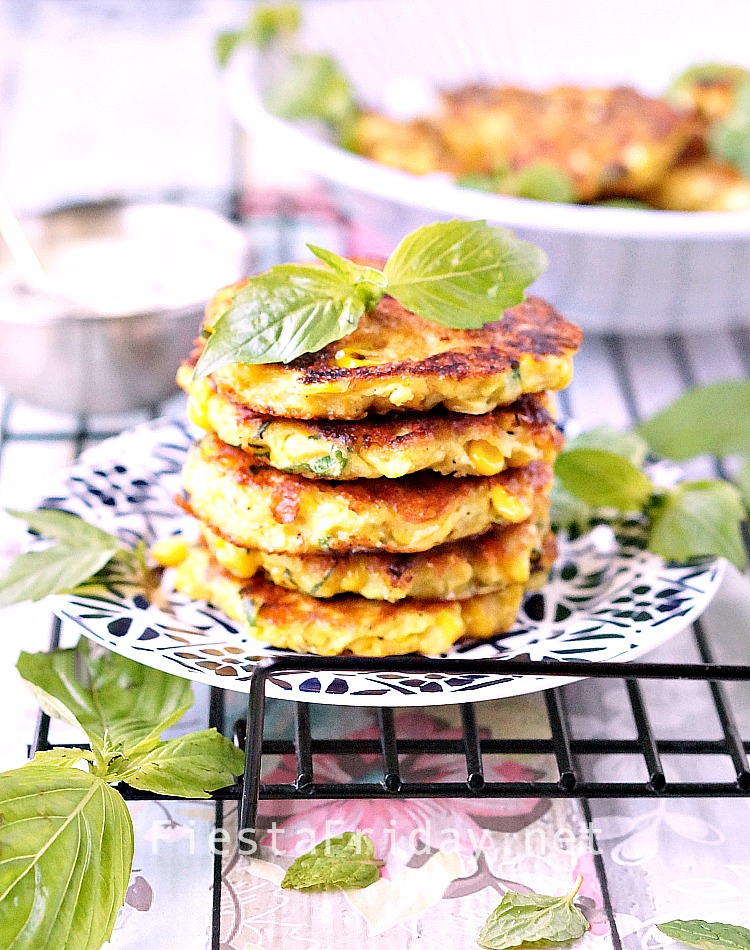 In fact I'm convinced these corn fritters are perfect for Thanksgiving. They're a quick-and-easy-to-make cute little appetizer that can double as a side to your turkey, aaand… they don't require the use of an oven. Everybody knows that's THE #1 issue on Thanksgiving. Oven space and time. I see a few nodding heads out there.
So, with that, I present to you the new star of your Thanksgiving table… Corn Fritters! Take a bow, Corn Fritters!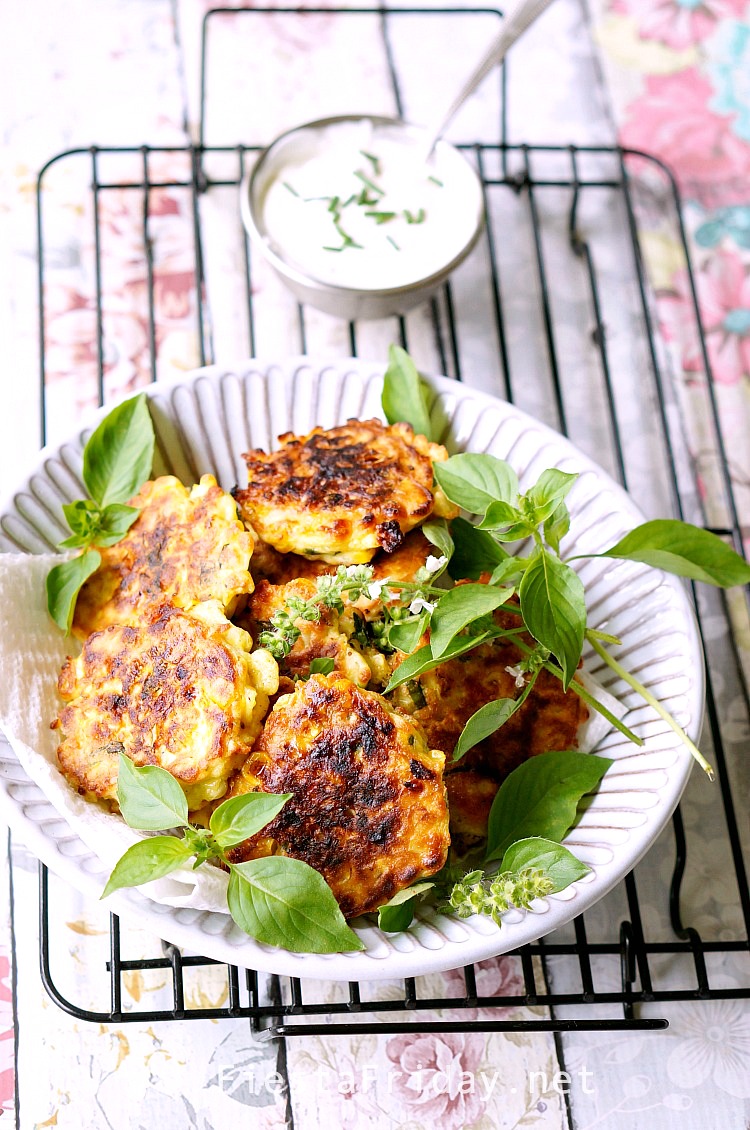 How To Make The Best Corn Fritters
When possible, use fresh corn.
If using frozen, thaw before using. If using canned, make sure to drain well.
Grind some of the corn and use it as a binding agent, so there's less of a need to use too much flour, which can contribute to gummy fritters. Gummy fritters are a big NO, NO!
Use rice flour, instead of all-purpose flour, not just for a gluten-free option, but to create crispier fritters.
Corn fritters, even in their plainest form, are always tasty, but adding cheese and a lot of herbs will make them sing, shine, and downright spectacular!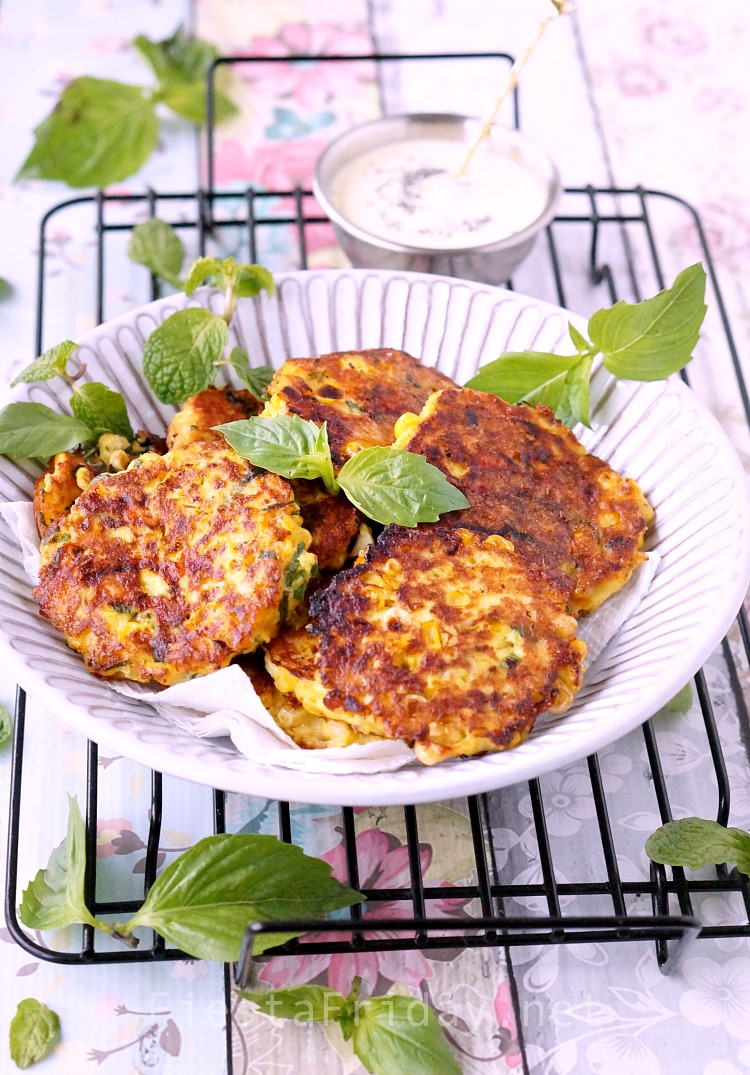 So, I've made many versions of Corn Fritters over the years, because you can't just make corn fritters once in your life. It's impossible! But truly, these are my best Corn Fritters to date, because I made sure I followed my own tips above.
Using fresh corn definitely makes a huge difference. There's nothing like biting into these corn fritters with the crisp, fresh, plump, and juicy corn kernels ready to burst their sweet milk into your mouth.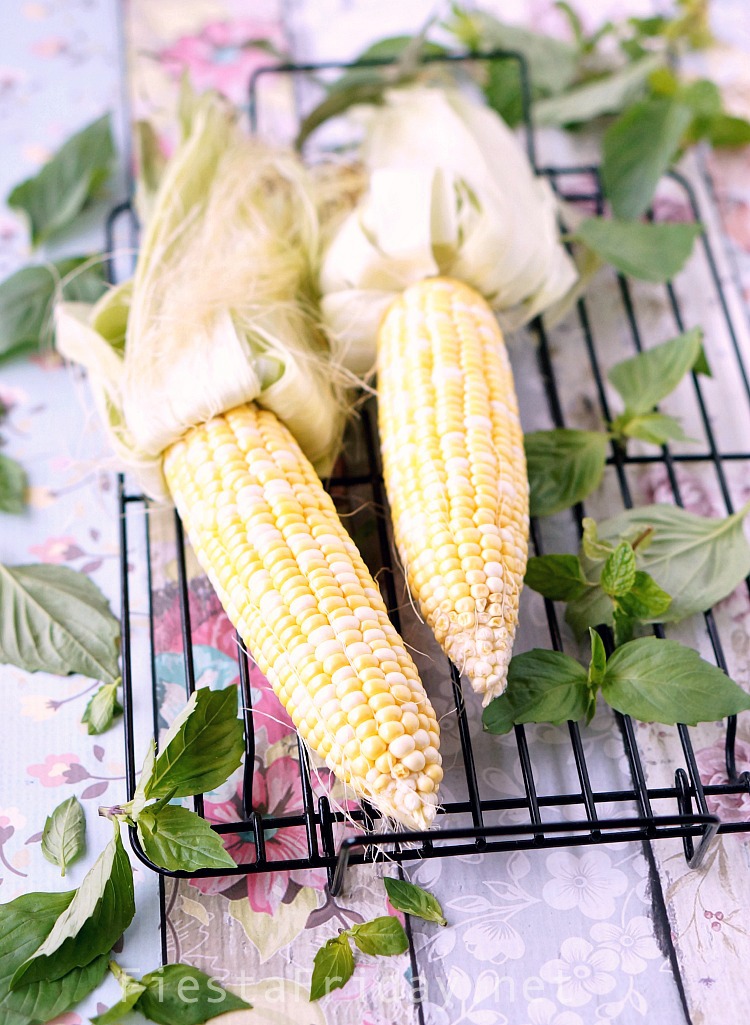 Similarly with the herbs, use fresh only, and nowadays they're available year-round. I grow a lot of herbs in the summer, including several varieties of basil.
This was my first time using lemon basil in a fritter recipe, and it was exceptional! You may be able to find it in some specialty stores. If not, substitutions like lemon thyme or even sage (which will go well with that Thanksgiving turkey) would work. Any herb is better than none!
Corn Fritters
Author:
Angie | FiestaFriday.net
Recipe type:
Appetizer/Side
Ingredients
4 cups corn kernels (fresh if possible. If not, use frozen that's been thawed or canned that's been well-drained)
2 large eggs
3 cloves garlic, minced
1 teaspoon salt (use less for canned corn if it's salted)
½ teaspoon pepper
¼ cup chopped green onion (or chives)
¼ cup chopped lemon basil (or any basil, or any herb of your choice)
1 cup shredded cheddar cheese
4 - 5 tablespoons rice flour
Olive oil for frying
Instructions
Place half (2 cups) of the corn and the eggs in a food processor or blender. Grind to create a batter. Scrape into a bowl.
Add the rest of the corn, and the rest of the ingredients. Batter should be thick.
Heat 1 - 2 tablespoons of oil in a frying pan or skillet, on medium-high heat.
Use a large serving spoon to drop batter onto hot oil (about 2 tablespoons each, which makes 2½ inch fritters).
Fry for 2-3 minutes on each side, or until fritters are browned and crisp. Lower heat if fritters brown too quickly.
Serve hot with your favorite dipping sauce.
Pin This To Make Later!