Corn Fritters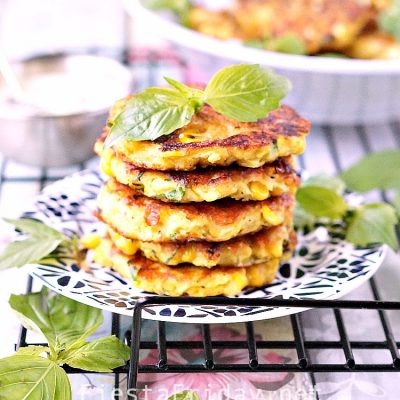 Author:
Angie | FiestaFriday.net
Recipe type:
Appetizer/Side
4 cups corn kernels (fresh if possible. If not, use frozen that's been thawed or canned that's been well-drained)
2 large eggs
3 cloves garlic, minced
1 teaspoon salt (use less for canned corn if it's salted)
½ teaspoon pepper
¼ cup chopped green onion (or chives)
¼ cup chopped lemon basil (or any basil, or any herb of your choice)
1 cup shredded cheddar cheese
4 - 5 tablespoons rice flour
Olive oil for frying
Place half (2 cups) of the corn and the eggs in a food processor or blender. Grind to create a batter. Scrape into a bowl.
Add the rest of the corn, and the rest of the ingredients. Batter should be thick.
Heat 1 - 2 tablespoons of oil in a frying pan or skillet, on medium-high heat.
Use a large serving spoon to drop batter onto hot oil (about 2 tablespoons each, which makes 2½ inch fritters).
Fry for 2-3 minutes on each side, or until fritters are browned and crisp. Lower heat if fritters brown too quickly.
Serve hot with your favorite dipping sauce.