Halloween Sushi Balls, because… why not?! Sushi is the greatest food in the world. Well, maybe not the greatest to some of you, but it's up there, in the top ten.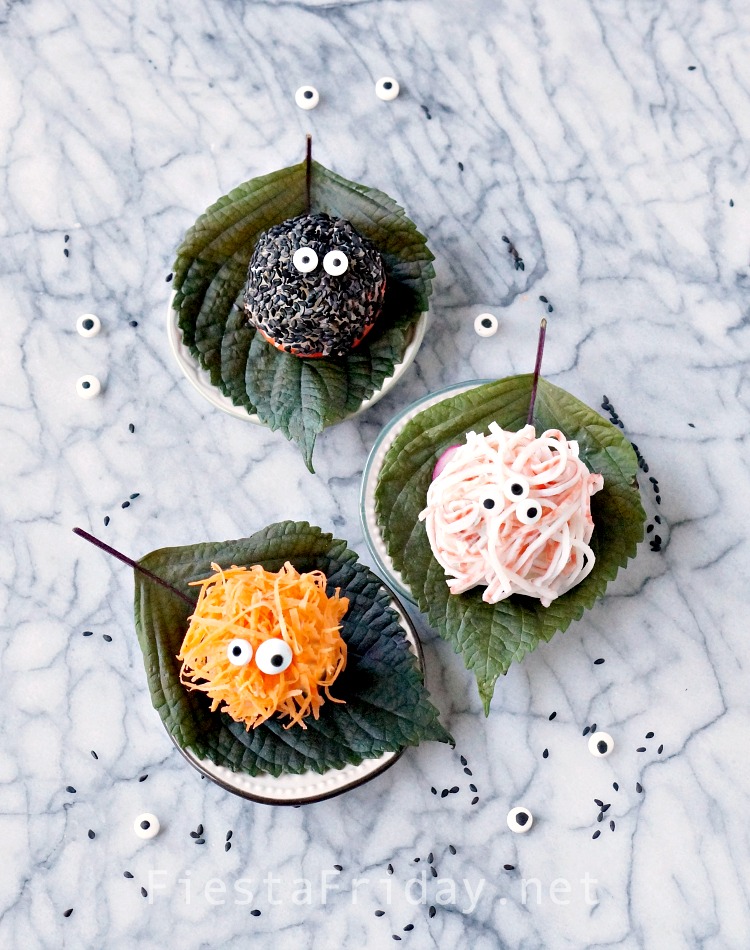 Similarly, Halloween is the greatest time of the year! Okay, I'm exaggerating, but I'm sure it's in the top ten of all holidays. How many holidays are there in a year, anyway? Are there even ten? Who knows, but if there are, surely Halloween is near the top. If not, it should be.
C'mon, you get to dress up and eat as much candy as you like! And there are so many fun things you can create for Halloween, in crafts or foods or beverages. Plus, the icing on the cake, you're permitted to scare and trick people along the way. You can't really do that at Christmas, can you?!
So, therefore, Halloween deserves our utmost respect. And I'm paying my respect by making these Halloween Sushi Balls.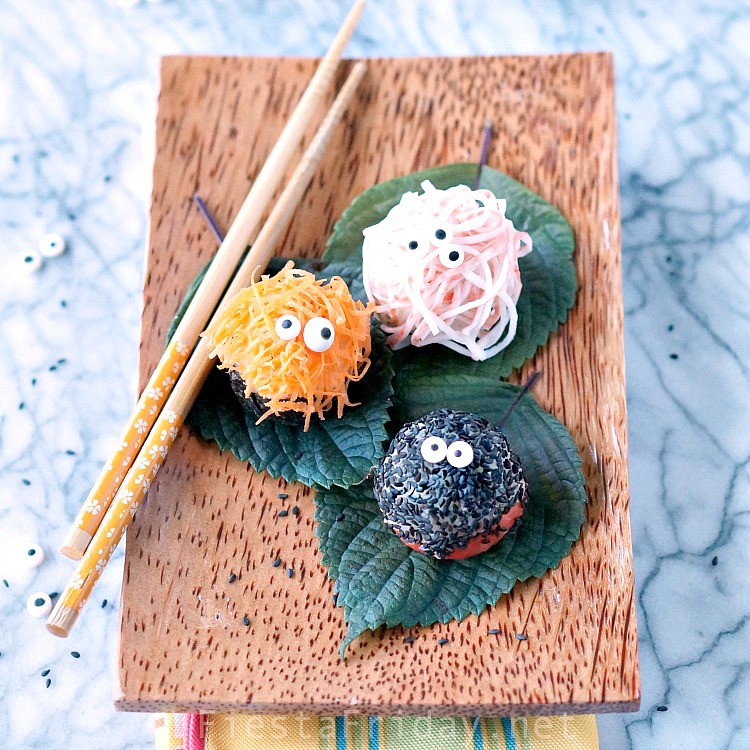 Remember when someone brought sushi balls to our fiesta?
I was thrilled to see the sushi balls because: a) I thought they're a creative and fun way of serving sushi b) If there's anything that I spend too much of my food budget on, it's sushi. Mostly to satisfy my kids' cravings. They really, really loooove…sushi. And sushi ain't cheap! c) Therefore, it's time I make sushi myself at home, and if rolling them is a little bit of a challenge, then balls are the way to go. Who can't manage to squeeze rice into a ball?! Even a child can do THAT!
See How Easy It Is To Make Sushi Balls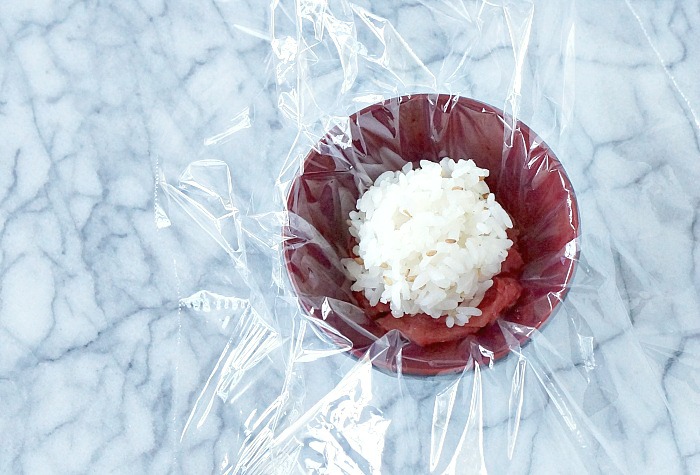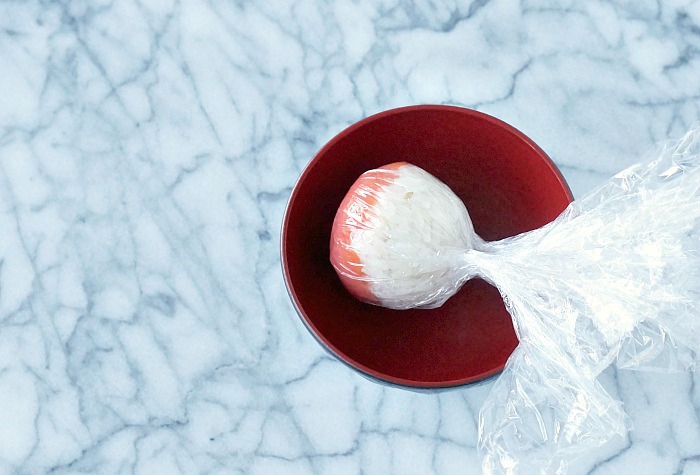 As you can see, you basically scoop a little amount of rice into a small bowl that's been lined with plastic wrap, then gather the plastic around the rice, then twist and shape into a ball. I can sum up the process in 3 easy step:
Lay a piece of plastic wrap on a counter top. A small bowl and a rounded tablespoon can be used to help start the shaping, but not necessary.
Place some sushi rice on the plastic, about 2 tablespoons for a golf ball size, but you can make your balls as small or as big as you like. You can make them naked, i.e., just rice, then decorate the top later, or you can place a thin slice of smoked salmon under the rice before shaping.
Pull up the plastic around the rice, then twist the top to seal, and begin shaping the parcel into a ball.
By the way, I found out that these sushi balls are legit. They're not some made-up idea, but a real thing in Japan. In fact they have a name for it, Temari sushi.
Sushi balls are called temari sushi in Japan because they're round and colorful like temari balls.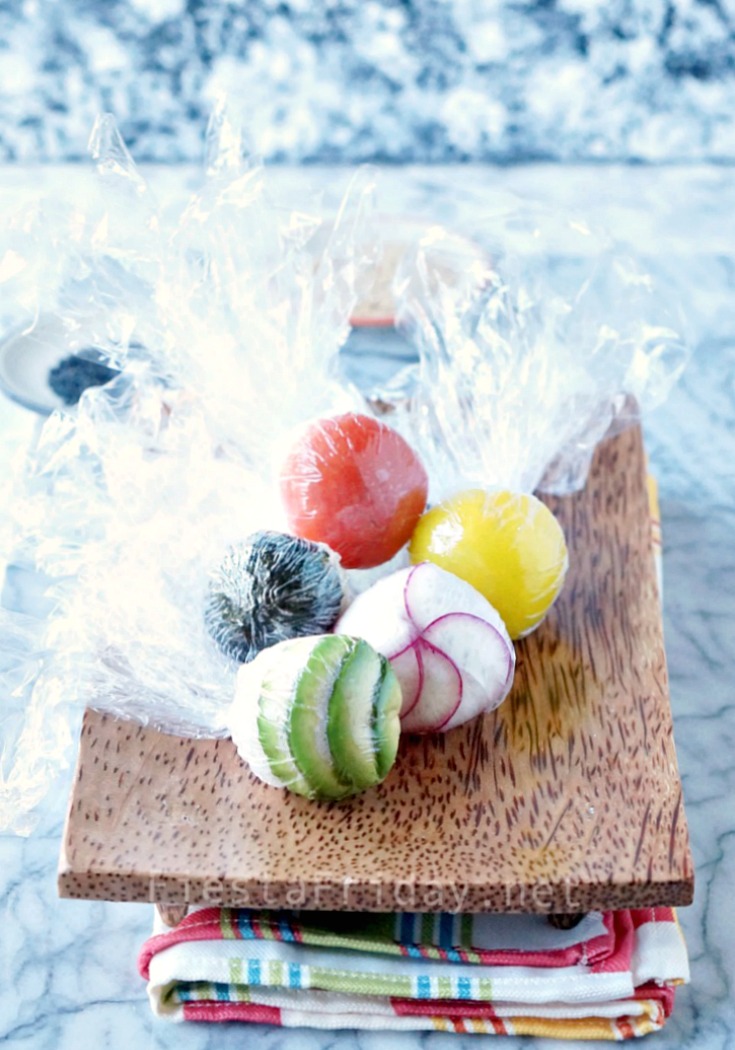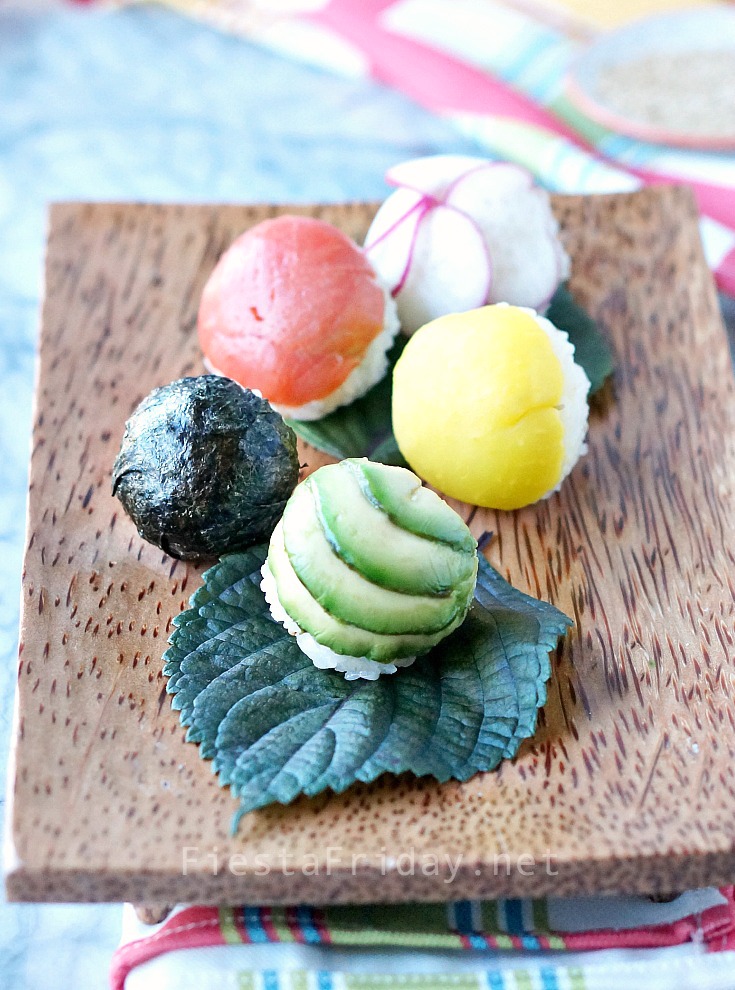 What an exciting discovery it was to find out about sushi balls aka temari sushi aka temarizushi (as it's spelled in Japan). Bringing that excitement into the kitchen, I set about making these sushi balls, Halloween style.
It. Was. So. Much. Fun. I repeat, it was so much fun! I have to say it twice, just so you know I really mean it. Besides, I really did make these twice.
At first, I made all the sushi balls with orange smoked salmon. My plan was to dress them up as Jack-o'-lanterns. But it was too fiddly and frustrating cutting and pasting the little eyes, mouths, etc. I had enough after making just the two fellas; they're down there near the top of the plate.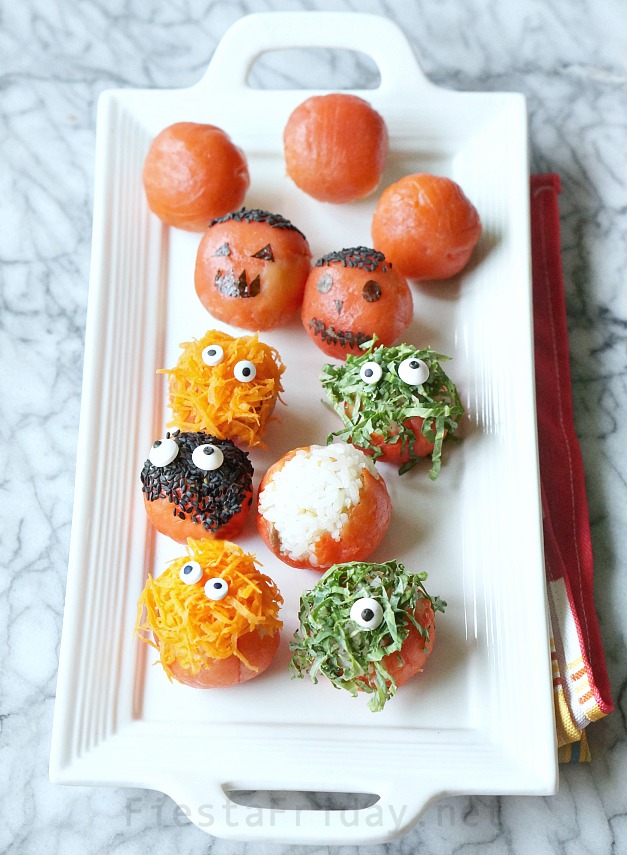 I decided to turn them over, so the sticky rice part is exposed, and just rolled them onto finely shredded vegetables and/or sesame seeds. Then place edible googly eyes on them. Much easier and frankly, a lot more fun. So there, I made Halloween Monster Sushi.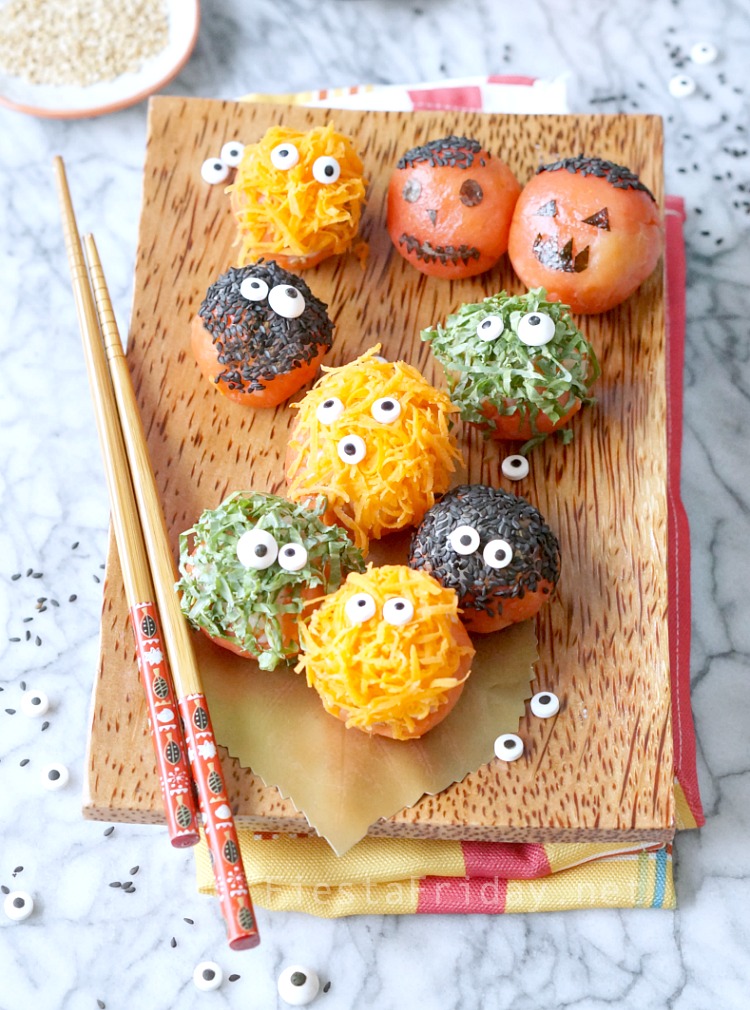 But then I started thinking… If I don't have to make them orange, I don't really need to use smoked salmon. Let's face it, smoked salmon sushi isn't the best-tasting sushi. The best-tasting sushi always, always… involves avocados and cucumbers.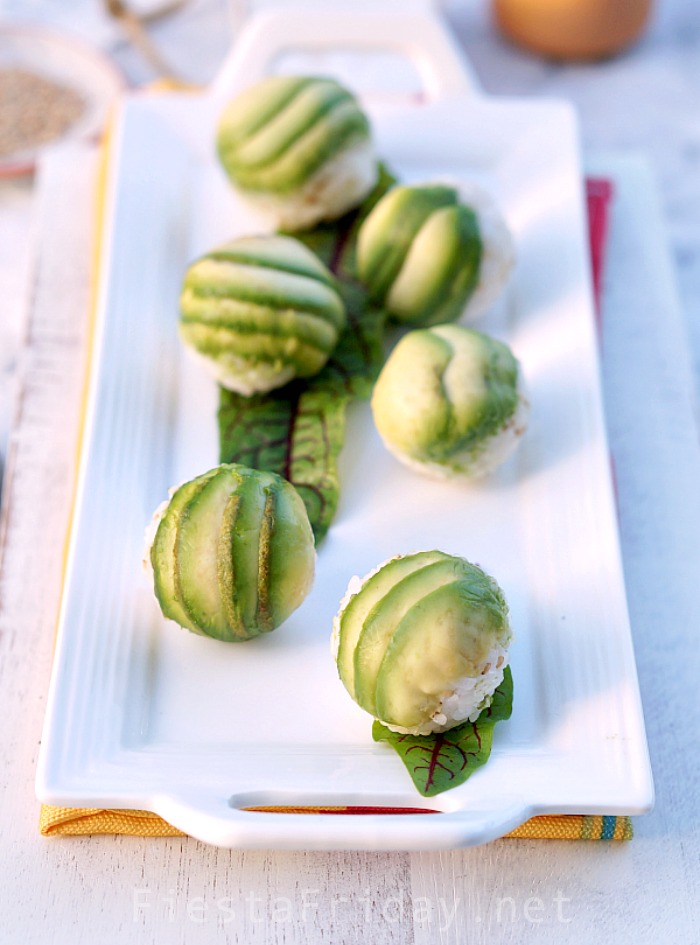 These were the best! Especially when topped with shredded cucumber.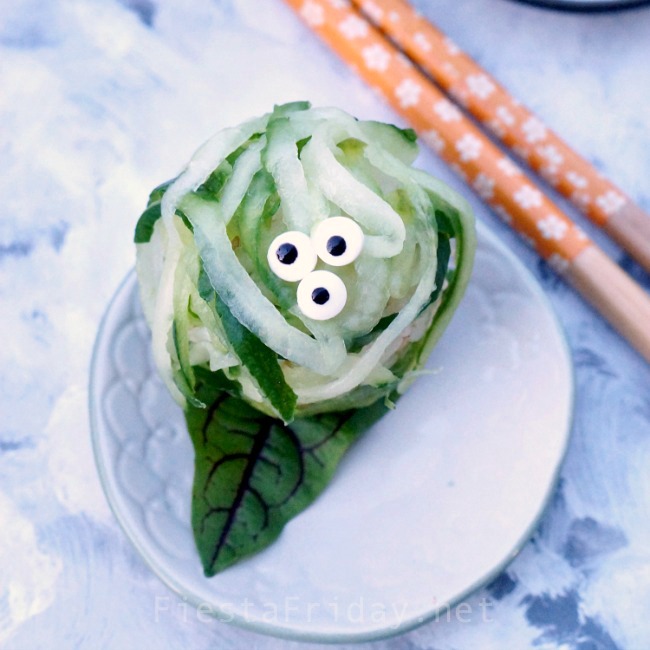 Halloween Sushi Balls
Halloween Sushi Balls... yes, indeed! Move over pumpkins! These sushi balls are so easy and most importantly, fun to make. If you can squeeze rice into balls, you can make Halloween Sushi Balls!
Author:
Angie | FiestaFriday.net
Recipe type:
Halloween/Appetizer
Ingredients
For the sushi rice
2 cups short-grain white rice ("sushi rice")
2 tablespoons rice or apple cider vinegar
1 tablespoon sugar
½ teaspoon salt
1 - 2 tablespoons roasted sesame seeds (optional)
For the base
Thinly sliced smoked salmon, avocado, Japanese pickled daikon, or radish
Roasted nori seaweed, cut into rounds if desired
For the topping
Shredded carrot, kale, cucumber, or imitation crab meat
Roasted black sesame seeds
Instructions
For the sushi rice
In a small bowl, dissolve sugar and salt in the vinegar, set aside.
Wash and rinse rice until the water runs clear (you may have to rinse repeatedly), drain completely.
If you're using a rice cooker, mix rice with 2 cups of water and cook according to the manufacturer's instructions.
If you're cooking the rice on the stovetop, mix rice with 2½ cups of water, place on medium-high heat, uncovered, and bring to a boil. Once it boils, stir, then cover the pot and let it simmer on low heat for about 15 minutes.
Let rice sit for 5 minutes before removing the lid.
While the rice is still hot, scoop into a bowl. Sprinkle it with the vinegar mixture while fluffing it gently with a fork, making sure the vinegar is well-distributed without smashing the rice. Cover it with a paper towel and let it cool just until slightly above room temperature before using.
(Optional) Mix roasted sesame seeds into the cooled rice before making sushi balls.
To form the sushi balls
Place a thin piece of smoked salmon or another base ingredient of choice on a piece of plastic wrap. Scoop a small amount of rice and place on top of the base. (Refer to photos and instructions above)
Gather plastic wrap around rice, twist it, and gently mold rice into a ball.
To make Monster Sushi
Place shredded vegetables or sesame seeds on a small plate or bowl, and dip and roll rice balls on the vegetables/sesame seeds, while gently pressing at the same time.
Place edible eyeballs.
Serve with soy sauce, wasabi paste, and gari (pickled ginger).
This amount of rice makes about 20 1½-inch balls.
Look at these pins I created for you! Pin them, please!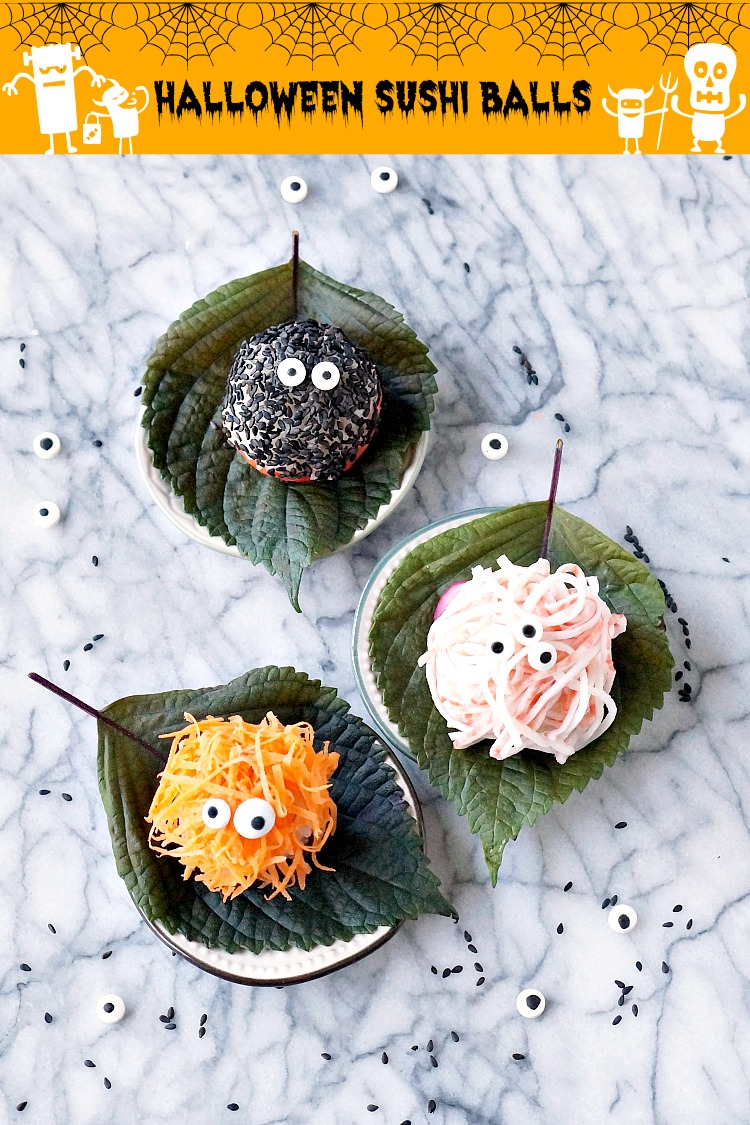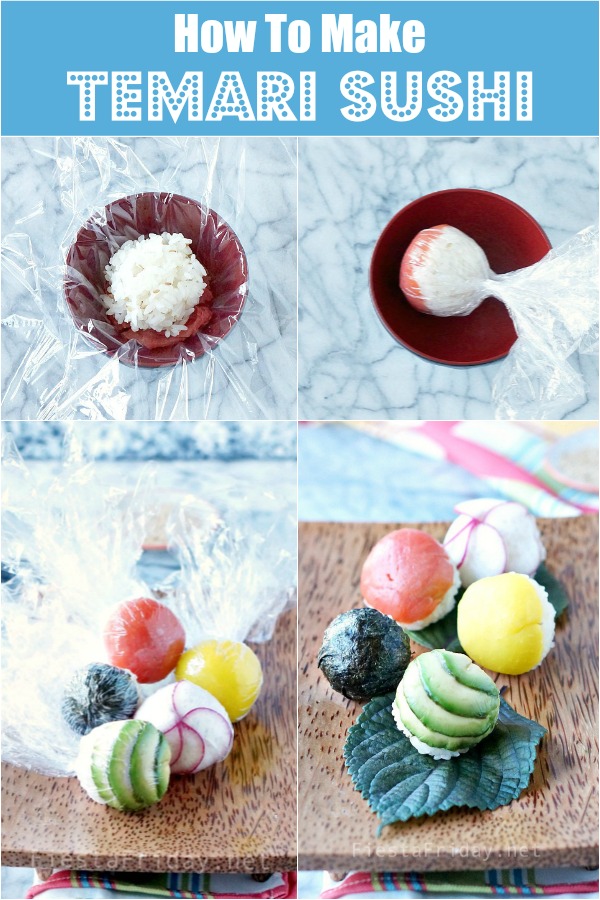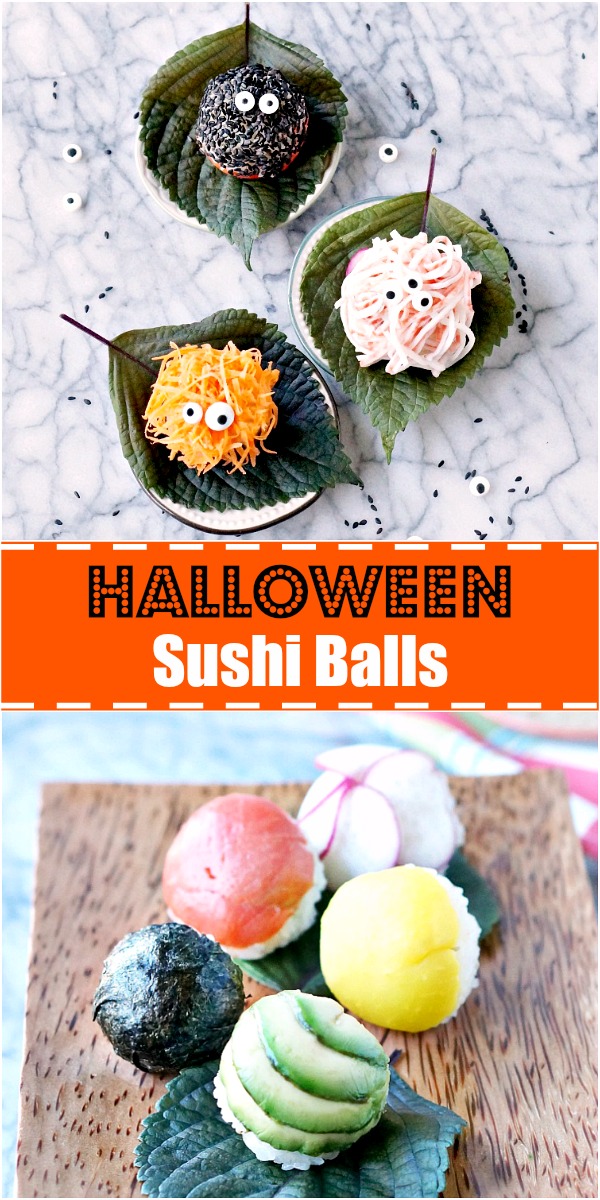 These little monsters are partying with CookBlogShare and Friday Frenzy