Oh. My. Gosh.
So many things to talk about!
First, did everyone gobble til you wobble yesterday?! So. Much. Food.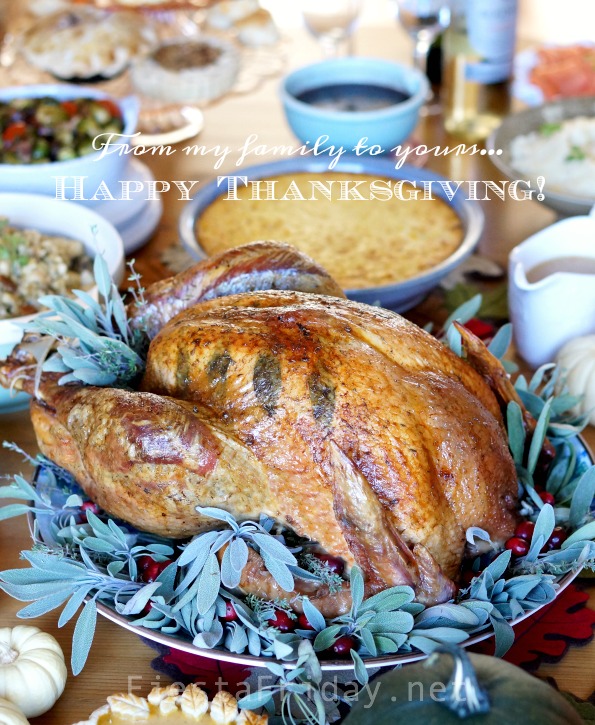 I am thankful, though, for the abundance of food, and time spent with family. Definitely feeling blessed right now. I hope everyone had a happy Thanksgiving!
In the meantime, in case you haven't noticed, we'll be celebrating Fiesta Friday #200 next week. Wowza, right?! We've been partying nonstop for 200 consecutive weeks. Is there a special name for the 200th celebration? ?
I wanted to do something special to celebrate the momentous occasion, but what should we do? It falls during that precious time between Thanksgiving and Christmas, when everyone is super busy.
Do we really want to introduce something in the mix? If so, what do we do? Any suggestions are welcome and appreciated!
And last but not least, are you all using Tailwind, the Pinterest scheduling app? I just started myself, and I have to say I'm loving it so far. I'm thinking we should form our own tribe. You know, the Fiesta Friday Friends Tribe. I think it'll be fun, what do you think?
Let me know, friends, let me know.
Now I have some shopping to do!
Features!
Apple Cranberry Almond Pie from Jenny @ Jenny is Baking
"I am all about apple desserts this time of the year and fortunately for us Jenny shared her non-traditional version of an apple pie. From the perfect trio of pie ingredients to the rose decorated pie crust (directions for making the roses are included) and sugared cranberries this pie looks so special. It's on my "to make" list for sure, especially those rose decorations." —- Judi
"I just have to second Judi on this. Just look at that pie! IMPRESSIVE!" —- Angie
Sausage Stuffed Honey Buns from Jess @ Cooking Is My Sport
"The sausage twist in these bun elevates it into savory." — Liz
Cherry Pistachio Mini Cheese Balls from Mara @ Put On Your Cake Pants
"Appetizers are high on my list when entertaining and Mara's mini cheese balls couldn't be easier. Lots of great flavor in the two cheeses and dried cherries filling, then coated in chopped pistachios. Small pretzel sticks are inserted in each ball for easier handling and certainly easier eating. I can't wait to make these during the holidays – Christmas colors too!" —- Judi
Brussels Sprouts Bulgur Wheat Tuna Salad from Monika @ Everyday Healthy Recipes
"It's a new way to serve Brussels sprouts, shaved in a salad!" — Liz
***
Now, let's party! Join Fiesta Friday #199 by adding your link. Don't forget to link your post to FiestaFriday.net and the co-hosts' blogs, so we can feature you. Your cohosts this week are Judi @ cookingwithauntjuju.com and Mollie @ The Frugal Hausfrau
If you're new to Fiesta Friday, please read the guidelines.
[inlinkz_linkup id=751345 mode=1]