Deviled eggs shaped like pumpkins, the perfect make-ahead Thanksgiving appetizer.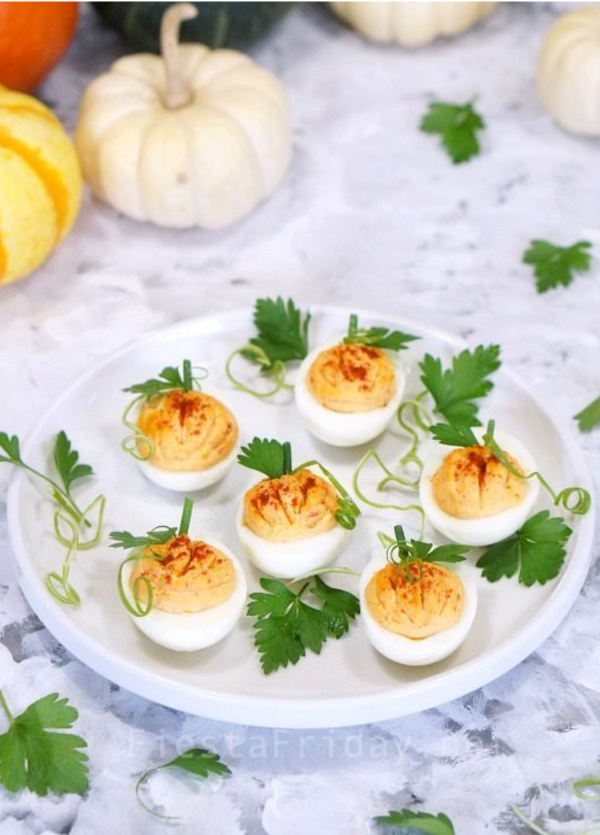 Hey, hey, check it out! It's my first obligatory "pumpkin" recipe of the season.
Except I didn't use pumpkin. Whaaat?!
C'mon now, if you had to choose between pumpkins and eggs, which one would you have picked?!
For me, it's an easy choice. Hence, the pumpkin deviled eggs.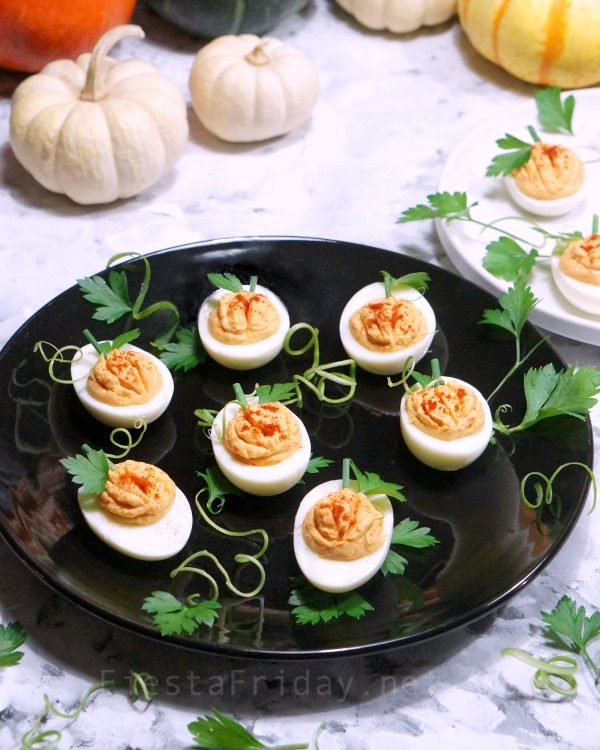 These are for those who can't stand pumpkins or pumpkin spice but still want to celebrate pumpkin season.
It's not that I don't like pumpkins; I just prefer other things. Like eggs.
Also, chinchillas. I love chinchillas.
If I had a chinchilla pet, I would proudly walk it in the neighborhood. And I would name it Wendell. Or maybe Hector. You know, a good solid manly name.
If it's a boy, of course. For a girl chinchilla, she's got to be Vanessa. Love that name! Fit for a goddess.
Okay, what were we talking about?! Right, deviled eggs. In the shape of pumpkins.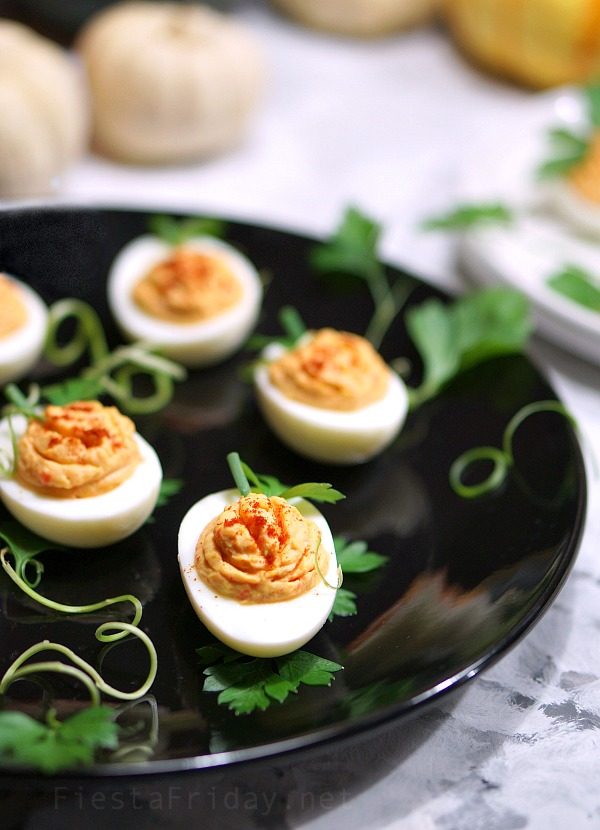 Definitely up there in cuteness with chinchillas. Hence, the correlation. Not at all off topic to be discussing chinchillas when talking about these pumpkin deviled eggs.
They're absolutely adorable, these eggs.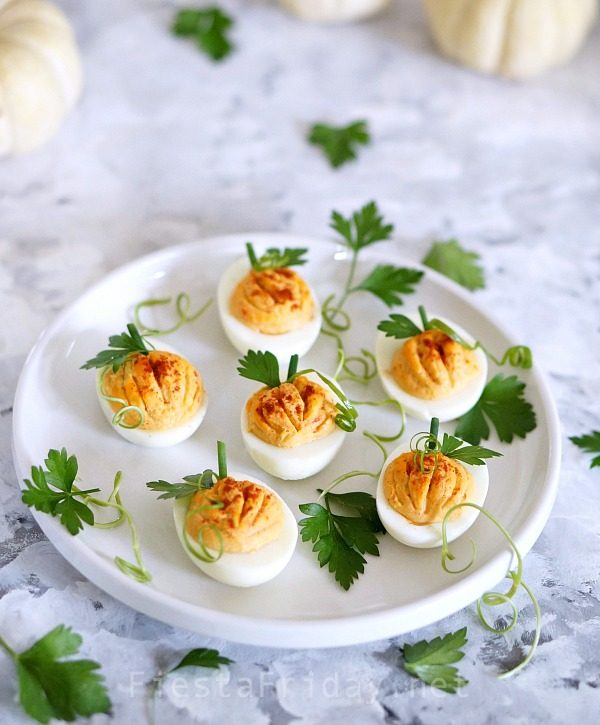 They may be the perfect make-ahead Thanksgiving appetizer, too. Which is a plus. Make them the night before, and when your family and guests are clamoring for something to eat on Thanksgiving and you're still busy cooking, you can serve them these pumpkin deviled eggs.
Interested in finding out how I made these eggy pumpkins?
Here's how I drew the pumpkins: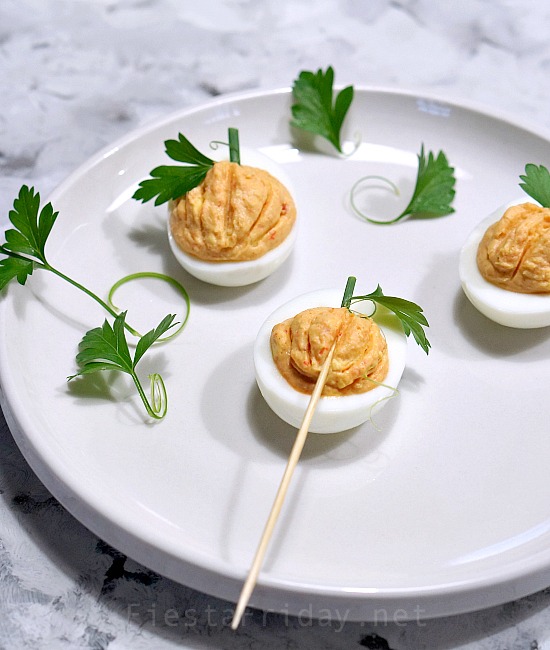 I used a toothpick to create the lines that resemble the ribs or ridges of the pumpkins. Then I used chives and parsley to decorate them further. Below is a printable recipe for you.
Pumpkin Deviled Eggs
Deviled eggs shaped like pumpkins, the perfect make-ahead Thanksgiving appetizer.
Author:
Angie | FiestaFriday.net
Ingredients
6 large eggs
½ medium-sized red bell pepper
2 tablespoons mayonnaise
2 teaspoons yellow mustard
½ teaspoon paprika, and more for sprinkling
½ teaspoon garlic powder
salt & pepper
chives or green onions
parsley leaves and stems
Instructions
Roast or steam pepper until soft, then remove seeds and peel. Place in a food processor.
In a large saucepan, bring water to a boil. Gently lower eggs into boiling water. Let water return to a boil, then reduce to a simmer. Cook eggs for 12 minutes.
Drain eggs and place them in a bowl of ice water. Cool completely. Crack eggs and peel carefully under cool running water. Slice in half lengthwise, and scoop out the yolks, and add them into the food processor.
Add mayonnaise, mustard, paprika, and garlic powder. Process until smooth. Taste and add salt & pepper as needed.
Spoon yolk mixture into a ziplock bag. Seal and snip a corner.
Pipe yolk mixture onto egg whites. Using a toothpick, draw vertical lines to resemble the ribs of pumpkins. If yolk mixture is too soft, refrigerate first to firm it up.
For the stems, cut chives or green onions into 1-inch pieces and insert into the top of pumpkins.
Press parley leaves next to the stems. Decorate your plate with tendrils made out of strips of parsley stems or green onions that have been shocked in cold water.
Best served chilled.
Pin This!